Moving, it's a blessing and a curse! The planning, preparing, moving truck rental, and the list goes on! If you've ever made a move to a new home you know how crazy things can get without a proper plan (heck sometimes things happen even WITH a plan!)
How many boxes do I need for moving my wall art?
What size boxes fit picture frames?
How do I pack picture frames for moving?
How do I transport my frames and artwork safely?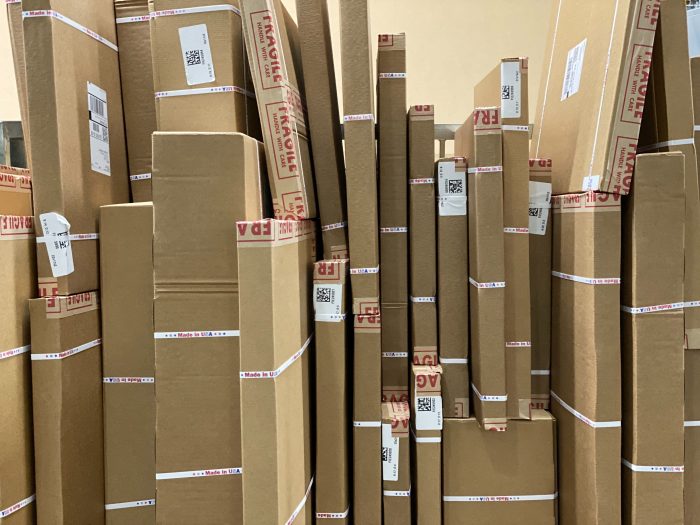 Whatever the reason for the move and however far the distance, we all want the same thing: for all packed and stored belongings to reach their destination safe and sound! That's why it's so important to know how to pack picture frames for moving as well as your other valuables!
So whether you've done this a million times or this is your first time making the big move, we've got a few tips and tricks on how to pack picture frames and art during your move and how to make them look great in your new place!
---
📝 Plan It!
Moving without a plan is well… not a good plan.😏 We know the whole process can be stressful and even scary at times! But it's got to be done! Let's get set up with the first few steps of planning your move!
Give yourself a good estimate of how many boxes you will need with this chart: (Remember: It's better to have too many boxes than not enough!)
| Box Size | 1-2 Rooms | 3-4 Rooms | 5-6 Rooms | 7-8 Rooms | 9-10 Rooms |
| --- | --- | --- | --- | --- | --- |
| Small | 8 | 15 | 22 | 29 | 36-40 |
| Medium | 6 | 11 | 16 | 21 | 26-30 |
| Large | 4 | 7 | 10 | 13 | 16-20 |
| Extra Large | 2 | 4 | 6 | 8 | 10-20 |
Moving & Storage: How To Pack Picture Frames & Wall Art – Decor packing for the average home!
Materials
You'll need a few items to get things packed up properly and safely!
📦 Packing Paper (Newspaper and Craftpaper work too!)
📦 Glassine
📦 Packing Tape
📦 Bubble Wrap
📦 Artist Tape/Painter's Tape
📦 Corner Protectors
📦 Photo Boxes/Albums
📦 Permanent Marker
📦 Label Maker (optional)
📦 Plastic Bags/Trash Bags
📦 Boxes, Shipping Tubes, & Cardboard (More on this later!)
All Boxes Are Not Created Equal
While you can toss your pillows and blankets into any old moving box, packing your fragile items like canvas art, picture frames, mirrors, and other wall art require some more padding. You may be unable to make a custom-made box for each piece when moving. We can steer you in the right direction for the next best thing!
Here are some common moving box sizes:
1.5 Cubic ft – Small boxes perfect for magazines, glassware, and collectibles.
📦

Holds up to 40-50 lbs.
3.0 Cubic ft – Medium boxes and the most common size are good for toys, office supplies, and records.
📦

Holds up to 50-60 lbs.
4.5 Cubic ft – Large boxes used for linens, dishware, and pillows.
📦

Holds up to 55-65 lbs.
6.0 & 6.1 cubic ft – Extra Large Boxes used for bulky items like couch pillows and down comforters.
📦

Holds up to 60-70 lbs.
There are also specialty boxes for oddly shaped or specific items that need extra protection: They may be a little harder to find and more costly.
👗 Wardrobe – A box with a top rod for hanging clothing.
☕️ Dish Packs – A box with separators to hold fragile items like cups.
🖼 Mirror & Picture Frame – Thin and flat perfect for delicate artwork!
📺 TV – Most are adjustable and designed to fit a flat screen.
🏺 Lamp & Vases – Made thicker to protect lamps and other fragile items.
🗄 Office & File – Boxes with handles and pop-off tops for quick access.
🚇 Shipping Tubes – Perfect for prints you haven't gotten around to framing yet.
While the Mirror boxes and picture boxes may be more expensive, we recommend them for packing picture frames and wall hangings that are special and irreplaceable to you. If you don't have the option of using these boxes, no worries, we'll show you how to pack picture frames with regular boxes!
🔥 Hot Tip: If you can – avoid packing boxes to over 40 lbs. (Your back will thank you!)
---
📦 Pack It!
You have the supplies and you've (carefully) taken your gallery walls, fine art, and picture frames down. Now it's time to pack everything up!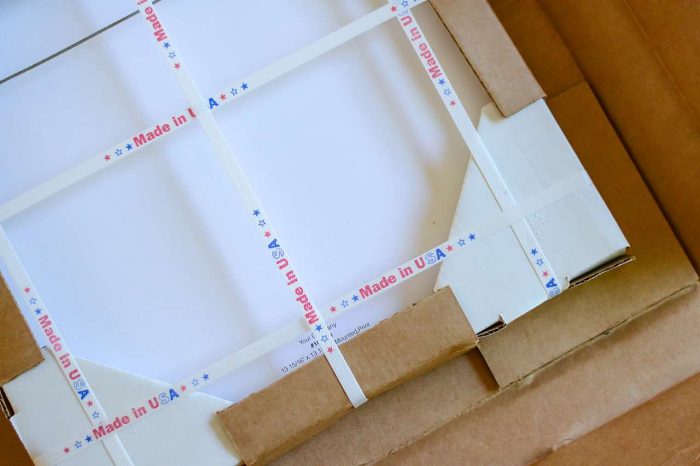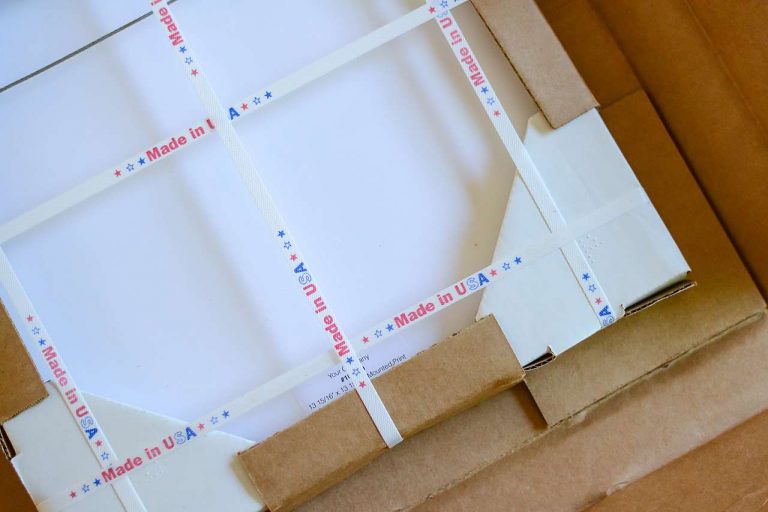 🖼 Picture Frames & 🪞 Mirrors
Grab your painter's tape and lay a giant "X" across any glass. This acts as extra support in case your items have a bumpy ride during travel. If your frame cover is acrylic (like ours!) grab some bubble wrap and lay it over the cover, then tape down the ends to secure it to your frame. While acrylic is more durable than glass, you still want to protect it!
Lay a strip of cardboard over your frame, cut a piece slightly larger than the frame, and secure it to the front of your frame with packing tape.
Wrap the entire thing in two or more sheets of packing paper and tape it up! You can also add an additional layer of bubble wrap around this for extra padding.
Add some extra cushion to your moving box before placing your frames inside! Line the box with Craftpaper, newspaper, or whatever you have on hand.
Slide your frame into the box and keep the frames and mirrors vertical! Do not lay them flat. Keep in mind oversized items should be placed in individual boxes, mid to small-sized frames and mirrors can be packaged together, given enough padding in between!
Fill all extra space with more paper padding to prevent the items from moving around.
🎨 Canvas Art & Posters
Have a stretched canvas or other delicate wall art? here's how to store and pack it properly!
Stretched Canvas
Cover the front canvas with a layer of glassine. This will protect your art from the elements, artists commonly use it to transport delicate works (and it's eco-friendly as it's made from wood pulp).
Tape a fitted piece of cardboard to the back of the canvas. (This will prevent it from buckling if any weight is applied.)
Place your canvas in a plastic bag and tie it closed. (This adds protection from moisture.)
Wrap the bag in bubble wrap and tape it down.
For extra protection sandwich the canvas wrap between two pieces of cardboard and tape all 3 together.
Just like the picture frames and mirrors box – Add some extra cushion to your moving box before placing your canvas inside! Line the box with Craftpaper, newspaper, or whatever you have on hand.
Fill all extra space with more paper padding to prevent the items from moving around.
Posters & Loose Canvas
Sandwich your canvas or poster between two sheets of packing paper or craft paper.
Loosely roll up your sheets. (Rolling too tight can cause damage to your art!)
Wrap a layer of bubble wrap around your sheets and tape it down.
Slide your wrapped art into a shipping tube.
🎞 Loose Photos
Many of us haven't made the full transition to digital photos, so if you're like the majority of people, you have a few…hundred…photos buried away! Packing and organizing them can be extremely tedious, here are a few easy ideas to keep them safe:
Photo Albums – The most popular way to store and protect photos! When choosing an album make sure you choose ones that are acid and lignin free as they can damage your photographs! When moving photo albums, wrap each one in paper and stack them in paper padded moving boxes.
Photo Boxes – Another popular choice and one that comes in a large variety of sizes. These are perfect for more long-term storage use. when organizing photos, separate them with acid-free paper on their sides or lay them flat. When moving photo boxes, wrap each one in paper and stack them in paper padded moving boxes.
Digital Upload – While this may take some time, it's totally worth it! By scanning your photos onto the cloud or photo storage site your photos will be stored and safe for years. The best part is you won't have to haul all those memories around with you every time you move, plus you can access them anywhere with WIFI!
External Hard Drive – If you like the idea of scanning your photos but not uploading them online, transferring them to an external drive like a USB flash drive or large TB External drive is for you! All your images will be stored in one small device. Just make sure you have a large terabyte drive to make sure all your images can be held in one place, we also recommend backing up on another drive just in case one fails.
Learn more about storing old or precious photos and documents from The U.S. National Archives and Records Administration.
🔥 Hot Tip: if using newspaper – use it for outer layer wrapping or extra padding as the ink could cause damage to your art or photos.
🏷 Tape & Label
Now that we've covered how to pack picture frames, it's important to note some special precautions and extra steps to take that will make your loading and unloading a breeze! Check out these tips for taping and labeling your boxes: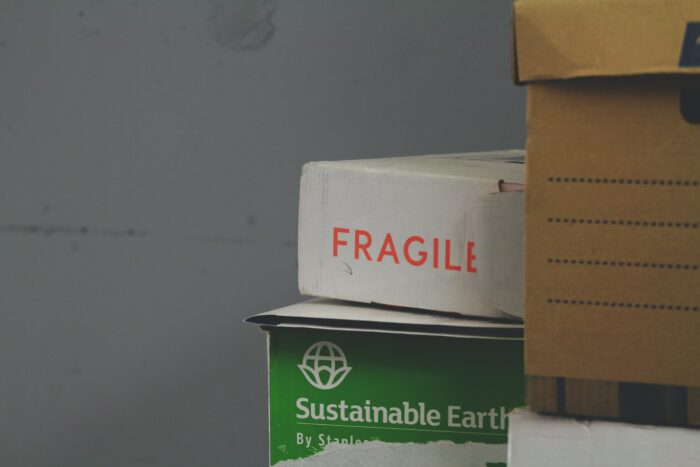 "FRAGILE" (must be Italian) – Label all your mirrors, picture frames, and wall art boxes with the word "FRAGILE" – preferably in all caps too!
⬆ Add Arrows! – Draw arrows pointing in the direction the box needs to be sitting.
"Do Not Stack" – It's super important that all your frames and mirrors are placed upright on their sides and not laying flat or stacked, if so the weight can break your delicate items!
Consider picking up a roll of "Fragile" printed tape if you plan to pack many delicate items!
---
🚚 Load Up!
You've gathered your belongings, packed them away safely, and labeled each box! You're almost there and moving day is around the corner!
If you're loading things up yourself double check that your delicate items and light boxes don't get placed on the bottom stacks in your moving vehicle. If you can, place all your fragile boxes in a separate room and then load that last. You'll also be able to remove those boxes at your new home first. So there's no chance other boxes will fall on top or that things shift during the unpacking process!
---
♻️ Reduce, Reuse, & Recycle
Moving day is over, and you've unpacked all your things, but that giant pile of cardboard looming in the background can be quite unsettling. So, what can you do with cardboard boxes after moving?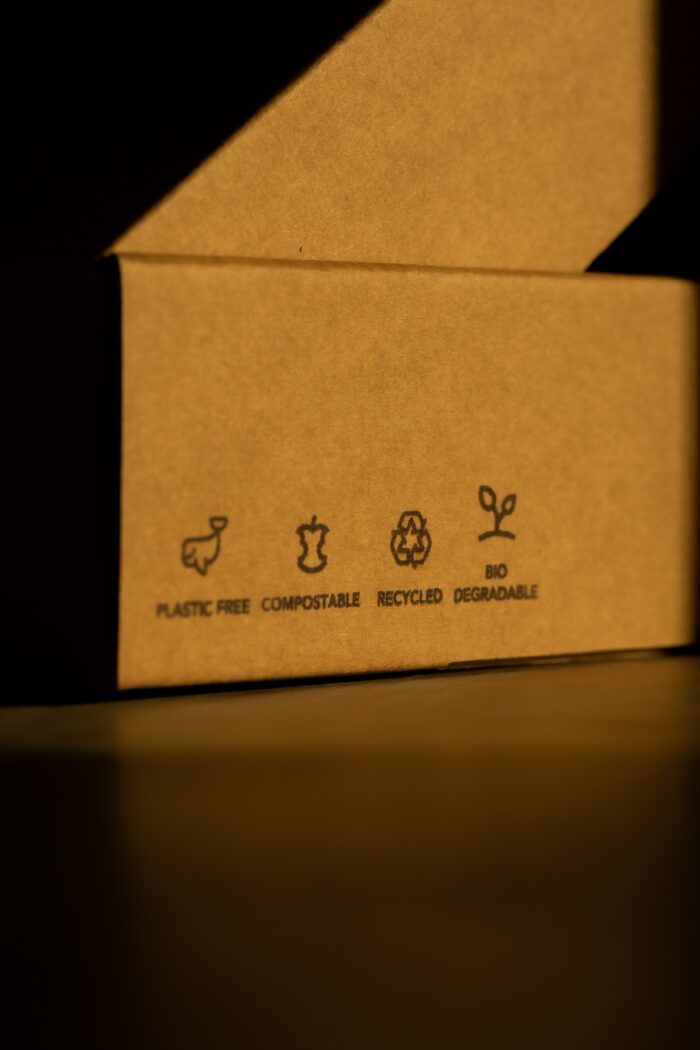 Keep a small amount for later – flatten a small selection out, store them in a plastic bag and hide them away in a closet for a later date.
Compost – Shred up your cardboard for compost use in your garden.
Sell or give away your used boxes – Post them on Craigslist or list them for sale on BoxCycle.
Recycle – Take your boxes to a recycling center.
Donate – Check with your community to see if any thrift shops, churches, schools, shelters, or orphanages need storage or moving boxes.
If you happen to have a Frame It Easy box laying around know that all of our packaging material is recyclable (even the straps!) and is certified by the Sustainable Forestry Initiative. We aim to be the most environmentally friendly picture framing company in the world!

🏠 New Space – New Ideas!
Congratulations on the move! A new space means new possibilities so don't limit yourself on your decor placement! Your wall art doesn't have to go in the new bedroom, maybe it would look great in the guest bath? But humans are creatures of habit – placing art in similar spaces creates comfort and brings that feeling of "home" to a space.
How you choose to style your new home is up to you – remember there are no rules to personal style, but there are when it comes to how to pack picture frames!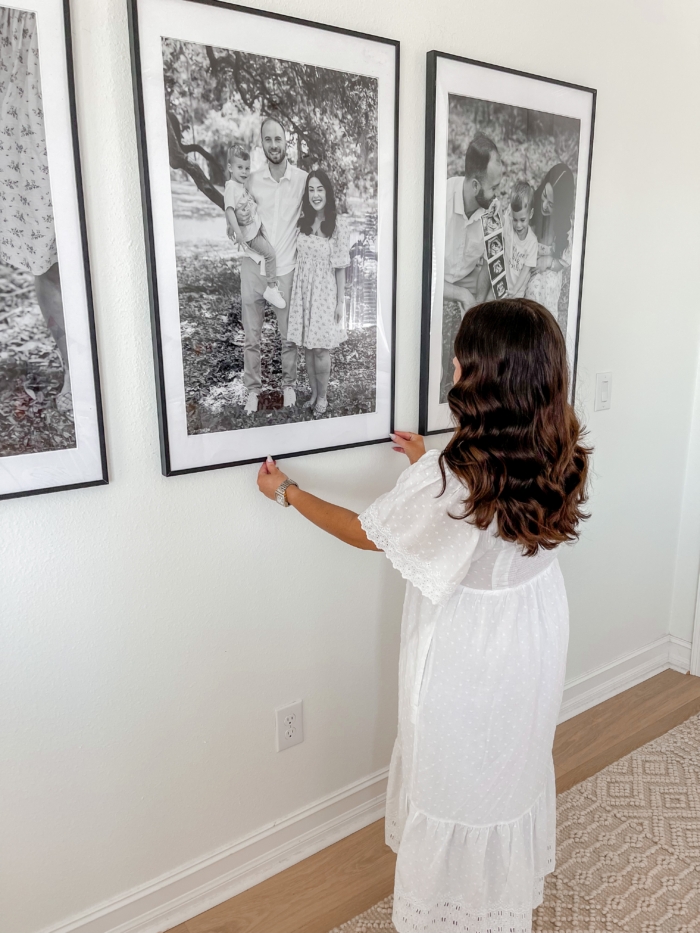 Do you have some new home decor you'd like to showcase? Inspire others by sending your photos to creative@frameiteasy.com with the subject line "Featured Friends" for a chance to be featured on our email and socials!
Tag us at @frameiteasy or use the hashtag #frameiteasy for more chances to get noticed!
This post first appeared as Easy Moving & Storage: How To Pack Picture Frames & Wall Art Flawlessly on Frame It Easy - Learning Center for Custom Picture Framing.