Before catwalks, photography and supermodels became the norm, sketches showcasing the color, material, and designs in women's fashion were the standard to communicate fashion ideas. In fact, fashion illustration has been around for about 500 years. It wasn't until the late 1700s, though, that these illustrations became their own art form and continued to be popular for 200 years! Often used in catalogs to provide a "lookbook" of available pieces for stores, they were replaced by photographs and became almost obsolete in the late 1900s.
While fashion illustrators still use this method to plan out designs, some contemporary artists also are keeping the genre alive. Fashion Illustrations can be great decor pieces to add to your home. So if you're a fashionista or just want to decorate like one, let's explore the possibilities of using these unique illustrations to let your style shine through.
Where To Hang Fashion Illustrations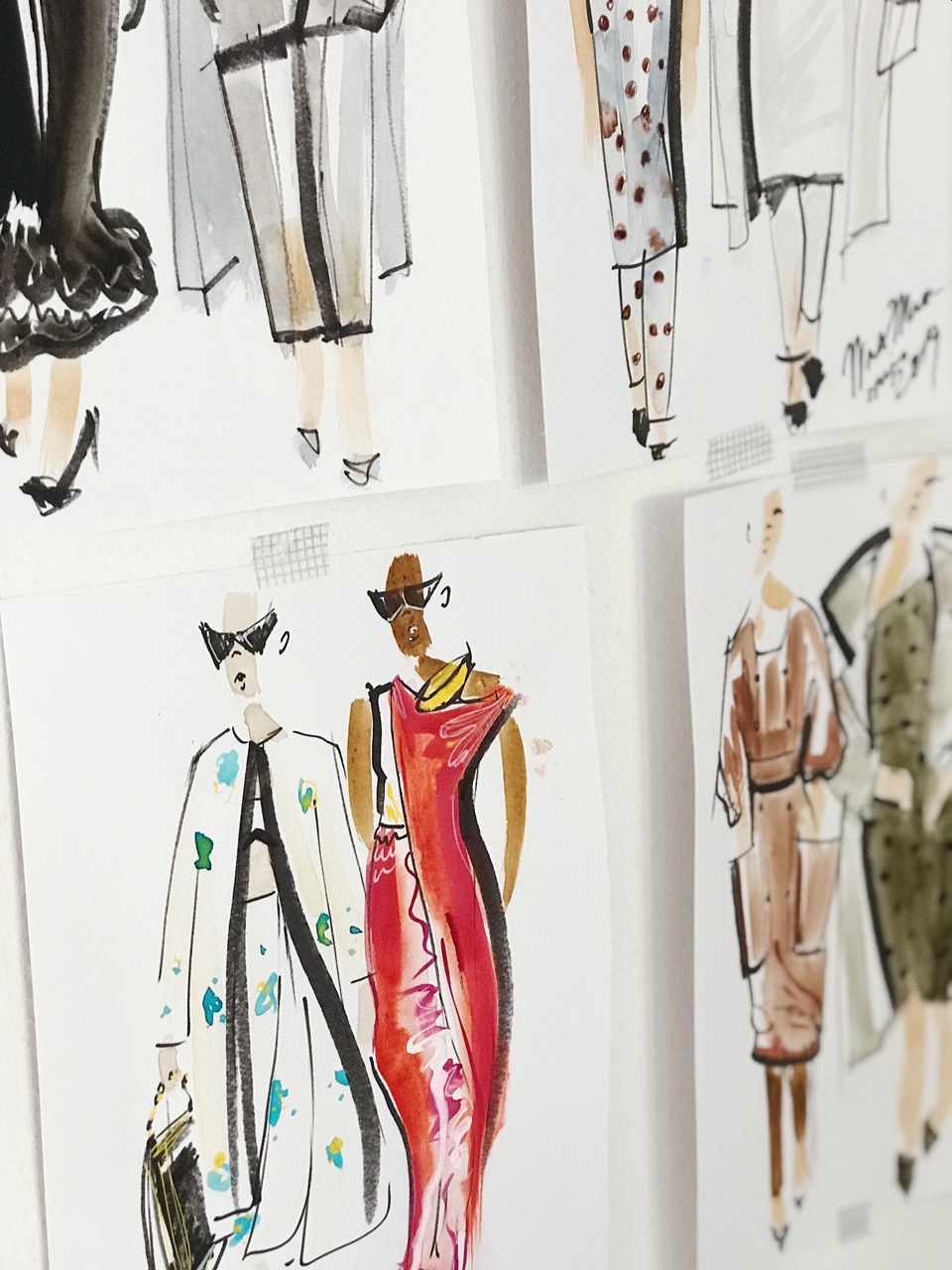 You might be wondering why we're talking about where to hang your art before you even have it in hand. We always find it helpful to consider where you will be placing your artwork first to help with the process of finding not only the perfect piece but to also create custom frames that complement both the artwork and the environment. Since fashion illustrations are so unique, there are a few places where they would work really well.
The bedroom is an obvious choice. And if you are lucky enough to have a walk-in closet or dressing room, consider using them there as well. What better place to hang fashion illustrations than where you hang your clothes! They work equally well in a bathroom, whether your master bath or a guest bath. You can also consider using them in an entry hall as a whimsical way to greet your guests.
And don't forget the laundry room. It's an often overlooked area, but let's face it. We spend more time there than we care to, so why not add some art that can make you smile while your sorting, folding, and ironing.
Where To Find Fashion Illustrations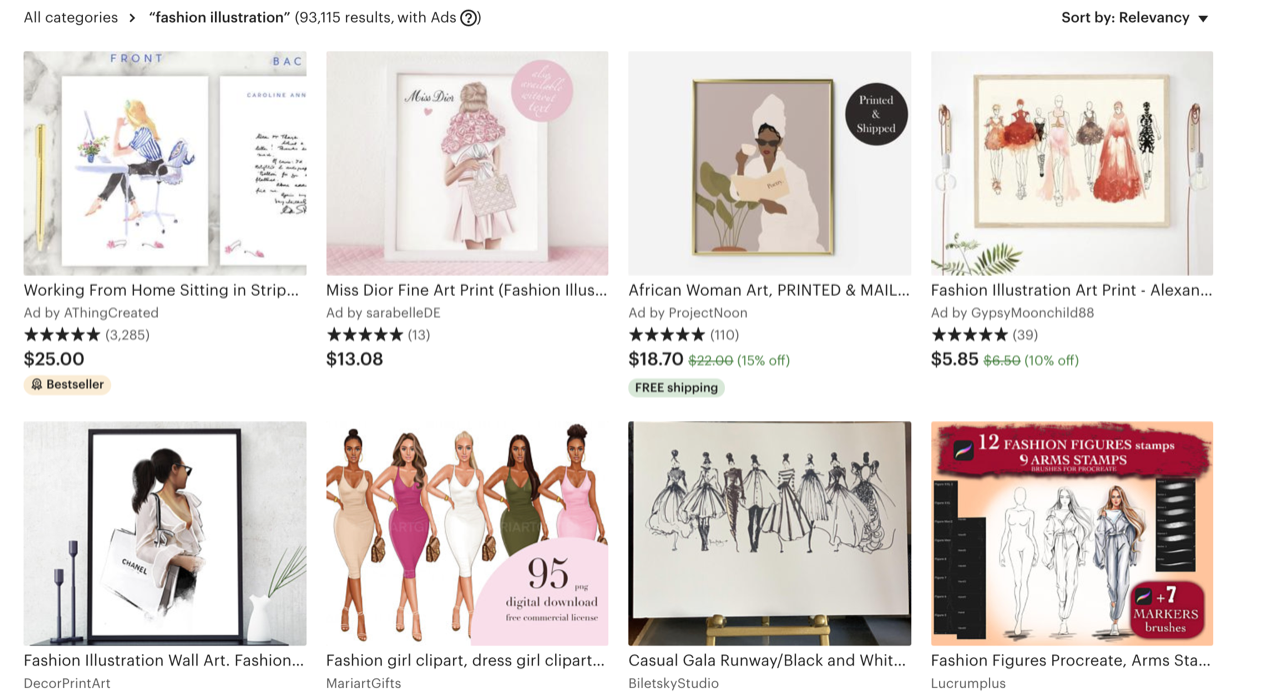 There are tons of places to find fashion illustrations online. A great site is Etsy because most artists offer a "digital download" option, which is great to upload your print right to Frame It Easy, leaving all the measuring and math up to us. (Added bonus, you will get your frame even sooner by not having to wait until the print is mailed to you!) Other sites include Saatchi Art, Art.com, and even Amazon. The great thing about these sites is you can narrow your search. Looking for something from the Victorian era? How about haute couture illustrations? Or a specific color? Just type in the keywords and oh, la la, your results are instantly at your fingertips.
Of course, we like to support small businesses, whether they are online or brick and mortar. Check out thrift stores and antique shops and maybe you'll get lucky and find some great prints that just need a little TLC. And search out some amazing young artists who have taken the genre and added their own twist to fashion illustration. Whether replicating art from back in the day or putting a modern twist on it, these fashion illustrators are worth taking a look at.
How To Frame Fashion Illustrations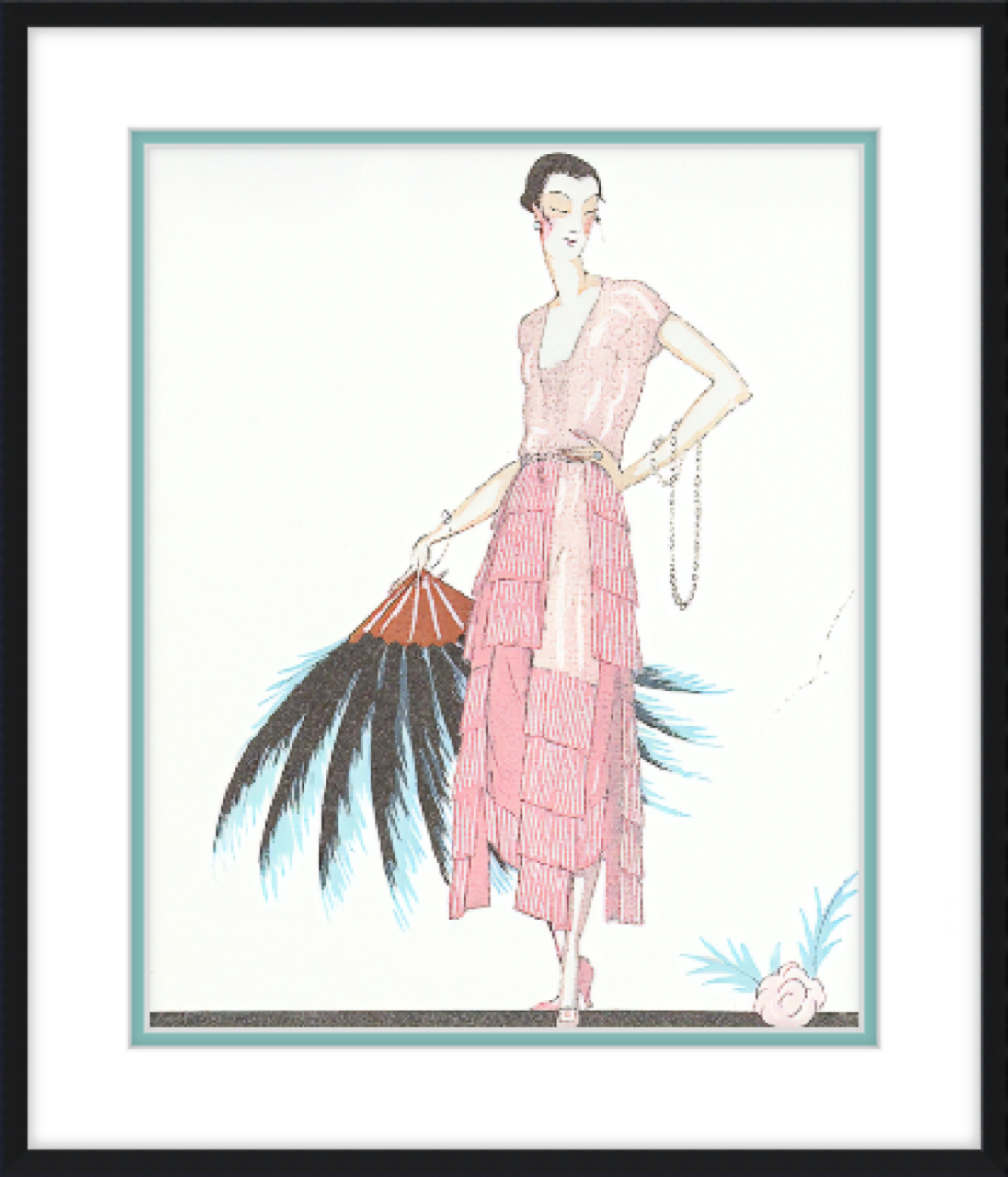 Now comes the fun part of designing your frame with our Frame Designer. It's always important to remember our one rule here: there are no rules in custom framing! Have fun; don't take it too seriously! Our four-step process is pretty simple, but if you have any problems we have lots of help available. Check out our Learning Center. Read our posts. And if you still need it, you can reach out to us via email or phone. We also say experiment with your options. You will be able to see what your design looks like as you go along, so play around with it until you get the look you want.
With that being said, we always have tons of suggestions for decorating tips. Take your art (color, style, size), the space you are going to be displaying it, and other decor pieces in that area into consideration when designing your frame. For example, if you are leaning your frames in your bedroom or living room on a shelf or table, consider matching your picture frame with your furniture. or even the colors of your walls so that it all flows together. If you plan to hang your frames in the bathroom or laundry room, take a look at the hardware on your sink, your drawer handles, even the curtain rods, and use that as a guide.
Another consideration is whether to use matting or not. We give you the option of choosing one, two, or no matboard at all. With fashion illustration, if the piece is large or oversized for the area you need it for, you can skip the matboard all together. If, however, you'd like to add matting to your frame, choose a color or colors that are "minor" colors in the artwork. Or use the color of your walls and/or other accessories in the room to either match or contrast with those colors. With the number of colors we offer, the possibilities are endless!
Final Thoughts
We hope you've enjoyed this little glimpse into fashion illustration and ways you can incorporate it into your decor. Adding artwork to your home is always in vogue, so keep it in mind when you need to make your surroundings as fashion forward as you are!