Are you looking for the perfect way to display your hard-earned certificates? Framed certificates are not just a simple accessory; they are a statement of achievement and a symbol of pride! Whether you're looking to display your education certificates, hobby certificates, or professional certificates, finding the perfect certificate frames to beautifully display these accomplishments can be a bit daunting!
With this guide, you'll discover how to find certificates (or make your own), how to source the perfect frame option, and get hanging tips from the pros!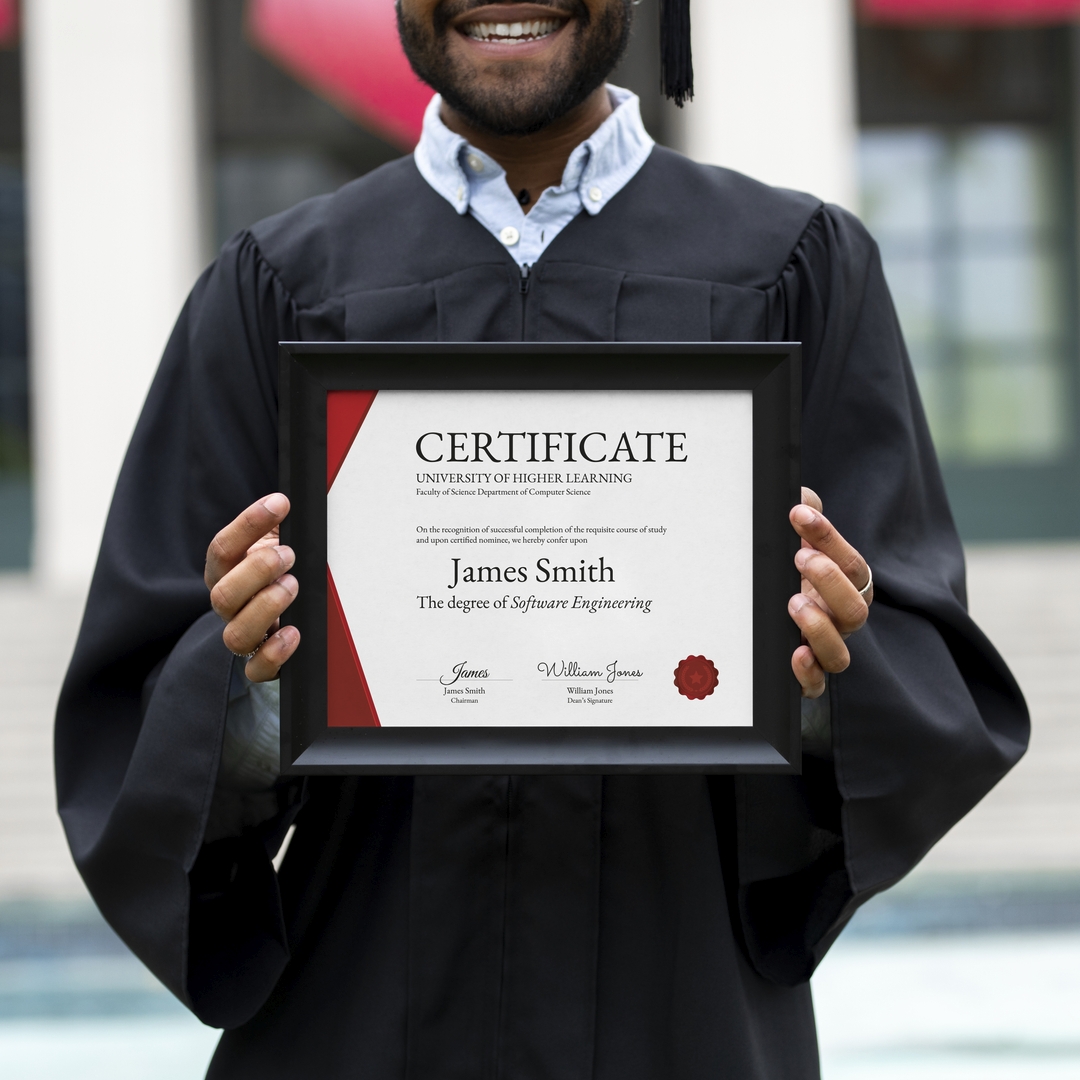 ---
Why You Need Frames For Certificates
While we wholeheartedly agree that you definitely should display your certificates, we recommend framing them for several reasons: First, frames help preserve and protect your certificate from dust, stains, and UV damage that can quickly ruin a print; second, frames showcase a piece and draw attention to the certificate; third, framed pieces look way better (and a lot more professional) than a print simply taped to the wall. Plus, if you're giving them to employees or students to mark a special occasion, they'll be way less likely to lose or damage a framed certificate.
Now that we've established why it's important to consider frames for certificates, let's take a deeper dive into how to find certificates, different frame options, and hanging tips!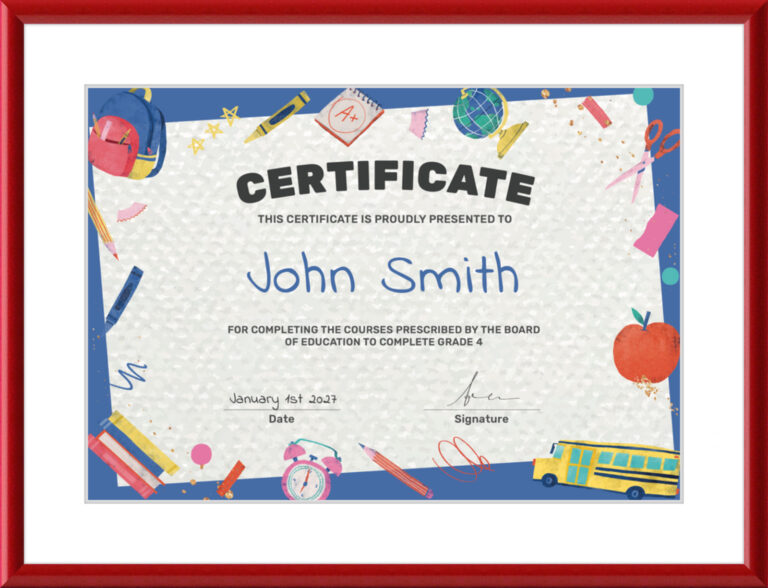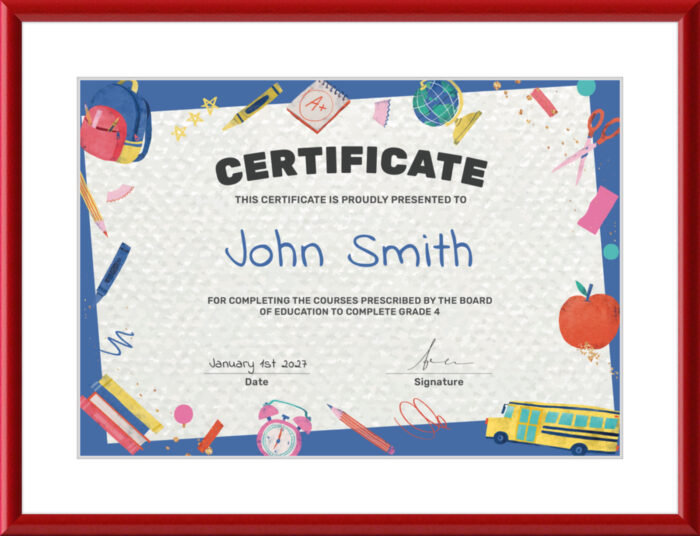 ---
Where To Find Certificates
Certificates are a great way to memorialize hard work and dedication with an official document, but where do you find them? Many creative folks love to make their own because they can customize it with their company's colors and official fonts and include special messaging or business logos. Plus, when you put the time into customizing something, it makes it that much more special for the recipient!
If you have access to it, you can find pre-made certificate templates ready for customization in Microsoft Word. If you'd rather use another program, Canva offers a plethora of professionally designed certificate templates that are free to use and easy to customize. Whichever program you use, you can either print the certificate out yourself or upload it as an image to our frame designer, and we can print and frame it for you!
💡Want to learn more about corporate decor? Decorate your office like a pro – Office Decor: Choosing The Right Frame For Your Office Style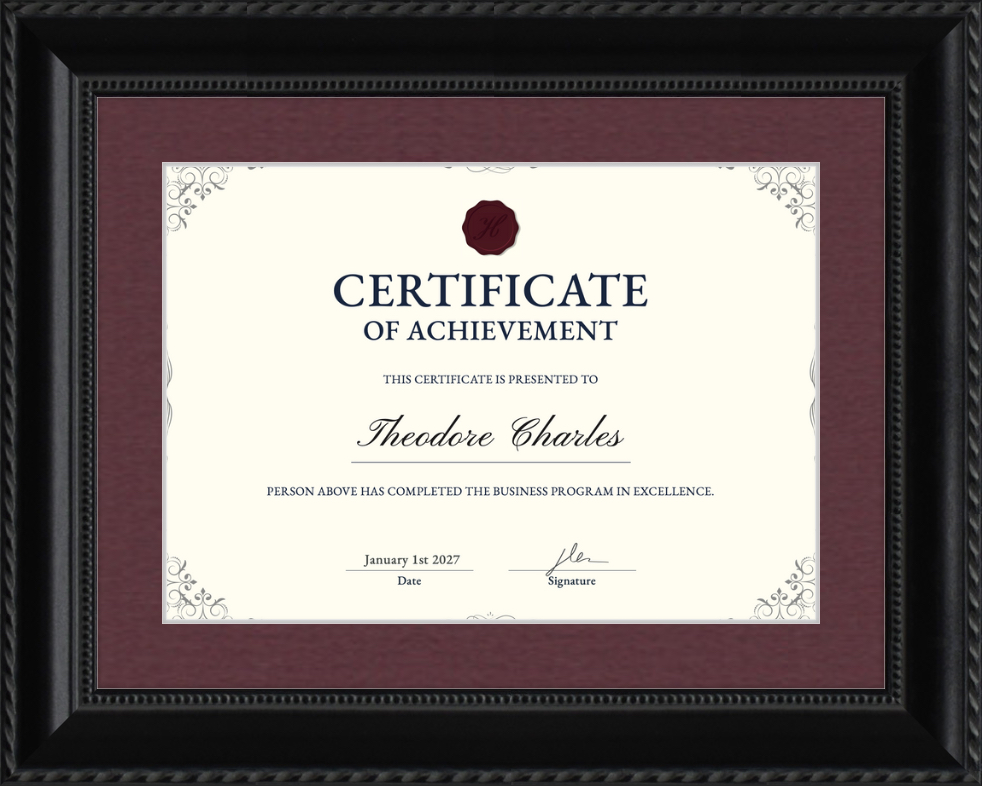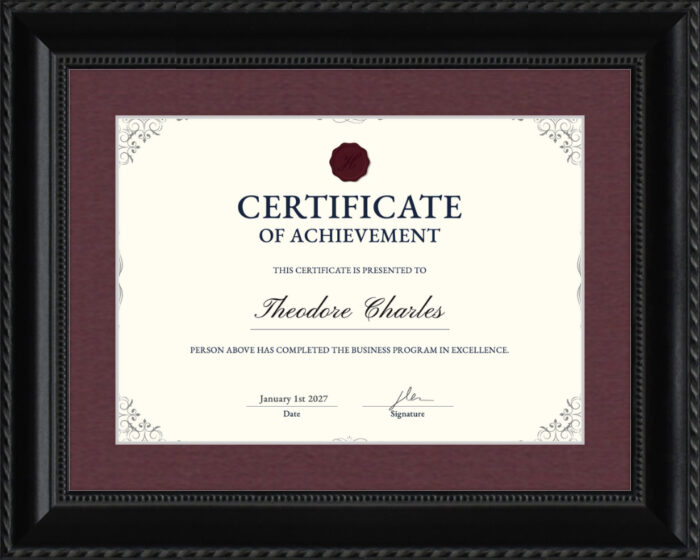 ---
Common Certificate Sizes
As you design your certificate, you may be asking yourself, what are the most common certificate sizes? Can you design a certificate that's the wrong size? The most common size is the standard 8.5″ x 11″ certificate, followed by the 11″ x 14″ certificate. That said, we believe you should be able to design without limitations, so all of our frames are not only affordable, but they're completely custom and made to order. That means whether you have a standard-sized certificate or something a bit more unique, we have the perfect frame for it!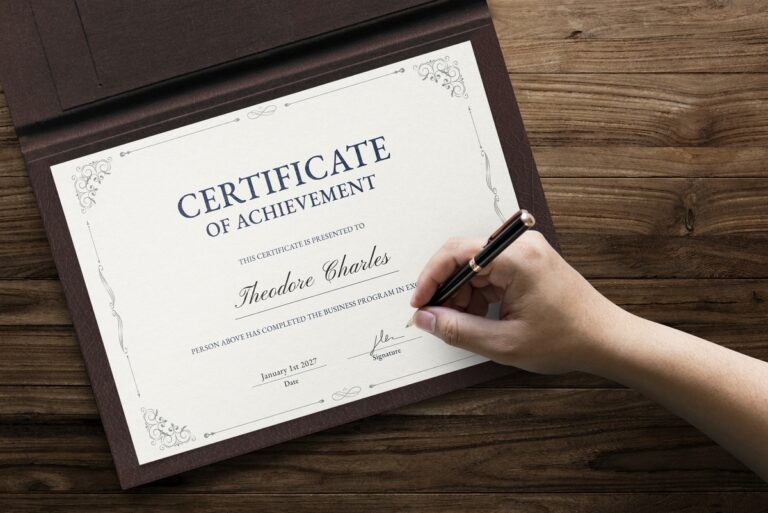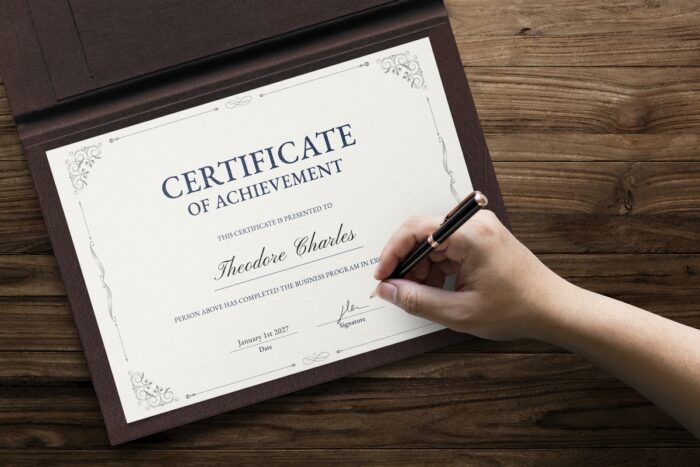 ---
Get office decor tips plus corporate framing advice, delivered right to your inbox!
---
The Best Certificate Frames
Once you've created the perfect certificate, there are so many framing options to sift through! When selecting a certificate frame, take the style of your space into account. You'll want something that works well with your current decor, but also something that looks sharp and showcases your certificates appropriately! Check out our suggestions below for the perfect frame:
For modern spaces: You'll want to source thinner face frames in either black or white. Take a look at our Ashford or Hanover frames. Pair it with a white matboard for the ultimate modern expression.
For traditional or classic spaces: Look for classic proportions wrapped in a traditional wood finish; Our Dayton frame in Umber or Cocoa works well here!
For rustic spaces: Source a chunkier-faced frame with straight lines and an expressive wood finish. Our Derby frame in Rustic Gray is perfect for rustic spaces.
For elegant spaces: Find a frame with intricate detailing in a metallic finish. Our Granby frame in Gold or Silver is wonderfully suited to these spaces.
For youth-oriented spaces: You'll want something that's fun with colorful finish options; check out our Hanover frame in Red, Green, or Blue.
🖼 Ready to start designing your perfect certificate frame? Head over to our interactive frame designer, where it's easy to upload your images and order the ideal certificate frame!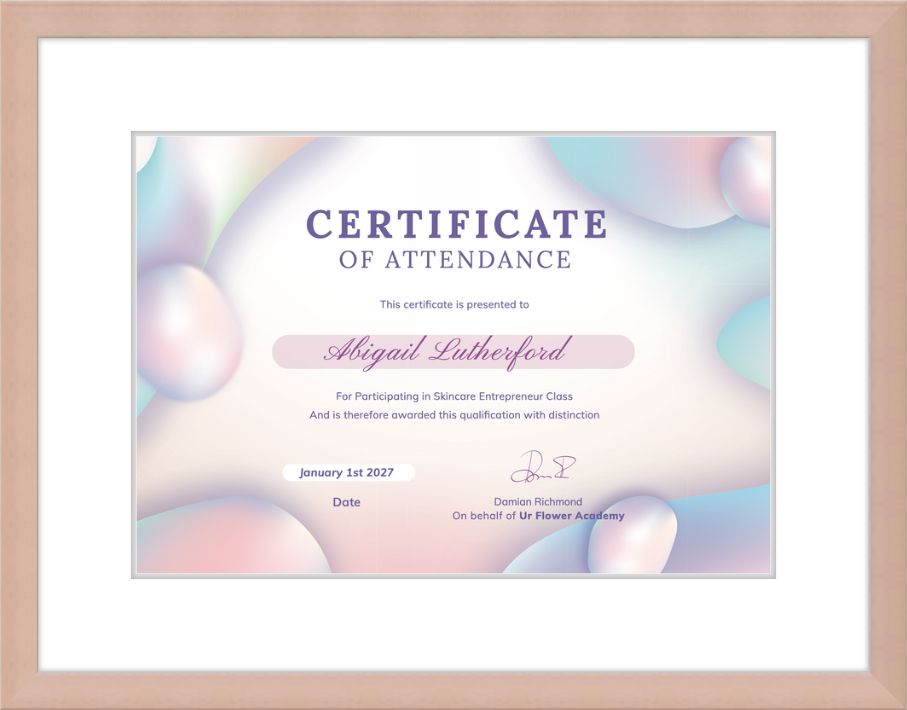 ---
Certificate Frame Display Options
There are so many creative ways you can display your certificates; that said, if you're looking for some inspiration, we've got you covered! First, you'll need to decide whether you're grouping multiple certificate frames together. This is a popular option for businesses, where numerous employees need their certificates displayed at once. For this option, we recommend planning out a gallery wall. A gallery wall is a fantastic solution to get all your certificates highlighted on a single accent wall. It's the perfect way to showcase a team's hard work and achievements.
If you're running low on wall space, or are only needing one or two pieces displayed, consider arranging your pieces in an interesting tabletop display with our EaselMate™ accessory. This acts as an easel for any of our Wood or Metal frame styles up to 13″ x 19″. It installs in seconds and adjusts to any angle!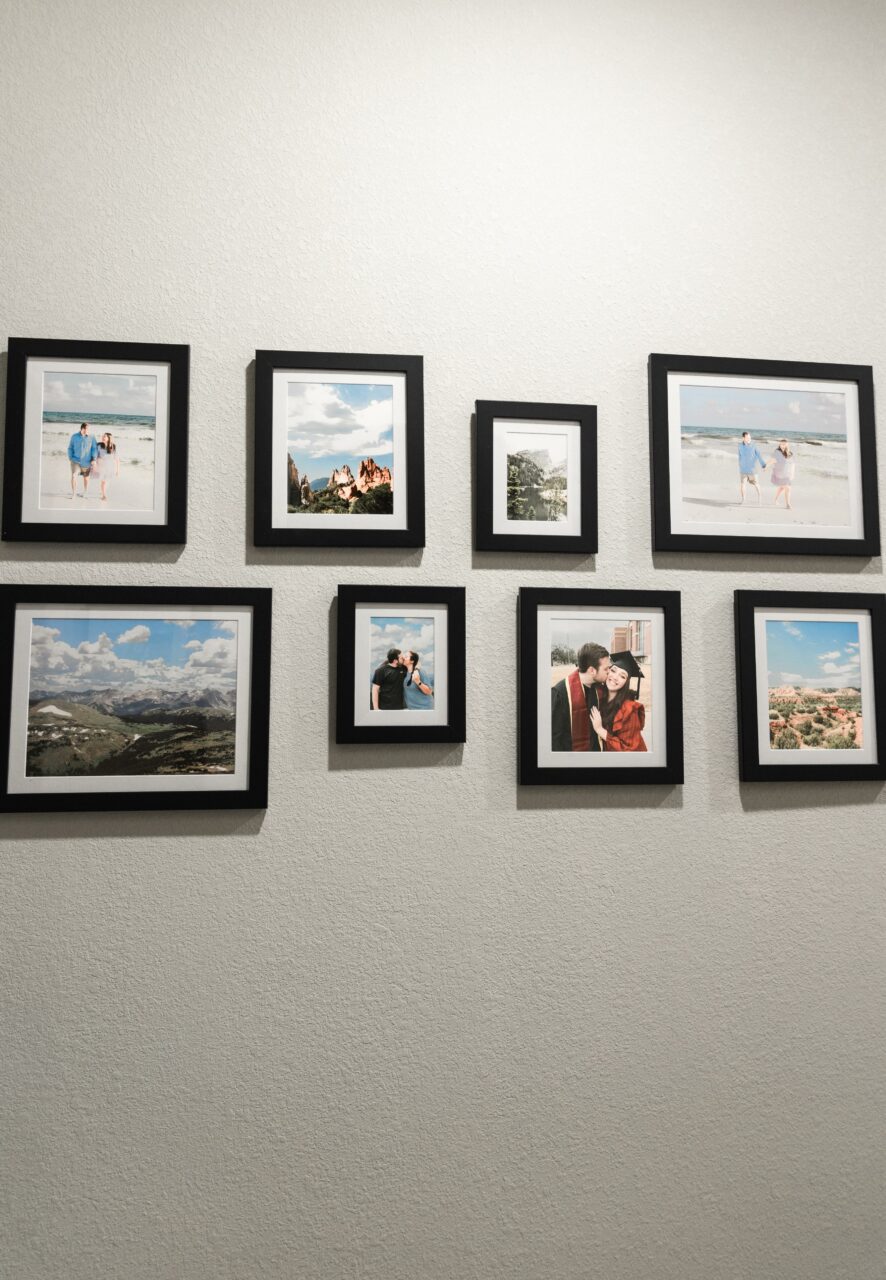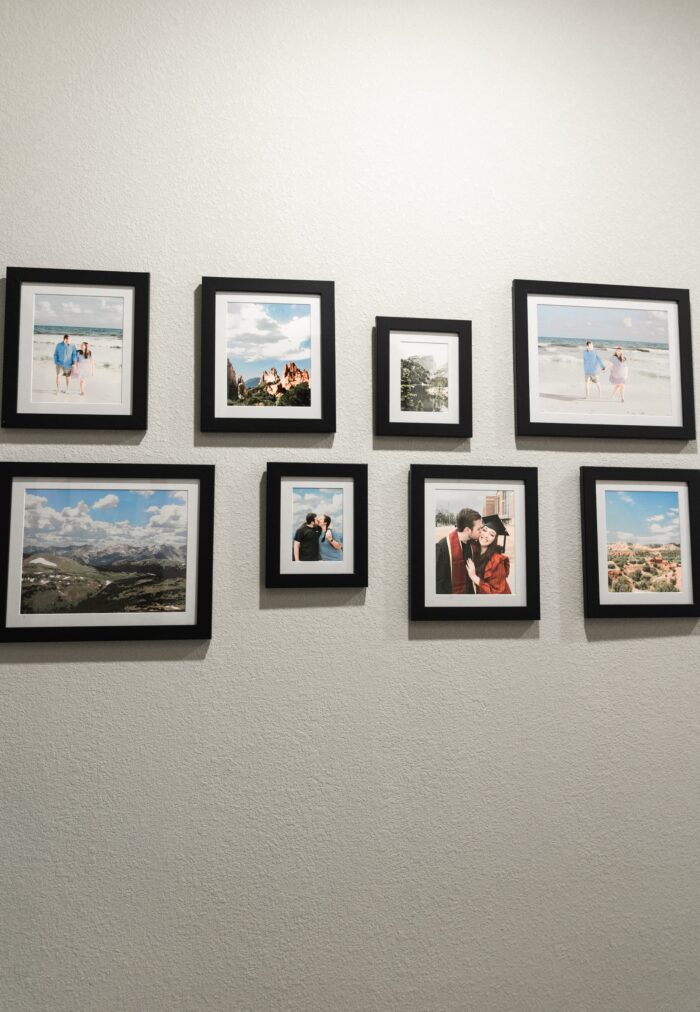 ---
Frame Hanging Tips
Once you receive your framed certificates and plan where you'll hang your pieces, you'll need to consider how you'll hang them. If you ordered Frame It Easy frames, they come with everything you need to get going, just bring your hammer and add a nail to the wall! To get a designer look, if you're hanging your pieces above a piece of furniture such as a desk or table, we recommend hanging your pieces about 6-8 inches above your furniture. And if you have a larger piece that isn't anchored by furniture, ideally the center of your piece should be hung around 57 inches from the ground.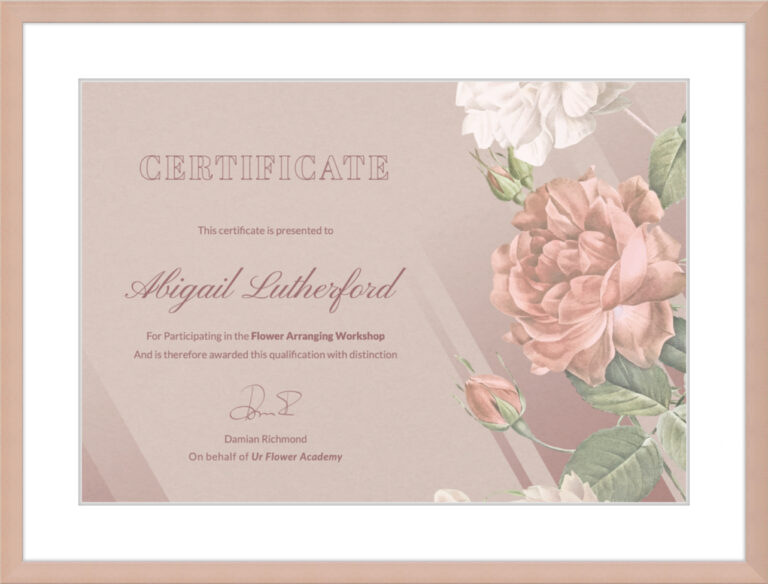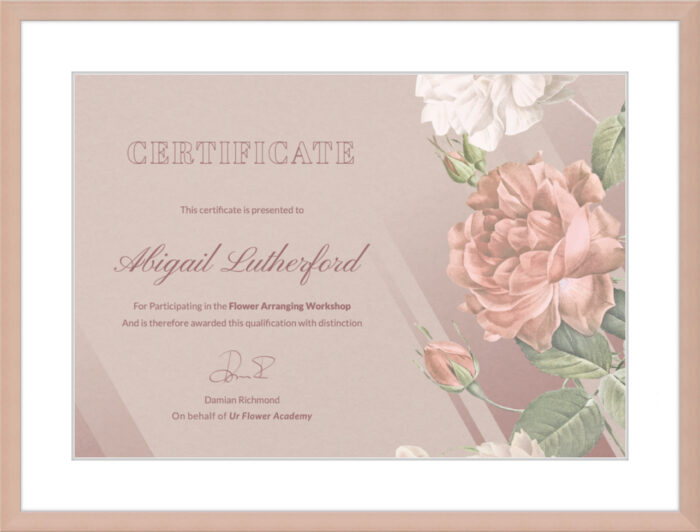 ---
Final Thoughts
With this guide, we hope you've gained the knowledge and confidence to select the perfect certificate frames that match your style and complement the importance of your achievements. Whether you want to display your diplomas, awards, or professional certifications, our custom frames can help elevate your office decor and take your space from drab to fab!
And before you go, learn how to find the best frame to match your office decor style in the video below 👇
Get office decor tips plus corporate framing advice, delivered right to your inbox!
This post first appeared as Certificate Frames 101: The Definitive Guide on Frame It Easy - Learning Center for Custom Picture Framing.