Punch your destination into Google Maps and — voila — you'll have step by step directions. It's great for all your road trips, but it's made the printed versions of everyone's former favorite navigational tool somewhat obsolete, at least from a utility standpoint. Good news, though. Maps still look really, really cool and are a great way to take your decor in (pardon the pun) a new direction!
Of course, if something looks great, you know what we think you should do — frame it! When a point on a map brings you instant joy when you see it, represents your "happy" place, or generates a sense of tranquility, there's even more reason to display it. So let's travel the world of maps to inspire you to go down the road of framing a map.
Pushpin Maps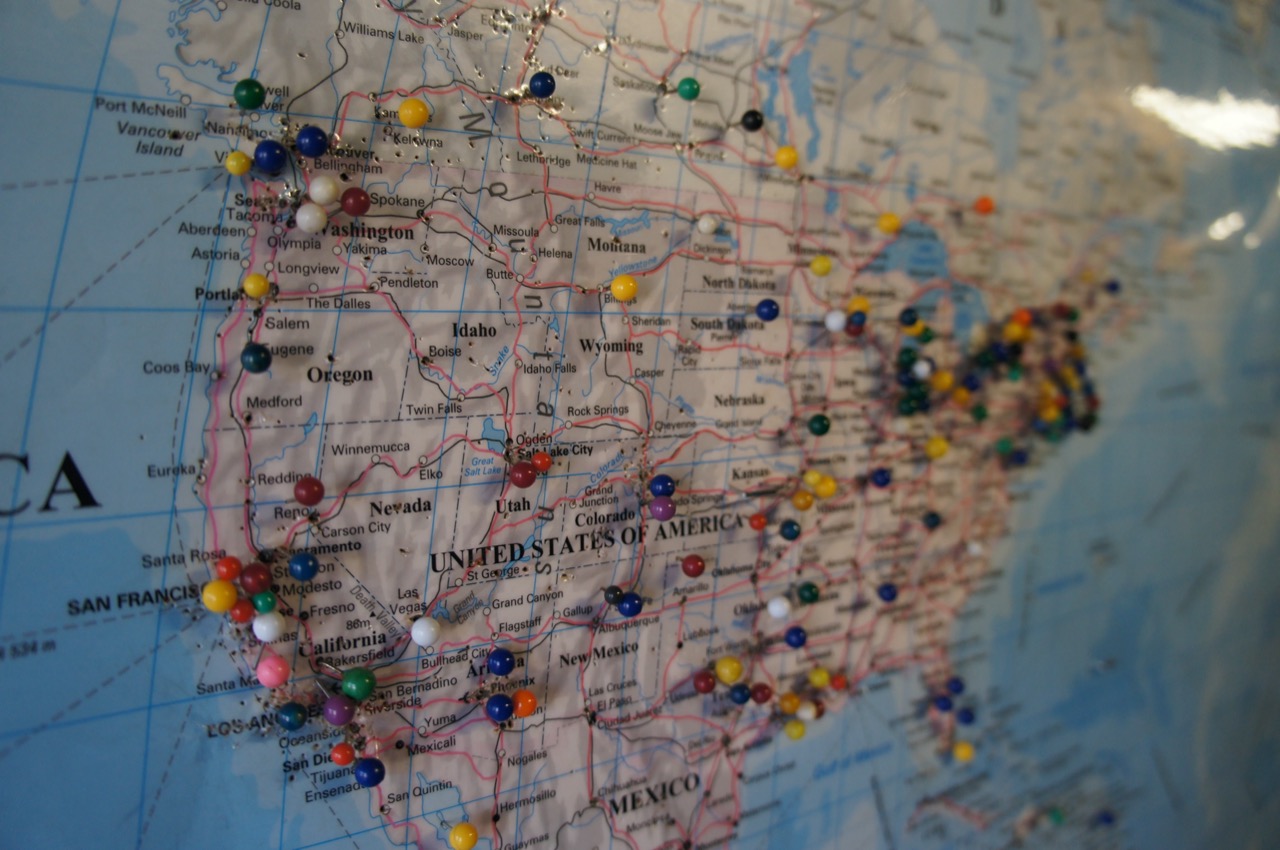 Pushpin maps are not meant to be static artwork; the idea is to keep adding to them as you travel the globe. There are lots of places to find them, but one of our favorite sites is conquestmaps.com. In addition to a variety of locations, from World, USA, Europe and individual states, you get to choose which style best suits your decor from options like vintage, colored, aged, and slate. And the best part, they come ready to frame.
For most artwork covers are a necessary part of framing. They protect the art from outside forces, such as dust, debris, and those ever-destructive ultraviolet rays. Our frames come standard with an acrylic cover in either a clear or non-glare option that additionally minimizes stubborn sun glare. Indeed, it's rare that someone, when hanging a frame, would want to be able to touch its contents. However, part of the fun of a pushpin map is adding to it from time to time, so a cover would detract from the interactivity that you need. But don't worry, we've got you covered and there's a pretty simple way to choose this option on our site as well.
Just make sure you're on a laptop or computer, as this trick won't work on a tablet or mobile device. When you get to Step 4 of our Frame Your Design process press the "H" key on your keyboard. In addition to the "Clear" or "Non-Glare" options, a third "No Cover" section will appear. Select it, and the cover would be omitted from your order.
(P.S. You can also order a frame shell or rails and a cover from our "Accessories" page, but the components will come disassembled; whereas, if you use the above method, everything will be preassembled. In case you don't have a laptop or tablet handy, it's still possible! If you have any questions or issues, don't hesitate to reach out to our support team.)
Scratch-Off Maps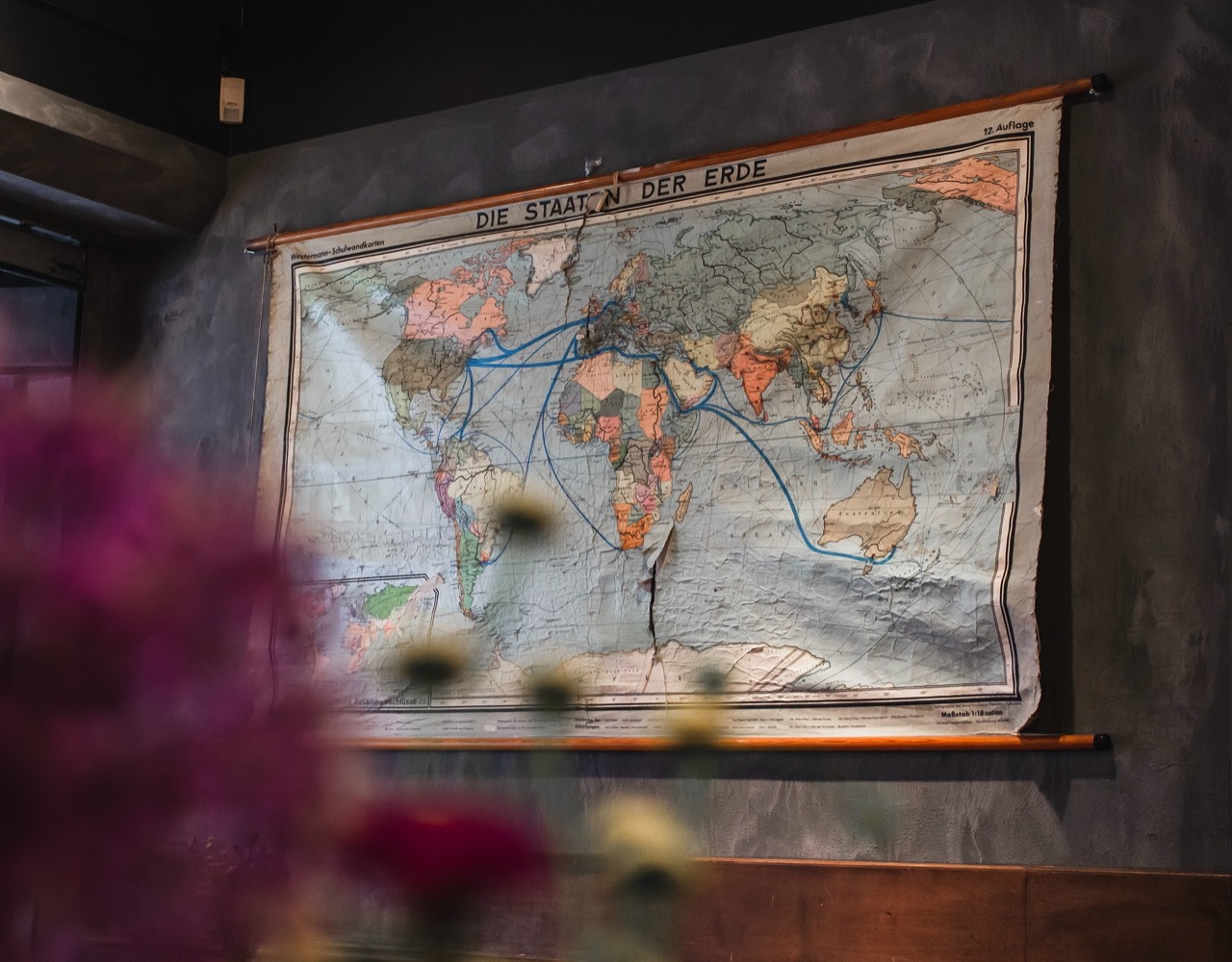 Scratch-off maps are pretty popular right now, and there's good reason. Like the pushpin maps, they are interactive, creative, and look great. The concept behind this map is instead of putting pins on the places you've been to, you scratch off the states (or countries) you have visited while revealing a beautifully colored map underneath. The best part is that you create your own personalized map as you go.
Similar to the pushpin maps, this requires no cover while you continue to scratch off your map. So, unless you don't plan on traveling ever again, use the "No Cover" option as described above as you continue on your journey through life.
There's also plenty of places to find scratch-off maps. The original scratch-off map was created by Luckies, a company in The UK as a way for travelers to keep track of how many places they have visited throughout the world. Etsy also has tons of scratch-off maps and you can even customize them to have your name on it!
Custom City Maps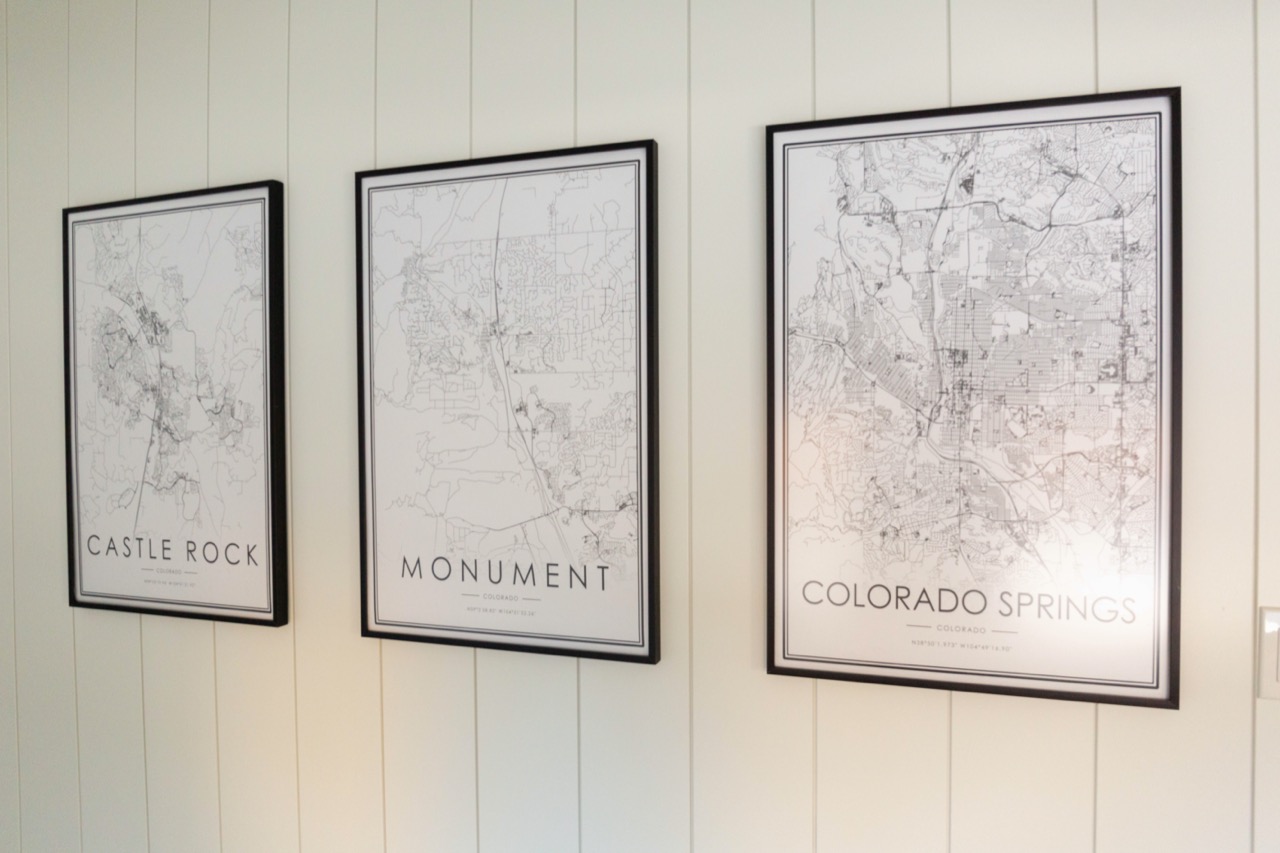 Maybe instead of displaying a whole world map, you're looking to display one city that represents an important time in your life. The possibilities are endless: the town you were born, the city that you spent your four years of college in, where you met the love of your life or even the place you now call home.
Whatever it is, a framed city map is a fun, personal way of decorating. Custom prints of the city you are looking for can be found on Etsy.com in different styles, colors, and shapes. Or try one of our favorite looks and do a triptych display of three places of importance to you.
For an even more personalized map, check out customaps.com. Not only can you design custom maps in different styles, designs, colors, but you can also even add a route that you traveled and icons to mark some of your favorite spots in the city.
Antique Maps Of Your City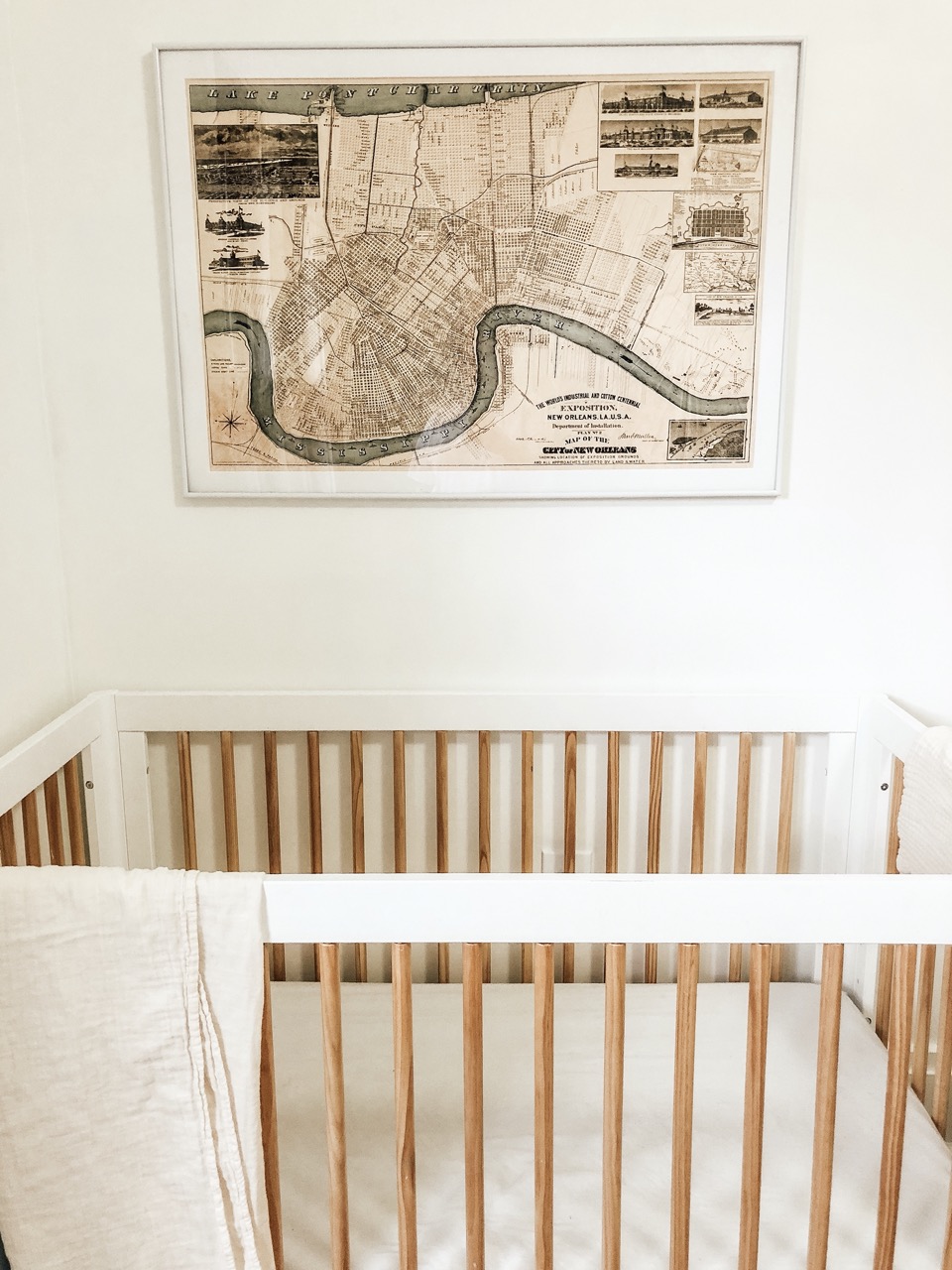 Another option, antique or topographical maps. They are cool! If you head to your local library, they may have free prints of your town before development came in, so that McDonald's around the corner most likely won't be on there. Or scour through some local antique shops to find maps that show how much your little (or big) town has grown. Topographical maps depict the natural beauty of the features and land surfaces of your home town.
Keep this in mind if you have a topographical map it might be too thick for our frames. Omitting a cover should be able to rectify that, provided the map you're trying to frame doesn't have too much depth. Use the instructions for pushpin maps as described above.
Don't let any "imperfections" on these maps scare you away. Tears, staining, and fading actually can add to the uniqueness of your display. For tips on creases and folds, check out our Learning Center post for everything you need to know about poster frames
Poster Sized Maps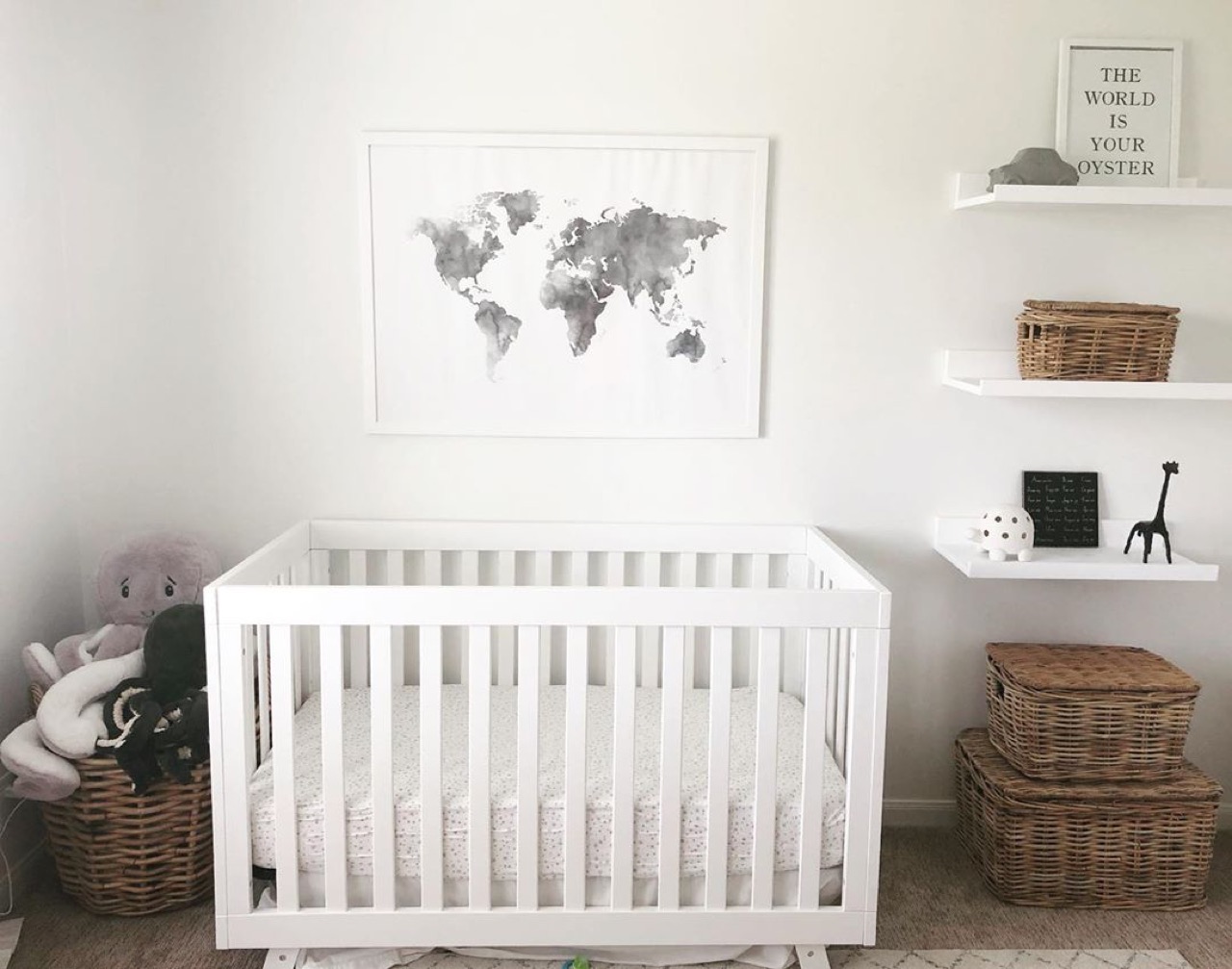 Nothing makes a statement quite like a framed poster, and a poster map declares your fondness for a locale loud and clear. For poster art we recommend you forego the use of matting to allow the entirety (minus ¼") of the artwork to remain visible.
There are tons of online places to find poster-sized maps. And we have tips on framing large items too. While framing something so large can be a daunting task, don't let fear stop you! Check out our Learning Center for tips on framing posters and large art pieces and how to choose the best frame for your piece. All Posters offers tons of large poster-sized maps of the United States, Europe, and even specific cities. 
Custom Map Puzzles
Not only are jigsaw puzzles fun to put together, but they are also actually very good for training your brain. They help you to focus on one task, as well as ease your mind off negative or stressful thoughts.
Why not create a custom puzzle of your hometown or another meaningful location. Not only will this be tons of fun to put together, but it will look great hanging on your wall once it's completed!
Final Thoughts
There are so many different, creative ways to incorporate a map into your home decor. Whether it's a specific city that means a lot to you that you found in your local library or a colorful map of the world you purchased online, it is sure to be a great addition to your space.
If you are choosing to frame your own map, make sure you measure it correctly and decide if you want to add a matboard. If you find yourself stuck and need a bit more help with measuring your art, check out this post on our Learning Center to get the best results when measuring your art.
On the other hand, if you are purchasing a download from Etsy or another site, we will do the measuring for you! Just make sure the size of the frame will fit where you plan to hang your it. While our online frame builder automatically shows you the size of your art, if you hover over details next to Art Size, you can see the dimensions of your frame before you add it to your cart.
We hope you've enjoyed our journey on framing maps. As always, we love to see your finished product once it reaches its final destination, so don't forget to send us pictures!