As music enthusiasts, we often attend concerts and collect band posters & concert posters as keepsakes to cherish those magical moments forever. Concerts and live music performances are not just about the incredible sounds and unforgettable experiences; they also serve as a means to connect with our favorite bands and artists on a more personal level.
Whether you're a die-hard music enthusiast or an avid collector, the right framing can elevate these pieces from mere memorabilia to stunning works of art that capture the essence of the music scene. 🎶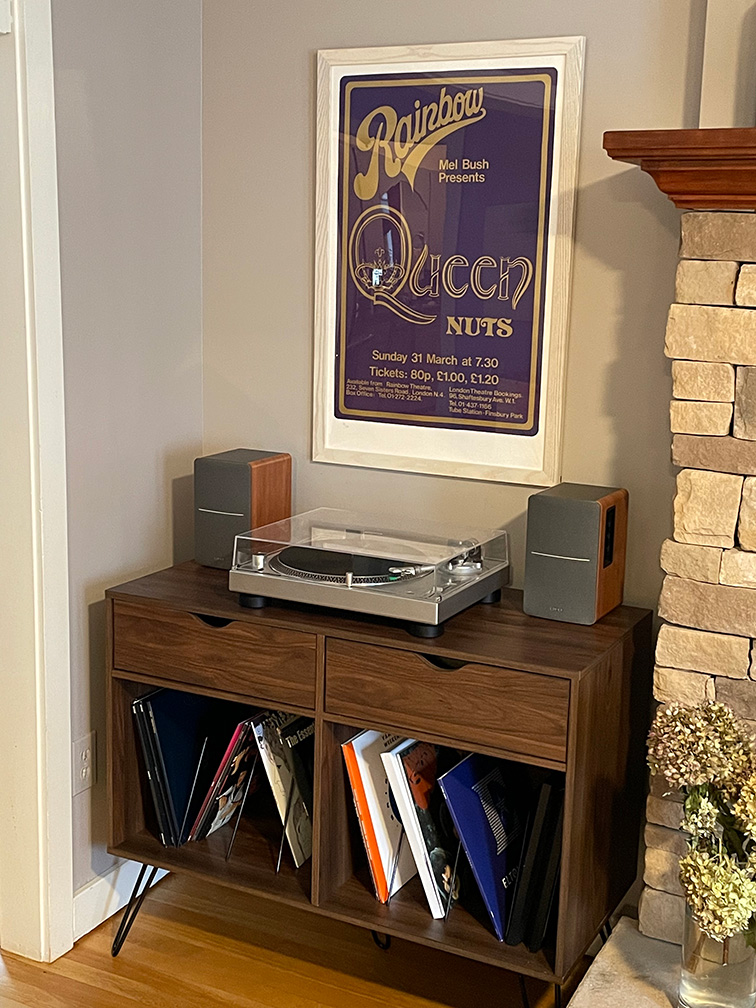 In this article, we'll dive into 5 creative framing tips that will help you proudly display your concert posters and band posters while protecting their value and significance. Lets Rock! 🎤
Concert Posters & Band Posters: 🤘 Prepare For Framing! 🎸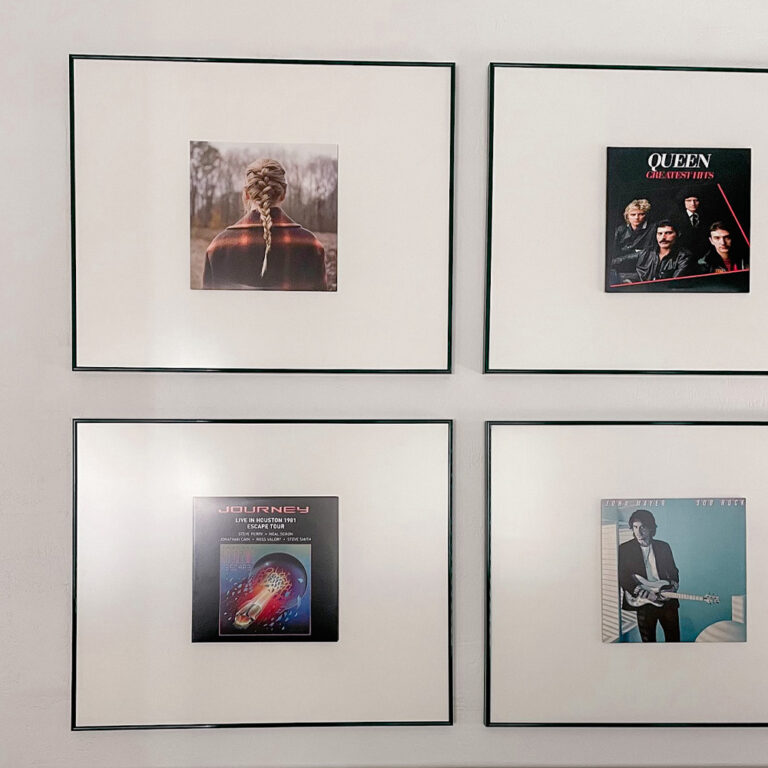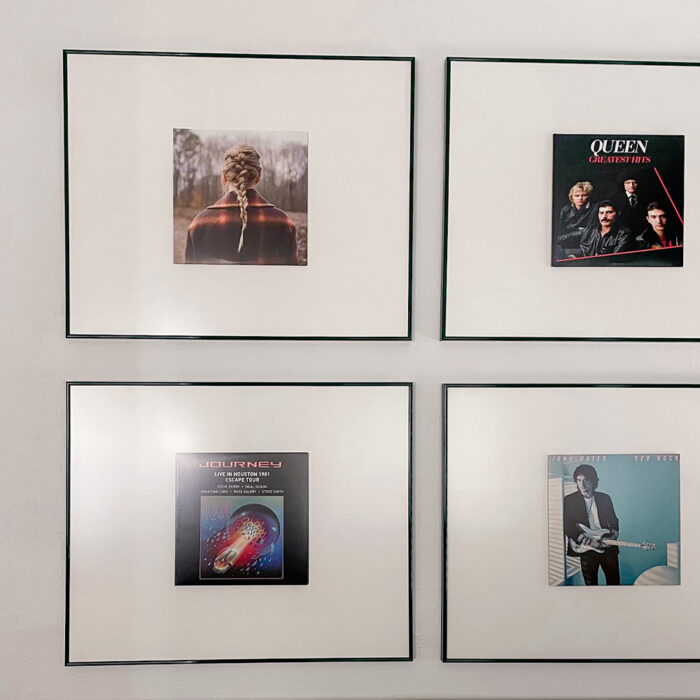 1. Cleaning, Repairing, & Removing Wrinkles
Before we even begin to think about selecting a frame, it's crucial to ensure they're in the best possible condition. Cleaning, repairing, and removing wrinkles are the initial steps to guarantee that your posters are ready for framing.
Cleaning
Some posters can be lined with a glossy cover which may attract dust over time (especially if you have kept them rolled up in a closet for a while!) Luckily, cleaning posters is pretty darn easy – Gently clean the surface using a soft micro-fiber cloth to remove dust and dirt, and of course, handle them delicately to prevent damage.
You may be tempted to wet the cloth – don't! Even though many posters are lined with a gloss covering, you're still dealing with a paper product, so keep moisture away!
Repairing
Old posters that have become frail with age, mishandled posters, or posters from outside venues may look a little shabby and need some repairs. We've got the scoop on how to fix most small tears and rips…
For small tears, use Framer's tape. Apply a tiny amount of adhesive to the back side of the poster on torn edges and press them together gently. If the poster has larger tears or damages, it might be best to consult an art restoration professional!
Dealing with discoloration? If your poster has suffered from discoloration or fading, consider using acid-free markers or colored pencils to gently fill in faded areas. Test the marker on a small, inconspicuous area first to ensure it matches the original color.
If your poster requires extensive restoration or if you're uncertain about anything, it's best to seek a professional. They have the expertise and tools to handle complex repairs while preserving the poster's authenticity!
Removing Wrinkles
Lay the poster flat on a clean, smooth surface. To remove wrinkles, place a clean cotton cloth over the wrinkled area and gently press with a warm iron set to low heat. Keep the iron moving and avoid applying excessive pressure. This process should gradually smooth out the wrinkles without harming the paper.
Don't have an iron? No worries follow the same process with a clothing steamer!
---
📋 Looking for a handy guide? Download our printable poster pack below!
FREE Download – The Perfect Poster Pack! 📃
Poster Size & Frame Guide + Wrinkle Remover Manual!
---
2. Pick A Material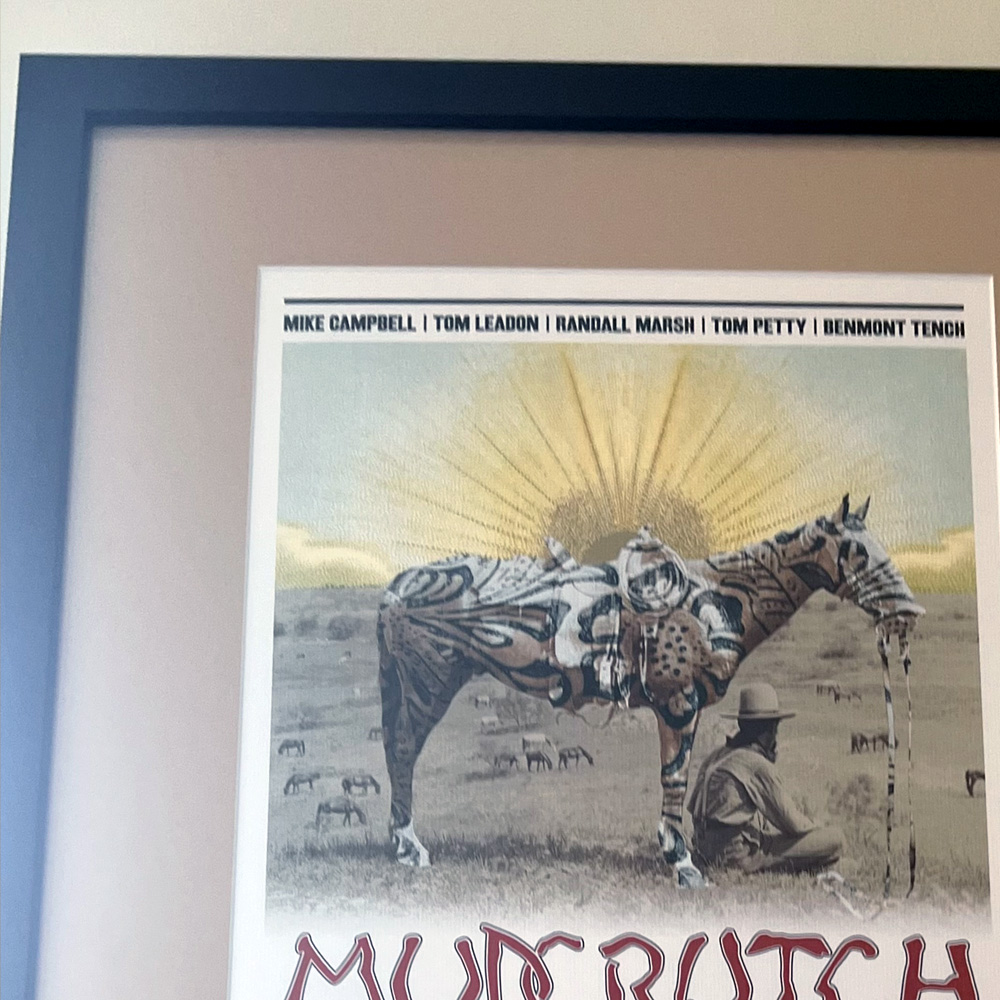 Wood or Metal? Depending on the size of your band poster, it's usually best to go with metal for larger posters. We're sure you want it to be on full display, with as little frame as possible to potentially overpower it, our Ashford and Hannover Styles are the #1 picks for all things poster. They're on the thinner side and come in a multitude of colors – perfect to match any band logo or artwork!
If you're framing a smaller gig poster or venue poster you may want to add a little something extra – that's where our thicker wood frames come in, pair them with a double matboard and you've got yourself a great-looking poster piece!
3. Consider The Size
A well-proportioned frame draws attention to the artwork without overwhelming it, this applies to poster art too! For standard and large-sized poster art, we recommend skipping the matting and letting your art do the talking with a thinner frame style. Of course, a small matboard trim looks great in large sizes too if you need an extra pop of color!
4. Matting & Cover (Glazing)
Matting is more than just an aesthetic choice – it serves a functional purpose too. Matting creates a buffer between the poster and the acrylic cover (glazing), preventing the poster from sticking to the glass. So if your poster needs that extra bit of added protection – go for a matboard!
Additionally, it enhances the visual appeal of the artwork. Choose matting colors that harmonize with the poster's colors and style. Got a black and white poster that needs a pop of color? Grab a mat board in hot pink, buttercup yellow, or purple – problem solved!
As far as poster frame covers, A non-glare matte finish cover is best for posters with holographic elements or added foiling (However, this is not recommended for matted works, as it will cause a less crisp display.) A clear cover is the best choice for flat or glossy posters.
5. Hanging Your Frames
The beauty of band posters is they look great in almost every room in a home! Take your music tastes with you – whichever room you step foot into. Some of the most popular rooms to display these concert posters are home offices, music rooms, teen bedrooms, and basements.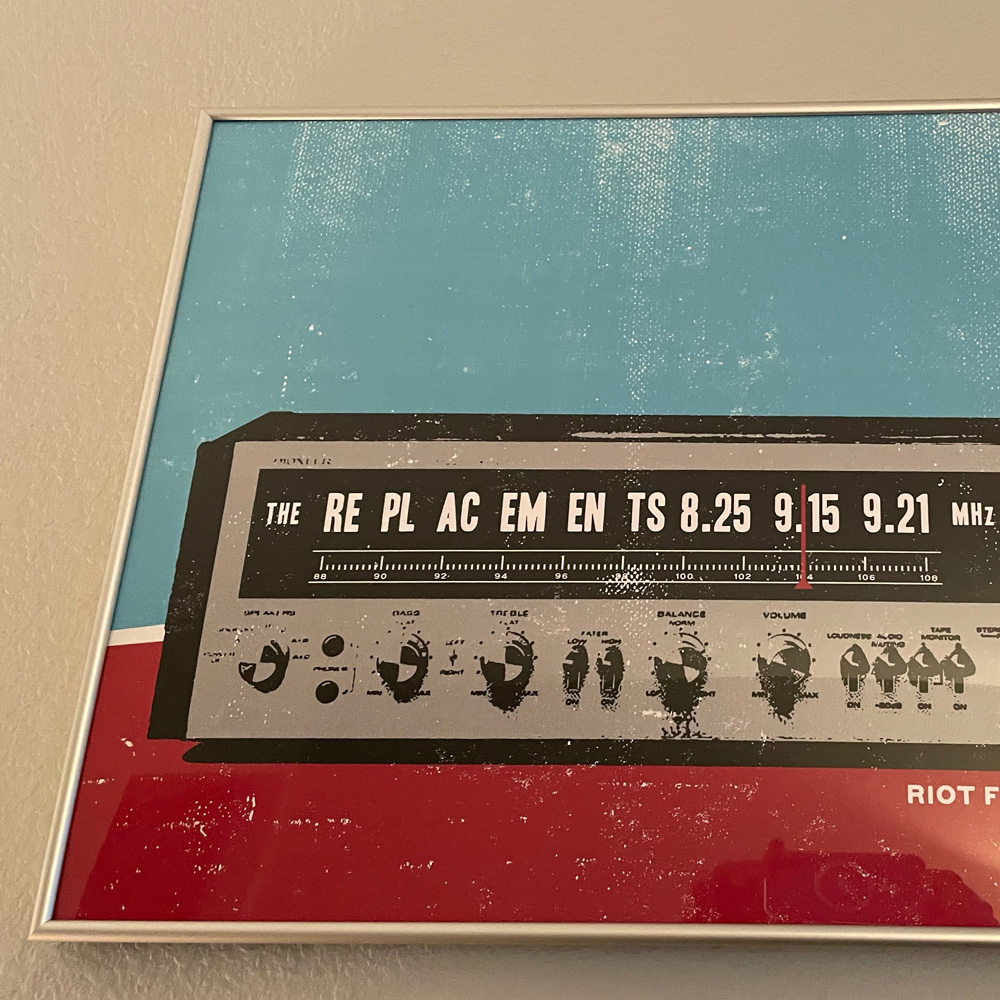 ---
---
Concert Posters & Band Posters: Adding Accessories & Other Frameables!
Ever kept your festival wristband, caught guitar picks (impressive!!), or your ticket stub? Enhance the visual impact of your framed posters by incorporating accessories and other memorabilia associated with the concert or band!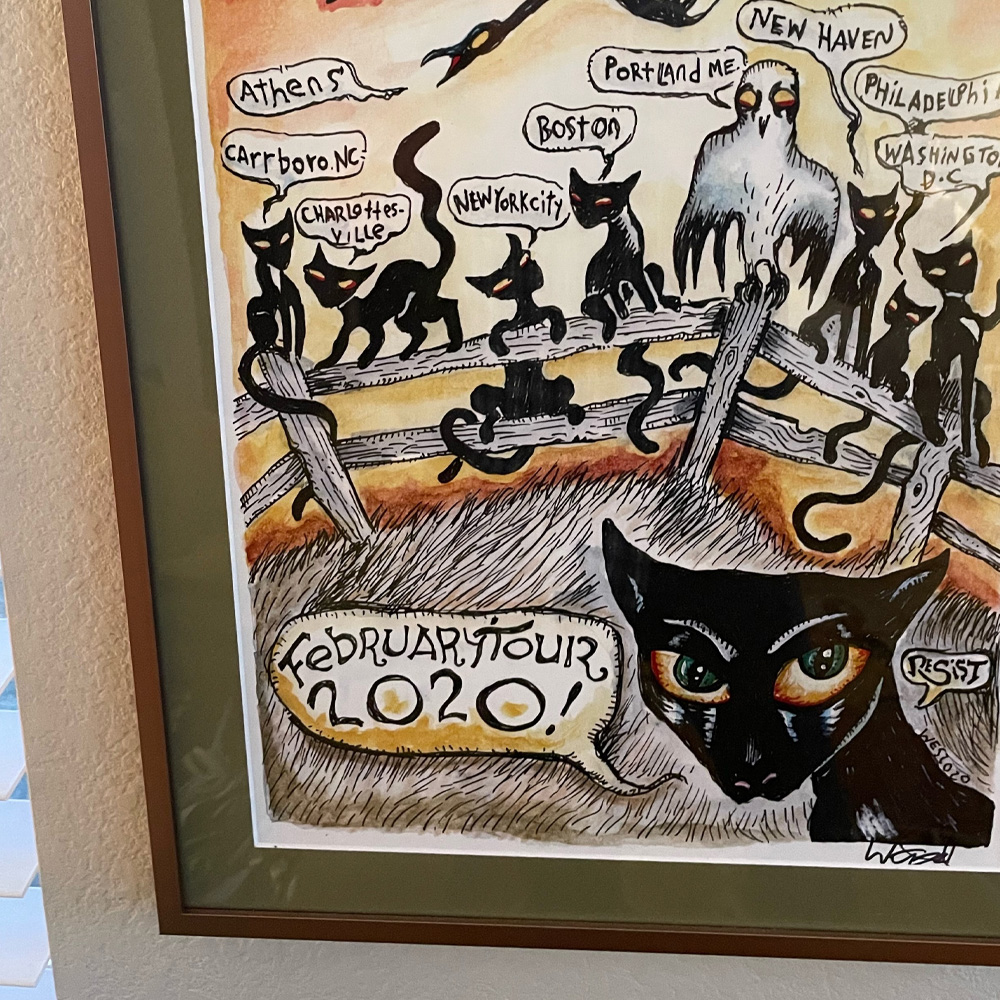 🎟️ Tickets – Grab your old tickets! Frame all your most memorable show posters and tickets in one frame, or if you've seen you're all-time fav multiple times consider creating a ticket collage.
💍 Wristbands – That wristband can be a badge of honor! Sometimes a concert wristband design can be just as cool as the poster – or maybe you even got VIP access and want to show it off.
🎉 Confetti – Save the party! Did your favorite artist let off a cannon of confetti during the last song? Frame it and savor the moment!
🎸 Guitar Picks – Nice catch! This is a price worthy of a grand display – you deserve the bragging rights for this one!
✍️ Artist Signatures – Lucky you! If you were lucky enough to meet the musicians themselves and grab their autographs, whatever you had signed – it's screaming for a frame! 🤘
🤩 Want more poster goodies? Check out our Guide on Poster Frames and our go-to reference for selecting The Best Poster Frame Style & Color!
Final Thoughts
Framing concert posters and band posters is an art that marries preservation with presentation. By following these 5 creative framing tips, you can transform your cherished memorabilia into stunning displays that celebrate your passion for music while maintaining their value for years to come.
With careful attention to cleaning, material selection, sizing, and even framing thoughtful concert accessories and freebies, your framed posters will become captivating focal points that resonate with the energy of live performances and the music that moves you.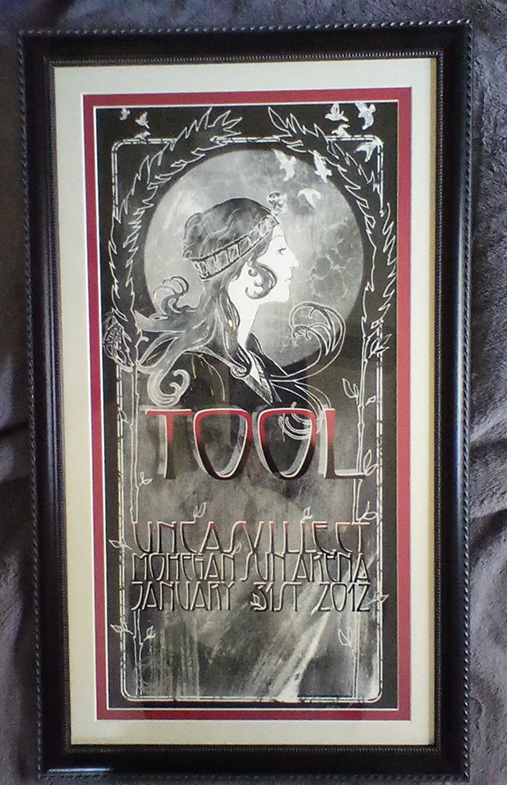 Show off your framed posters, artwork, photos, & other items! – Inspire others by sharing your photos, tell us your story! If we share it, you'll receive a coupon for 15% off your next order!
Be sure to follow us on our socials for more daily inspiration – check out our Shopify app to start selling your own framed prints!
This post first appeared as Concert Posters & Band Posters: 5 Creative Framing Tips on Frame It Easy - Learning Center for Custom Picture Framing.