Are you looking for new ways to elevate your office decor? Big wall art paired with your favorite frame offer a fantastic opportunity to create a unique and stylish space without breaking the budget! These statement pieces can instantly transform any room, adding a touch of sophistication and personality. With their larger size, they make a bold statement and become a focal point in your conference room, break room, or lobby! Plus, they offer endless styling possibilities, allowing you to change out artwork and create a unique display that reflects your personal style.
Join us as we explore different ways to use big wall art to decorate your office, including hanging tips for oversized art from the pros you don't want to miss!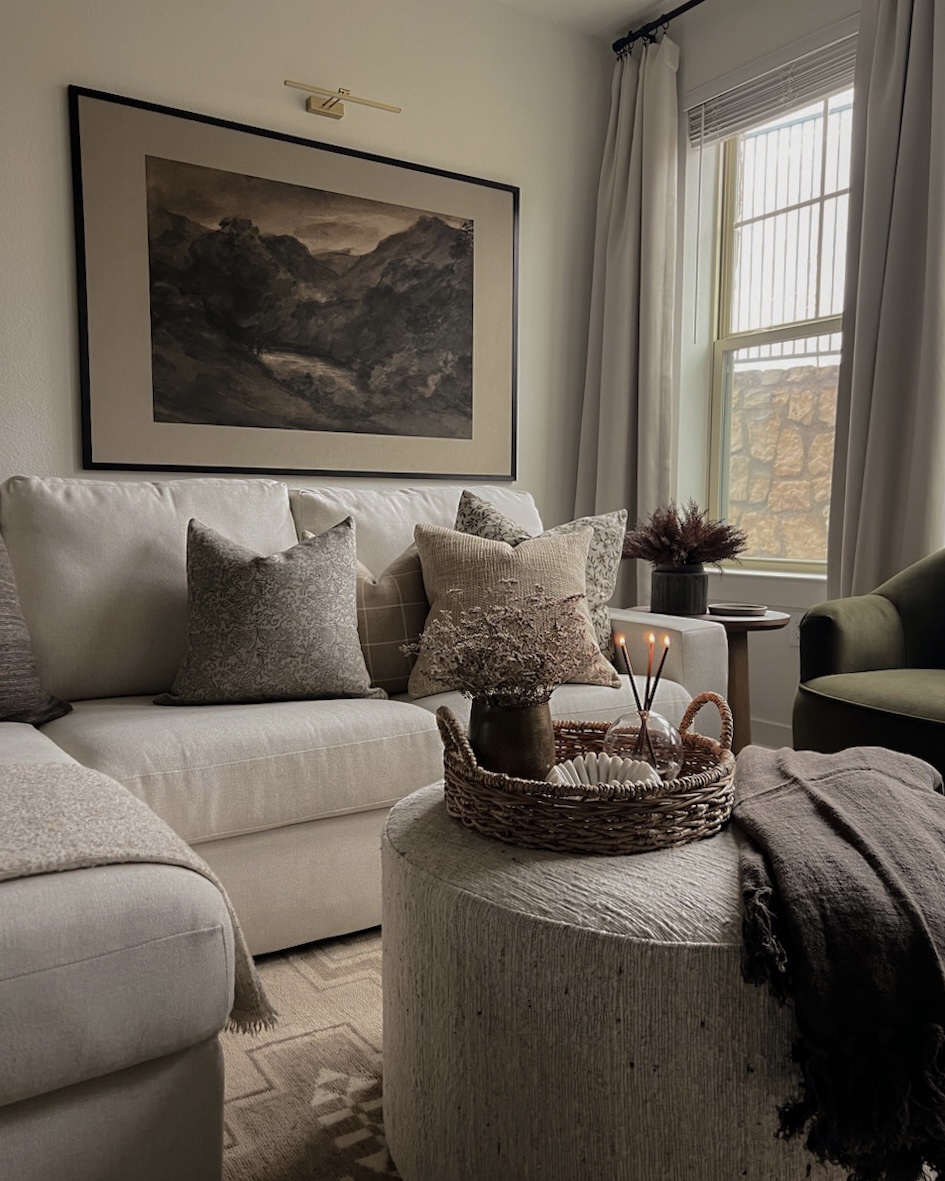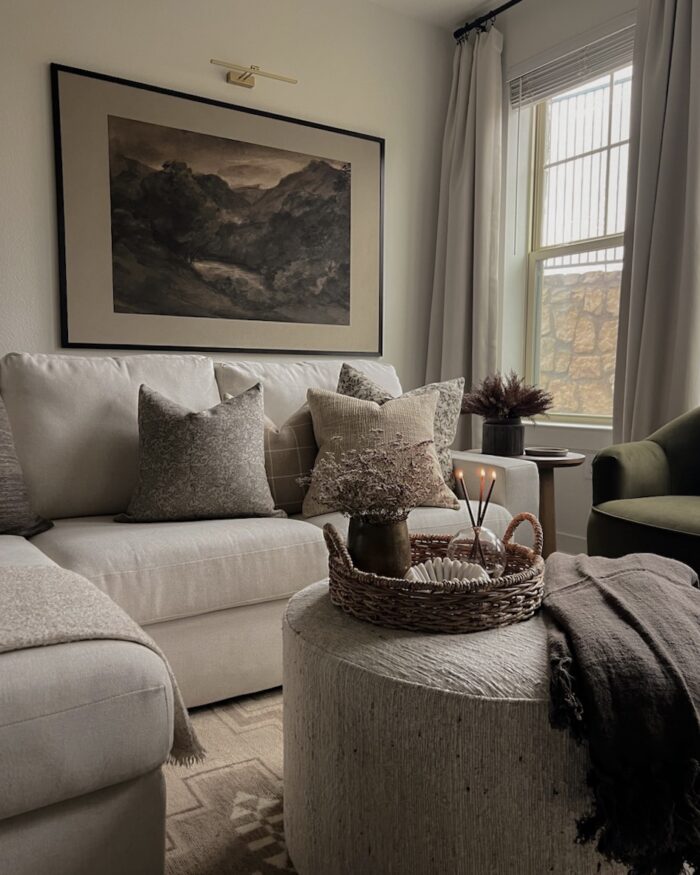 ---
Why Big Wall Art Works Best
Big wall art paired with your favorite frame is a fantastic solution for anyone who wants to make a bold statement without going as far as painting or remodeling. Because painting isn't typically allowed in the office, oversized art is the ideal solution! Even better, it's easy to change out your art when the mood strikes for a totally different vibe! Plus, oversized art lends itself to a more elegant-looking space.
So, whether you're looking to find the perfect big picture frame to fill up a boring, blank wall in the office or you're looking to switch up your current decor scheme without remodeling, oversized art is a brilliant way to add a pop of character to any room without breaking a sweat or your budget!
💡Here at Frame It Easy, we believe you should be able to frame any type of art, no matter the size! It's why we offer affordable custom framing for any art up to 42″x 62″.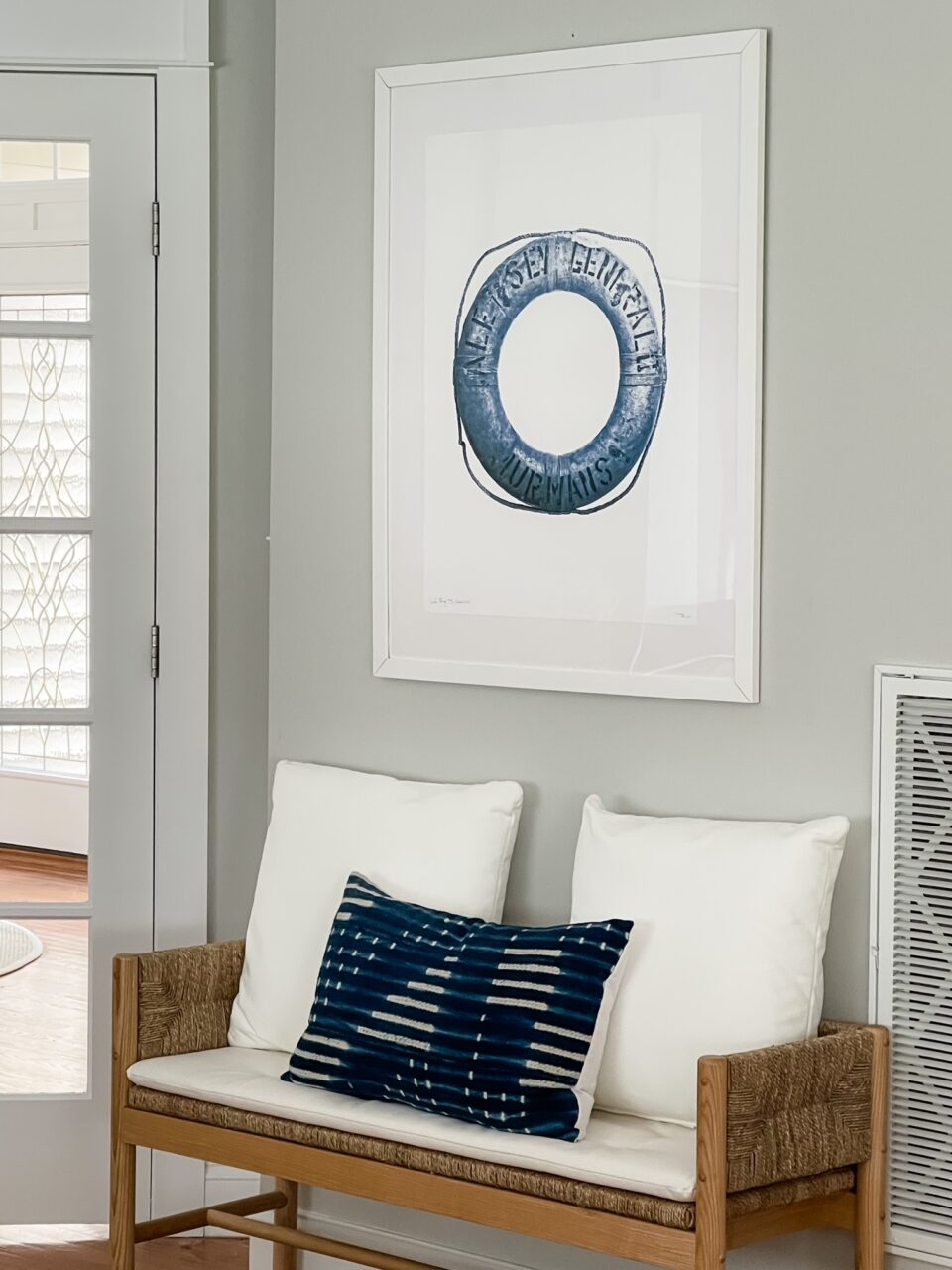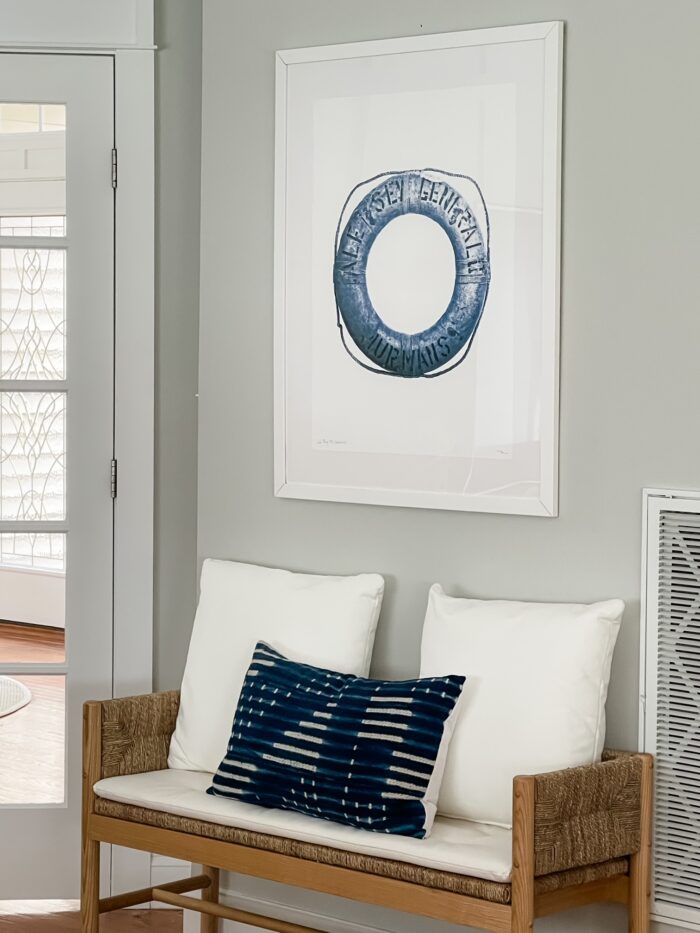 ---
Styles Of Big Picture Frames
Which frames you choose for your oversized art are almost as important as the art itself! Luckily there are a variety of big-picture frame styles available to choose from, so explore your options and take your room decor into account before committing to anything. If you need a little inspiration, check out our frame style tips below to source the perfect frame for your space:
For modern spaces – Look for thinner-faced frames in a black or white finish. Our Hanover and Ashford frames work well for contemporary rooms.
For opulent or elegant spaces – You'll want a character-filled frame with detailing in a metallic finish. Check out our Granby frame in Gold or Silver.
For traditional or classic spaces – Frames with a thicker face in wood fill traditional spaces well. For a classic look, we recommend our Derby frame.
For contemporary spaces – Colorful finish options are the important point here; our Hanover frame comes in fun colors like Red, Blue, or Green!
For eclectic or whimsical spaces – To get an eclectic feel, mix and match frame styles. We recommend a metallic finish frame and a wood finish frame pair. Check out our Granby and Dayton frames as a starting point.
For a designer touch, don't forget the matboard! Matboards are the perfect way to showcase your oversized art and add even more character to your favorite pieces. For modern and contemporary spaces, stick to a white matboard. For more eclectic spaces, select a colorful matboard. For traditional spaces, you'll want a matboard in a more subdued color. And if you want to really impress your coworkers, try matching your matboard color to your official brand colors!
💡Interested in learning more about matching frames to your office decor? Don't miss Office Decor 101: Choosing The Right Frame For Your Office Style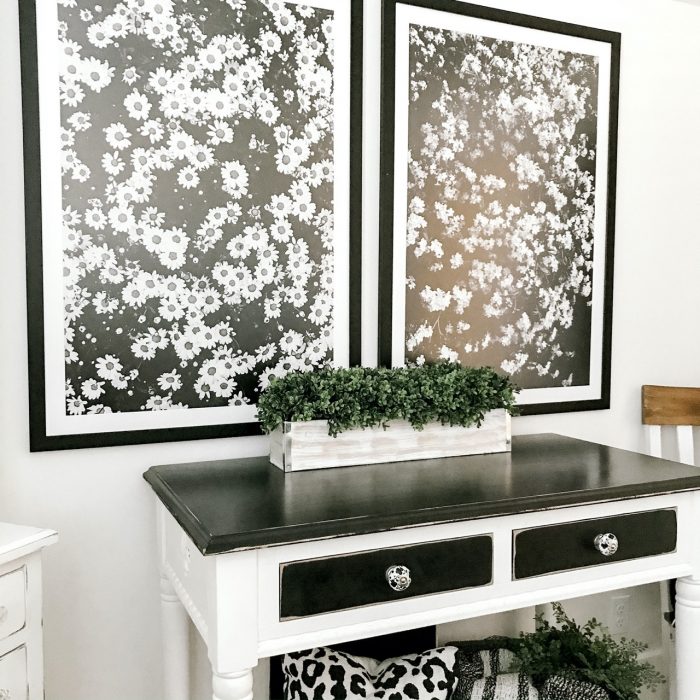 ---
Framable Oversized Art Ideas
Do you love the idea of decorating with big wall art, but don't have the perfect art yet? No worries – we've rounded up some of our favorite ideas to find (or create your own) art to fill big-picture frames. Plus, these options are fairly inexpensive, too! Don't be afraid to experiment with different materials or colors; you have a big canvas to work with!
Wallpaper or wrapping paper – Fairly cheap and economical, since you get quite a bit of paper for the money.
Free stock photo sites – There are plenty of free stock photo websites on the web which you can use to frame.
DIY graphic design – Use an editing program like Canva to design your very own oversized art; we can even print your digital design for you!
Fabric – Similar to wallpaper and wrapping paper, fabric comes in all kinds of colors and textures and best of all, you can frame it!
Company Logos – Show your company pride with oversized logo art!
Maps – Maps work well as oversized room art because they can be quite large!
Wall decals – If you have wall decals you love, but don't want to permanently stick them to your walls, frame them!
Shower curtain – Cut it down to size and frame it!
Stencils – If you want to flex your creative muscles a bit, find an extra large stencil you love to make your own artwork.
🖼 Frame wallpaper like the pros! Check out our official guide – Home Decor Ideas: The Ultimate Guide For Framing Wallpaper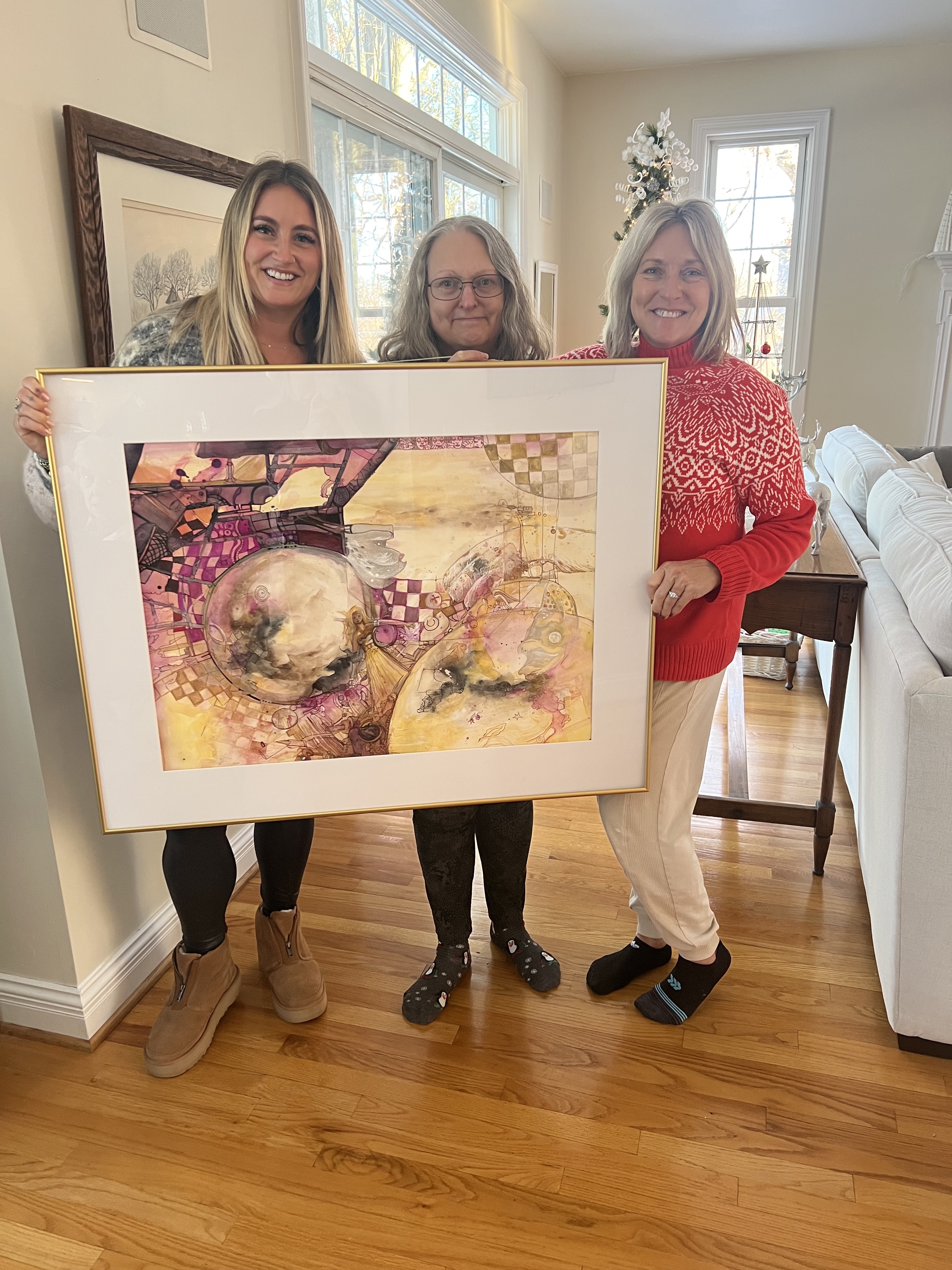 ---
How & Where To Hang Oversized Art
Where you place your big wall art mostly depends on the size of your framed pieces and your available wall space. You can hang oversized work above a piece of furniture (like a desk or filing cabinets) or as a standalone piece on a wall. We recommend that your largest pieces be reserved for walls without furniture, as they create the biggest statement. Most other pieces can be situated above furniture.
For any art displayed above furniture, try to place your framed art 6-8 inches above it. For standalone pieces, the center of your big picture frame should be around 57-60 inches from the floor. If you have higher ceilings, you can bump that measurement up to 70 inches. If you'd prefer not to hang your artwork, you can create a stunning tabletop display using our EaselMate™ accessory!
🛠 Looking for even more picture-hanging tips? Be sure to check out How to Hang a Picture Like a Pro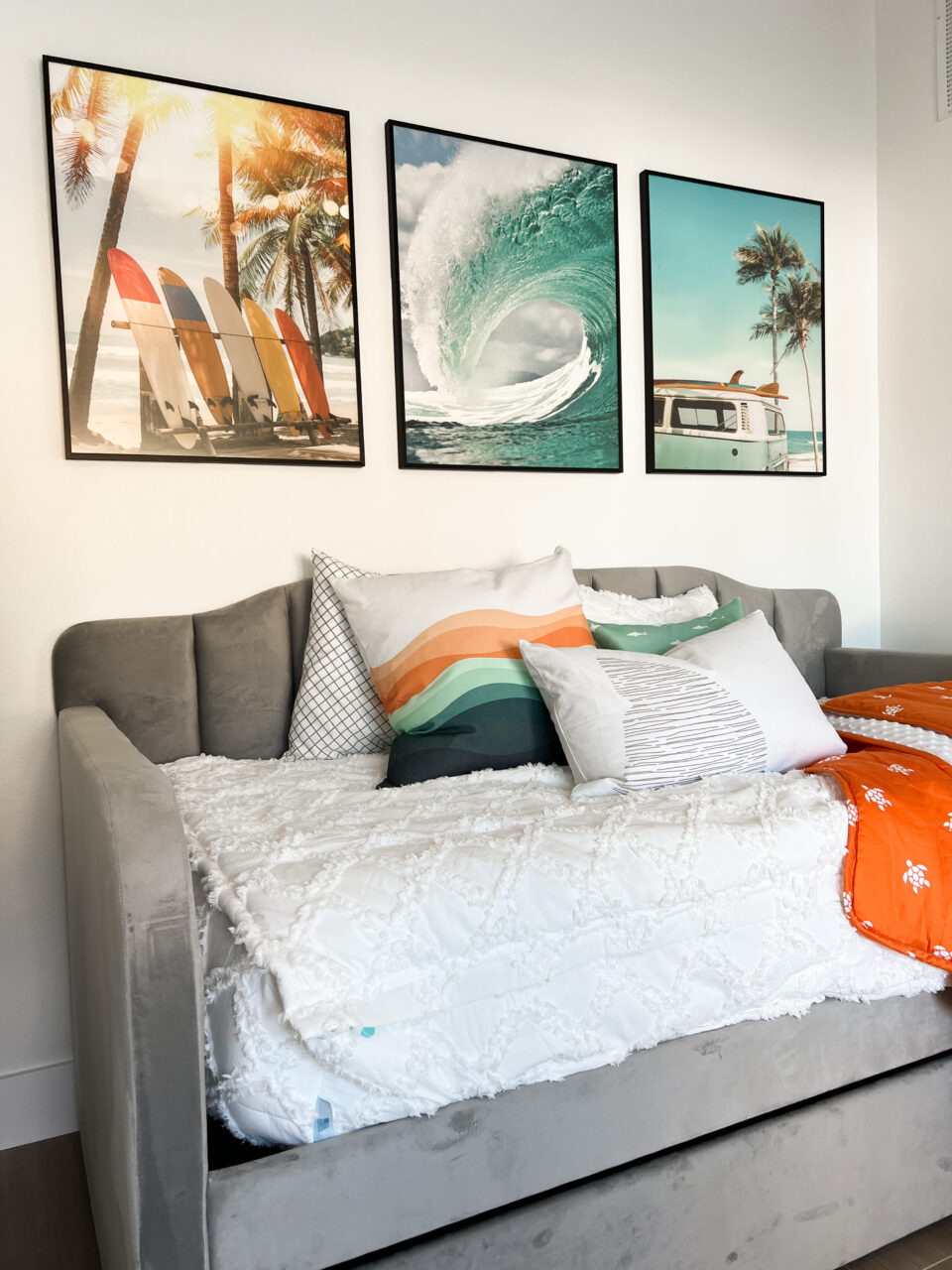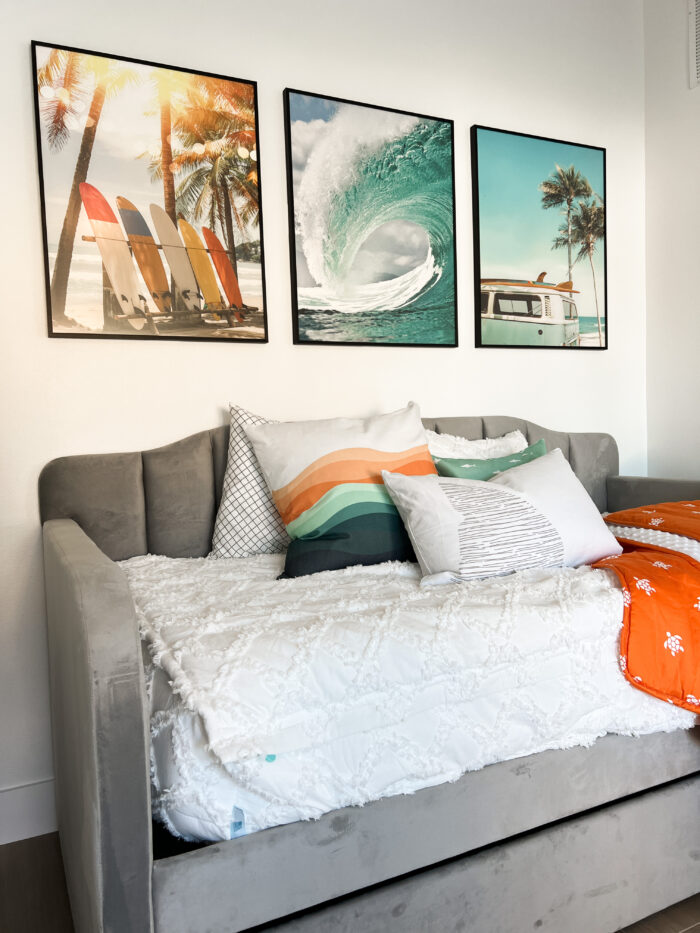 ---
Final Thoughts
Are you looking to add a touch of elegance and sophistication to your office? Look no further than big wall art! These statement pieces not only enhance the aesthetic appeal of any space but also provide a unique opportunity to showcase your favorite memories or artwork. With the right styling tips, you can effortlessly transform your surroundings into a visually stunning masterpiece both you and your coworkers will appreciate!
Looking for even more corporate decor ideas? Check out the video below to learn how to find and frame corporate art for your office 👇
This post first appeared as Use Big Wall Art To Transform Your Office: Tips From The Pros on Frame It Easy - Learning Center for Custom Picture Framing.