Frame Your Wedding with Us
Avoid "wedding markup" when framing your photos. We'll professionally print, mount, and frame your most cherished memories, and you'll receive them on your doorstep in just a few days.
Get Started!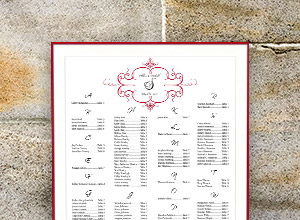 Frames for the Big Day
Table assignments, bar menus, and even decorative frames for a fraction of what you'd pay elsewhere!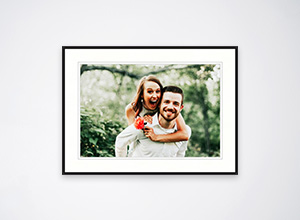 The Happy Couple
We'll professionally print, mount, and frame your wedding photos. Just take them out of the box and hang.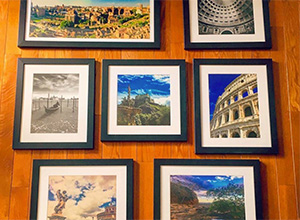 Honeymoon Memories
You'll want to remember this once-in-a-lifetime trip!
What Our Customers Think About Us...
The frame is beautiful and we framed the print easily. It included everything we needed🙂
Amazing! I had ordered a metal frame over the holidays and loved it. The wood one was equally as great! Perfect fit, already strung for hanging. All I had to do was prep the acrylic and pop in my piece. I'll be going to you for any future projects and have already told two friends about your quality!
My frames came so quickly and they are excellet quality. I had purchased painting in Asia in all sorts of unique sizes, and this was a great, cost-efficient way to display the paintings. I also love that the frames are made in the USA! Thank you!
The frames I ordered are perfect! I am so glad I found your website to order frames at such a reasonable cost. Thank you!
Love the new frame. Packaged very well and our photo fit perfectly! Will defiantly purchase from Frame it Easy again!
This was a gift. The recipient says the frames are perfect! Thanks.
Fast, easy and beautiful! You've exceeded my expectations. Above and beyond on the details, everything that was needed to complete the framing was included down to the cleaning cloth. As an artist who frequently frames, I will use your company again with no hesitation. Thank you!
This is our first time using you and won't be the last. Designing on your website is so user friendly, the options that you have to offer are great! We received our order today and absolutely LOVE IT!!!!!! THANK YOU SO MUCH AGAIN! Glad I found you.
Seriously a beautiful and strong frame. Came quickly and fits my picture just perfectly. Thank you!!
Absolutely beautiful framing and matting, and for the best pricing out there. I'm so happy with this custom frame I will be ordering three more!
Love the frame, picture fit perfectly and was so easy to insert picture in frame. All the hardware for hanging was included. Took a total of 20 min from opening box to hanging on the wall. Looks great! Thank You!
The work, the packaging, instructions was nothing short of amazing. You can only have made it easier if you came and hung it up for me. Very happy and impressed with your organization. Thank you for doing "it" right.
This was my first order and I am very happy with my purchase. The quality is very good and the picture looks great. The packaging was sturdy and secure and they even included hanging wire and hook. Very good value for the price.
Very pleased with every aspect. Easy to order on line, quick delivery and quality craftsmanship. Love it, thanks so much!
After years of exclusively buying 'budget' frames, I finally decided to spend a bit more for a couple of special odd-size pieces I had been waiting to frame for a while. I was honestly pretty blown away by the quality of my metal frames. They look professional to my eye and the construction is impeccable but still light. I would highly recommend these frames for anyone looking to upgrade without spending hundreds on each. Only a matter of time before I end up caving and replacing my existing chintzy frames too.
It was shockingly difficult to find a frame for a neat piece of art we picked up in Valdez Alaska. Even though shipping was expensive it was overall still less expensive to order from you guys than by the wrong thing and alter the art or do something totally custom locally. Thank you so much! I'm so happy to have a very cool thing on our wall in our new home finally!
Love the frame. Everything works and appreciate fast shipping. Thank you.
EXCELLENT QUALITY FRAME AND IT WAS PACKED METICULOUSLY. YOU WON'T BELIEVE YOUR EYES! DIRECTIONS WERE INCLUDED, PLUS A VIDEO, ON THE STEP BY STEP PROCESS ON HOW TO ASSEMBLE AND MOUNT YOUR PICTURE. ALL HARDWARE WAS INCLUDED AND PACKED IN SEPARATELY. ANYONE THAT HAS THAT SPECIAL PICTURE THAT THE NEED A FRAME FOR, DON'T GO "CHEAP". GET YOURS HERE. TOU WON'T BE SORRY, YOU DID. THE FRAME WAS MADE TO THE EXACT MEASUREMENTS, I PROVIDED AND THE FIT WAS "PERFECT". I HIGHLY RECOMMEND THIS COMPANY AND IT IS THE BEST "OVERALL" COMPANY THAT I HAVE DEALT WITH. MY HONEST REVIEW.
Could not be more pleased with this frame. Well made and plenty of hardware for perfect hanging anyway you like. Satin Silver color is perfect for the picture I ordered it for and packed very securely so no breakage or scratches. Will defiantly be ordering again and again for my stitchery and photo needs. Lots of choices for everything I could ever want to frame.
As always, great job! All the frames we have ordered exceeded our expectations.
So happy with my frames, and this way to get my artwork framed while remaining socially distanced. Everything arrived promptly, well packaged and just as ordered. My experience has been only positive, and I expect I will do business with them again. Thank you!
Frame arrived in perfect shape and our Disney puzzle looks beautiful in it!! Thanks so much!!
These frames are absolutely perfect!!!!! Shipped with extreme caution and packaging around frames and on acrylic to eliminate any chance of damage in shipping. Sizing was exact and colors on website were accurate - these match my picture beautifully and I could not be more satisfied. They definitely look like I took these to a professional framer to have done. Will be back for any other framing needs!!!!!
Thanks - these 2 frames were easy to assemble and the final pictures are ready to hang! I was so surprised to see the Fedex notice - that they were being loaded in Derby, CT, which is where I grew up! 1968 graduate of DHS and my kid brother graduated in 1972. Glad to support a local CT business!
My first frame and really happy with it. Very good quality, very well explained. I'll buy more very soon. Thanks!
Amazing quality. Extreme care in shipping. I have ordered small frames to very large frames. Same amazing quality on all of my purchases. It is great to be able to specify the exact dimensions that are needed.
The frame and matting is awesome. I'll be honest, I was a little concerned ordering on line. You far exceeded my expectations!! Everything from the packaging, to having everything you needed to add the art work and hang it. I framed a piece of art done by my grand daughter and it turned out simply amazing. As good or better than the ones I have paid hundreds of dollars to frame.
So happy with my framed photos. The quality of the print was everything I was expecting/hoping for and the frames were perfect. They were delivered in under a week, packaged perfectly and came w everything needed to hang them. Great quality products. I'll definitely be purchasing from them again.
The frames and prints look great! As far as I can tell frameiteasy charges almost half of what competitors charge, yet the quality is there and I'm very happy about my purchase!
The frame arrived quickly and in perfect condition! The frame was carefully packed, and it was very easy to unpack the frame and remove the protective covering so that I could insert a print that I received as a gift. Both the frame and the inner and outer mat were true to color. I'm so glad that I made the investment in this quality product to showcase my print. I'll definitely be coming back to Frame It Easy for my future framing projects. Excellent value!!!
The frame fits perfectly. Your website AND product are amazing. No guess work. Wide selection of type of frames and colors. Easy to locate what I wanted. Great craftsmanship. Good price. I am very pleased with this frame. Now I am looking at framing other pictures I have I wanted to frame using your process and product. Thank You
Love my new framed picture my wife took off the ocean sunrise. Great Christmas present.
Very easy to frame and finally got this project done. Thank you for custom frames with not so custom prices
SO IMPRESSED. First time ordering and I am so happy with my frames and plan on framing everything now. I was worried that for these prices the quality wouldn't be great but I was wrong. THANK YOU!!!!
It was exactly what I could hope for and more. Each detail was thought of making it so easy to hang a perfect picture.
Amazing price for a custom frame that's "fancy" and high quality. We're sooooo pleased with our purchase! Unique service that is also environmentally aware. Cool!
My frame was delivered exactly as ordered. It was very well packaged and had no damage whatsoever upon arrival.
I hate finding frames for my art, so it usually takes me forever to put anything on the walls. I bought three art pieces for the nursery and one of them in slightly smaller, but I wanted the same frame for all three, so I started looking for a custom shop and found Frame It Easy. So happy I found this site - I found exactly what I was looking for (after lots of searching) and it was SO EASY. Just received the frames and put the art in and they look fantastic!
They turned out amazing!!! They were packaged so well and the frames are so nice!!! 1,000x better than I expected. I love that they have bumpers on the back to protect the wall, and they come with a ton of hardware to choose from! Also I really appreciate that Martin caught a mistake I made while ordering (I ordered one print with art paper, but accidentally ordered gloss for the other). I was blown away at the detail of looking it over and how quickly he communicated. I will be ordering frames from fedex everytime for my artwork and for gifting to others! Thank you!
Just fantastic! I have not been disappointed by anything I have ordered from Frame It Easy. The quality has been super, right down to the 32nd of an inch. So long as I measure well, their frame and matting process works flawlessly. I am an extremely satisfied customer. Thank you,
I was a little worried when I ordered my frame and mats online, but I needn't have. My order arrived today, and I framed my cross stitch piece with no difficulty, following your very clear directions. It looks beautiful! I will definitely order from you again!
Ist time customer and I was very surprised at the eased of the ordering process. Downloaded my picutres and picked the my frame. The delivery was pretty fair on arrival due to the holiday. The quality of the frames are great and I'm enjoying the facelift on two art pieces. Thanks Frame It Easy. I will definitely use again in the future.
While reorganizing my bookcase I found this watercolor purchased by my daughter 10 years ago during a family holiday in Paris. During covid I really didn't want to go into a frame shop so thought I'd try frameiteasy. I must say I'm thrilled with the results! The acrylic looks just like glass and it was made to my precise measurements.
The frames were perfect! I will be ordering all of my special sized frames from them.
Love the frame. It looks great. In the future please consider including in the framing kit enough archival tape strips to create the recommended hinge for hanging the art on the matting.
This was my first order with Frame It Easy but it definitely will not be my last. Loved my frame!! Awesome customer service! Very attentive and accommodating. Highly recommend.
Looks fantastic! There were plenty of hanging tools and the dimensions were exactly what I wanted. They may be a tad pricey, but quality always is.