Eclectic decor didn't officially hit the design scene until the late 19th century when architects began blending Gothic Revival and Neoclassic style elements. Gaining significant traction as a style in the early 20th century, eclectic decor is marked by a mix-and-match mentality, with a combination of rich textures, colors, and various eras of furniture for an aesthetic that's at once historical, playful, and approachable. Taking inspiration from a variety of forms, eclectic decor borrows heavily from victorian, rustic, traditional, and art deco styles, with a dash of contemporary to modernize the style for everyday living and comfort.
If you love the idea of mixing styles, colors, and textures, keep reading to explore how you can transform your space from drab to extravagantly eclectic!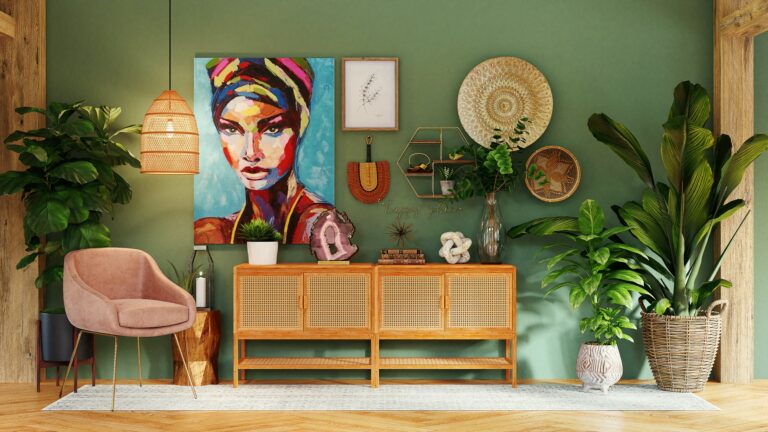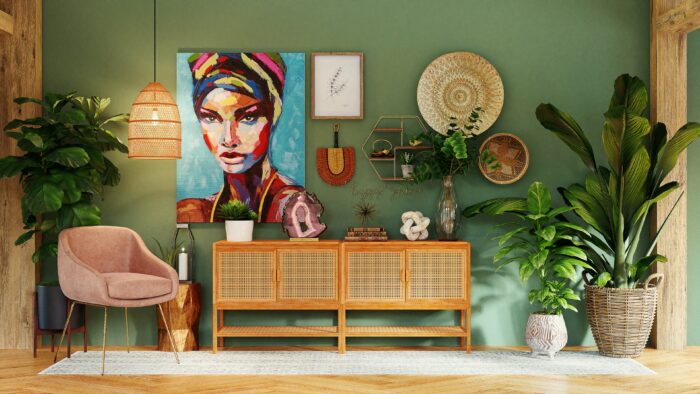 ---
🪑Eclectic Decor Ideas: Furniture
The beauty of eclectic decor is you don't need to keep to any specific era or design. If you're having trouble narrowing things down, try looking for victorian, midcentury modern, and art deco style furniture. These styles tend to play well with each other and have enough design elements in common to give your room a real designer touch. Generally, stained or painted wood furniture is a safe bet. Antique metal, glass, and wicker elements are fine, too.
We do recommend, however, that you choose one color to focus your designs around (it can get overwhelming if you don't and your design won't look as cohesive). A bold-colored accent wall to mirror some of your furniture is also a hallmark of eclectic design, as are jeweled pastel tones.
What to look for when sourcing secondhand or new eclectic furniture:
Victorian, midcentury modern, or art deco style
Jeweled pastel tones
Painted or stained wood
Glass or mirror finishes
Antique metal, brass
Wicker and macrame
One or two main accent colors
Secondhand furniture
The best way to get the eclectic look is to purchase pieces secondhand. Since this style is all about mixing and matching, it makes it a lot easier to find pieces that work. Scratches and dents are fine too, as this aesthetic takes a lot of cues from vintage and rustic styles. Start your search at local garage sales, flea markets, and estate sales.
Refinishing/reupholstering furniture
If you have furniture that's looking a bit run down, it could still work very well with a little time and effort. Consider trying chalk paint on a worn desk for an instant makeover, or reupholstering an old chair for a facelift. Not only will you save money, but you'll have a more authentic space with character.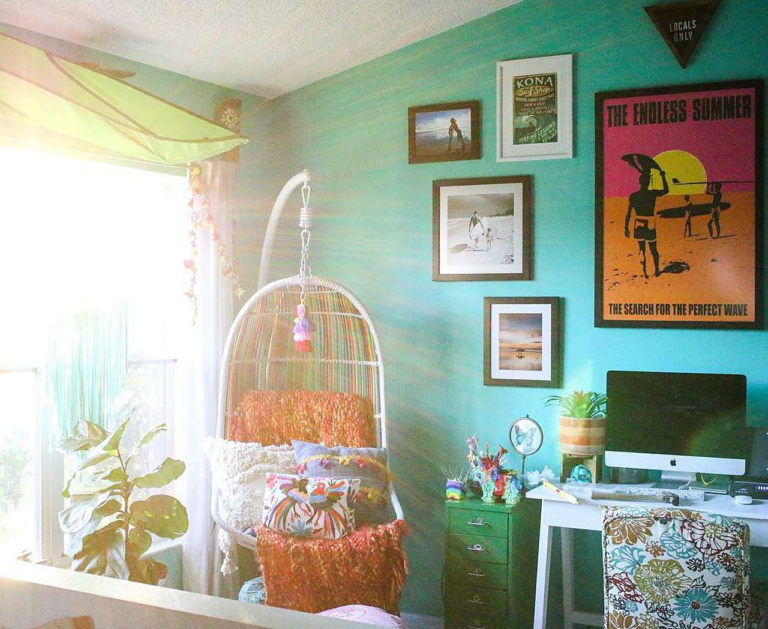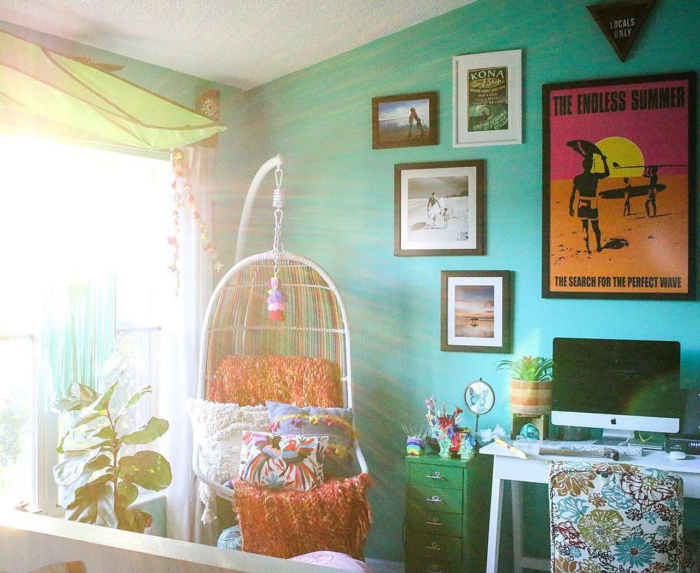 ---
🖼Eclectic Decor Ideas: Artwork
Your choice of artwork is almost limitless with this style. Anything including modern typography, abstracts, landscapes, line drawings, vintage prints, and retro graphics all will work well. Look for pieces that incorporate your accent color and will blend harmoniously when placed in groupings (since this style calls for a bit more drama, aim for 5 to 10 unique framed pieces in your space of varying sizes and subjects). Additionally, we recommend you organize your artwork onto a standard a staggered gallery wall once you've selected your prints.
What to look for when sourcing eclectic decor artwork:
Aim for 5-10 pieces of art
Mix and match various styles, sizes, and subjects
Mix and match frame styles
Add a matboard to a few of your pieces
Look for pieces that contain your accent color
Add your pieces to a gallery wall
Free Artwork
Your first stop should be our guide on where to find free downloadable art. Perhaps a retro cat picture from the Library of Congress, combined with a modern abstract from Unsplash would be a good start? Or maybe you have art you love but it's looking a little tired? Try swapping out your frame and matboard for an instant makeover!
Selecting frames and matboards
We have a few fabulous frames that work beautifully with eclectic decor. Our Hanover frame blends modern style with a quirky and colorful twist (check out both the red and green color options). Our Ashford frame in satin gold combines old-world opulence with a contemporary feel, and our Dayton frame in gold follows that cue but takes it to the next level with its chunky proportions. Remember, with this style mixing and matching frames is encouraged for an authentic eclectic look. We also recommend adding a matboard to a few of your pieces; don't be afraid to experiment with colors as a matboard is a great way to add a pop of your accent color!
Purchasing frames
We've made the process of ordering frames easy! If you have a digital image, upload it to our frame designer, choose your frame and matboard options, and we'll print, frame, and ship you your ready-to-hang picture. If you have an art print, simply add your print's height and width to our frame designer, choose your frame and matboard options, and we'll ship you your frame.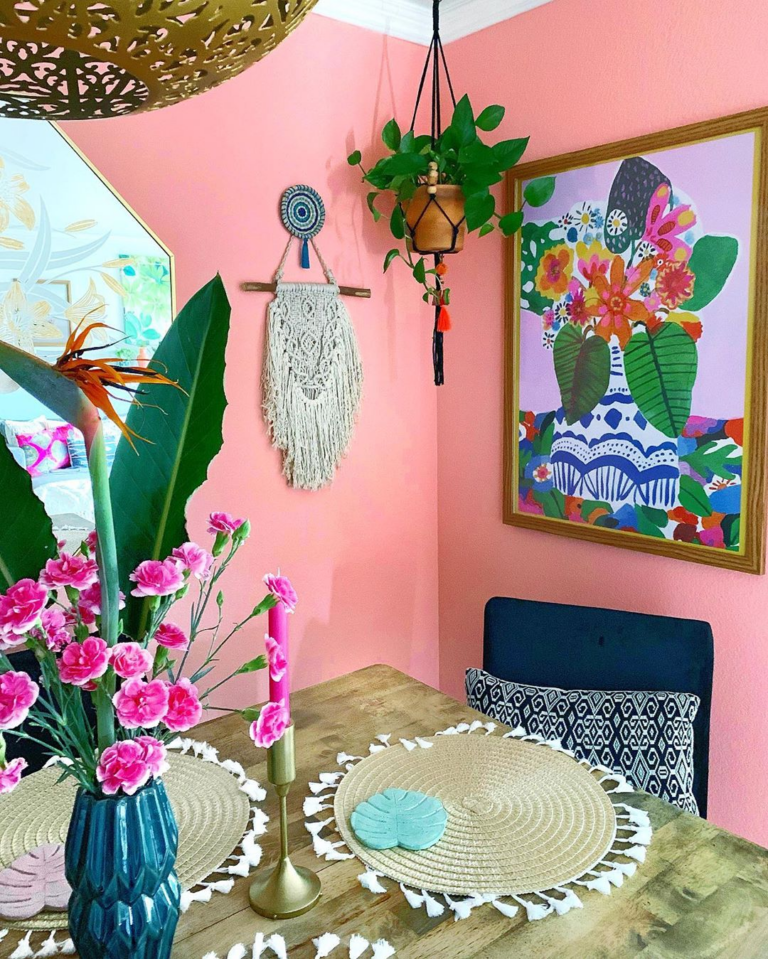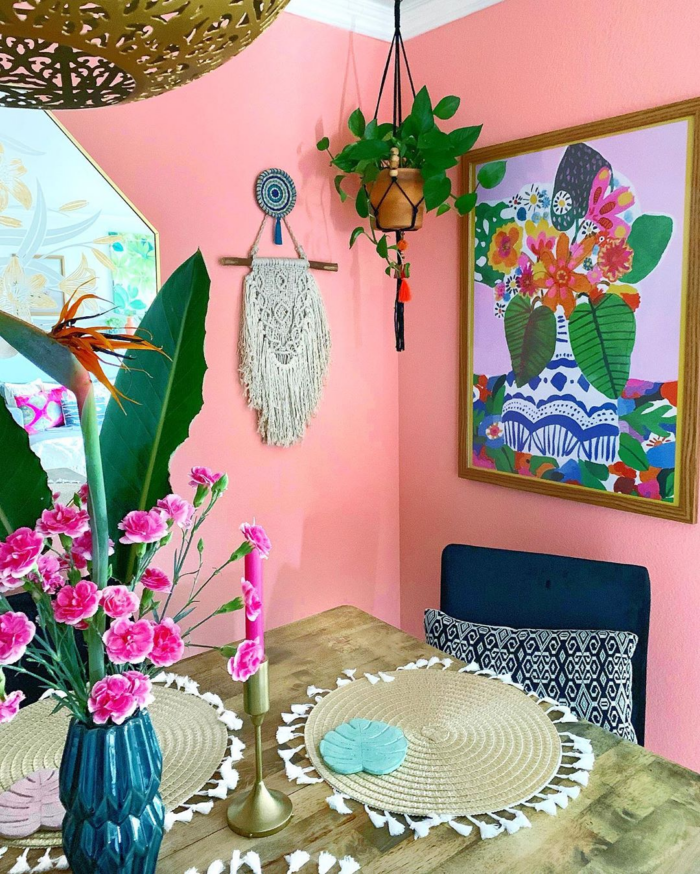 ---
🪴Eclectic Decor Ideas: Decor
Decorative accessories are essential to an eclectic-style office. With this decor style, plants take center stage while throw rugs and pillows help soften things. Don't forget to visit secondhand shops and thrift stores for your decorative accessories either. You may be able to find some amazing pieces at bargain prices!
What to look for when sourcing eclectic decor accessories:
Pothos and umbrella plants are a must-have
Mix and match lighting options
Try an oriental rug to pull your design together
Keep your accent color in mind
Include pottery
Macrame plant hangers or wall art
Plants
Plants are a big part of any eclectic space, so don't overlook their importance. First, we recommend a few Pothos plants because they're generally easy to care for and their long trailing vines help fill in spaces. We also recommend an umbrella plant for low-light spaces, as it looks great in more art-deco-inspired rooms. Finally, add a string of pearls plant to a bookshelf or your desk for their delicate and whimsical leaf presentation.
Lighting
Good lighting is crucial for a productive workspace. We recommend one task light for your desk and a floor lamp for background lighting. Again, try mixing and matching styles with your lighting. Consider a tiffany style table lamp and a traditional floor lamp to start. String lights are also a nice addition, especially when arranged around a bookshelf or tabletop.
Desk accessories
Swap out your plastic paper trays for wicker, painted wood, or wire. Add a mason jar to hold your pencils, pens, and scissors. Throw in an acrylic tray with a colorful design for your odds and ends, and include your potted plant to finish things off. If you'd like to display some of your pictures on your desk, consider a tabletop display using our EaselMate accessory.
Rugs and pillows
A throw rug adds a focal point to your office and pulls your entire design together. When selecting a rug, look for something that uses your accent color. We recommend an oriental rug or a Moroccan rug for your workspace because the patterns and textures tend to blend handsomely with eclectic decor. If you have an accent chair or a small couch, add a throw pillow or two to soften your room. The style can vary, just keep those accent colors in mind!
Decorative accessories
Don't forget the macrame or hand-made pottery! If you have some time, you can try making a macrame planter or wall art yourself with these free macrame patterns. Thrift stores are a great place to get a bunch of pottery for half the cost of new, so definitely start your search there. Big box home improvement stores will also have a selection of pottery (although not hand-made).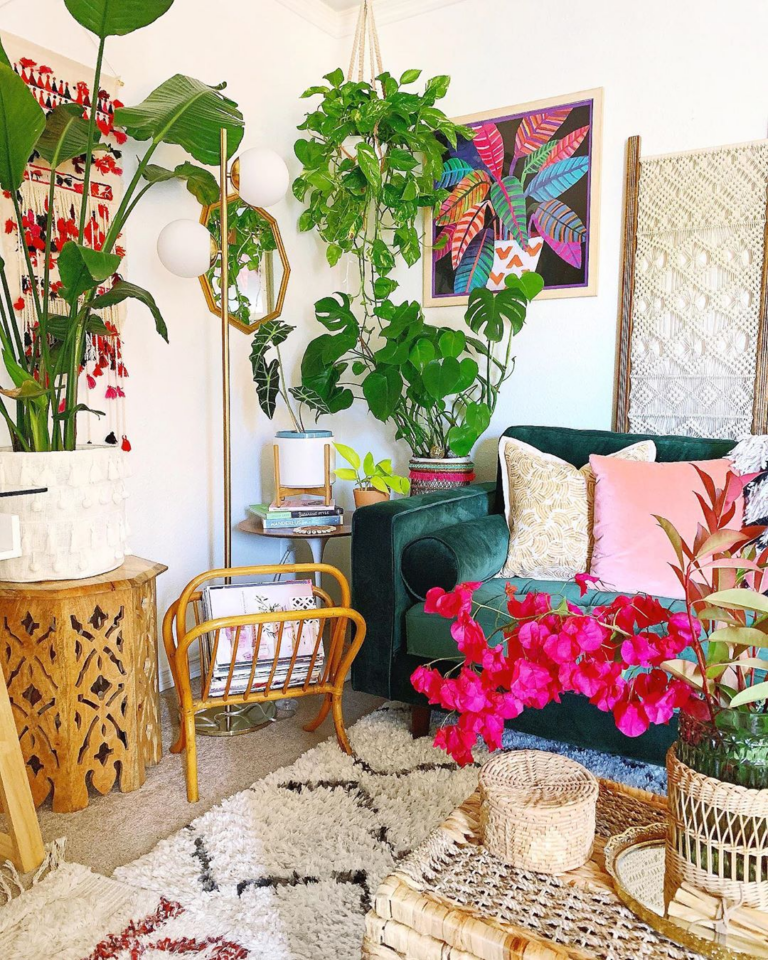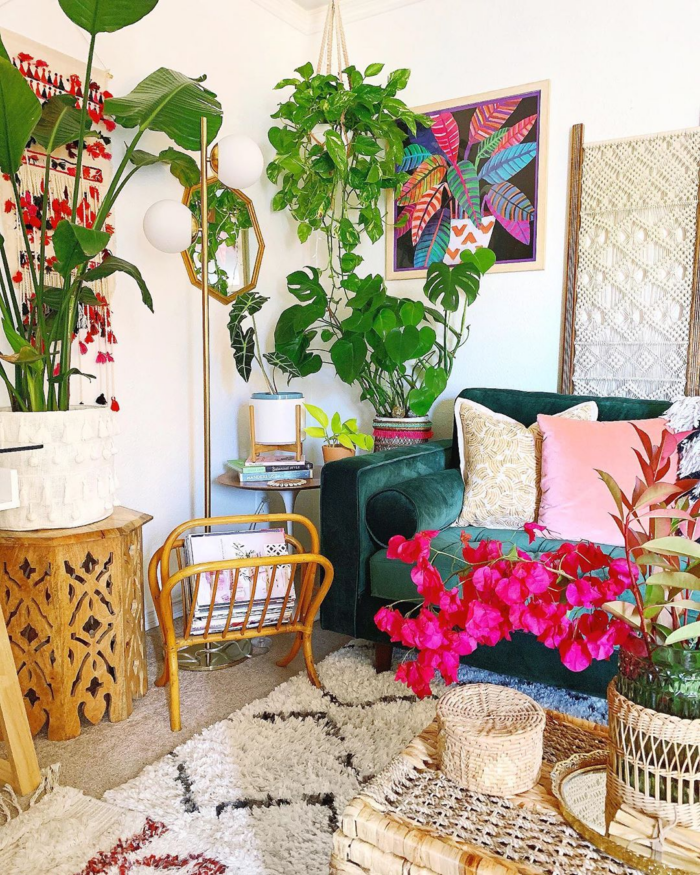 ---
🎬Final Thoughts On Eclectic Decor
Eclectic decor is characterized by mixing and matching pieces from different eras and styles for something that is colorfully vibrant and comfortably elegant. These spaces are refreshing and playful, making them an ever-popular choice for designers and customers alike. We hope this has given you the inspiration you need to makeover your own home or office!
Interested in exploring even more interior design styles? Don't miss the video below to learn everything you need to know about cottagecore decor 👇
This post first appeared as Awesome Eclectic Decor Ideas: Designer-Inspired Styling Tips on Frame It Easy - Learning Center for Custom Picture Framing.