We're extremely excited to announce something that's been in the works for a while now: a new Frame It Easy account experience! In this handy guide, we'll walk through all the benefits of creating an account, as well as what to expect once you do.
In order to best personalize your experience, there are now three different types you can choose from when creating an account with us: a personal account, a business account, or a reseller account.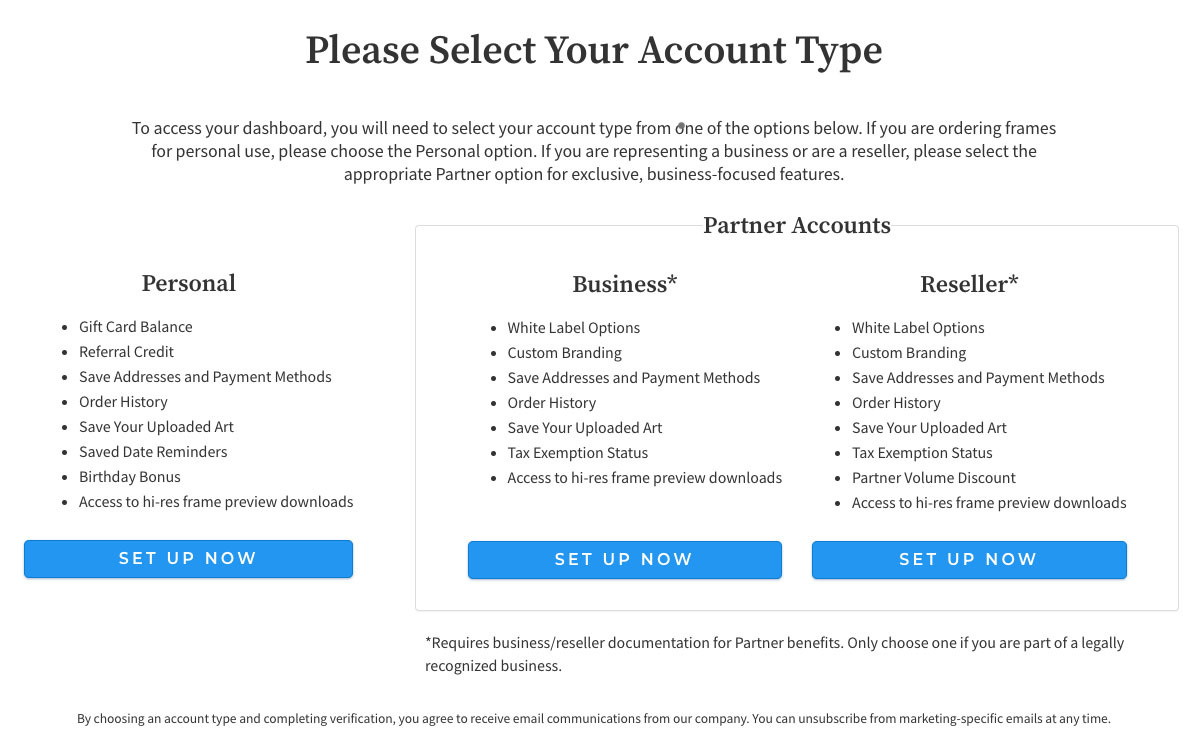 A personal account is great for home decor enthusiasts, hobbyists, crafters, collectors, and casual framers.
A business account is great for galleries, museums, corporate offices, retail stores, the hospitality industry, municipalities, interior design firms, schools/universities, etc. looking for a reliable framing source.
And a reseller account is great for business-established artists, designers, photographers, and other creatives looking to sell their art with us as a dropship partner.
There are benefits each account type have in common, as well as a few key areas that make then distinct and/or useful for how you prefer to use our service.
Benefits of Creating Any Frame It Easy Account:
Establish a more personalized framing experience.
Expedite ordering by saving key information like addresses, payment info, an image library, & saved frames.
Easy access to exclusive discounts.
Stay on top of your purchases by viewing your full order history.
Earn frame credits with a unique referral code (+ easily see how much you've earned!).
Access to high resolution frame previews.
Stay up to date with current news, helpful tips, and fresh features.
…Additional Benefits of Creating A Personal Account: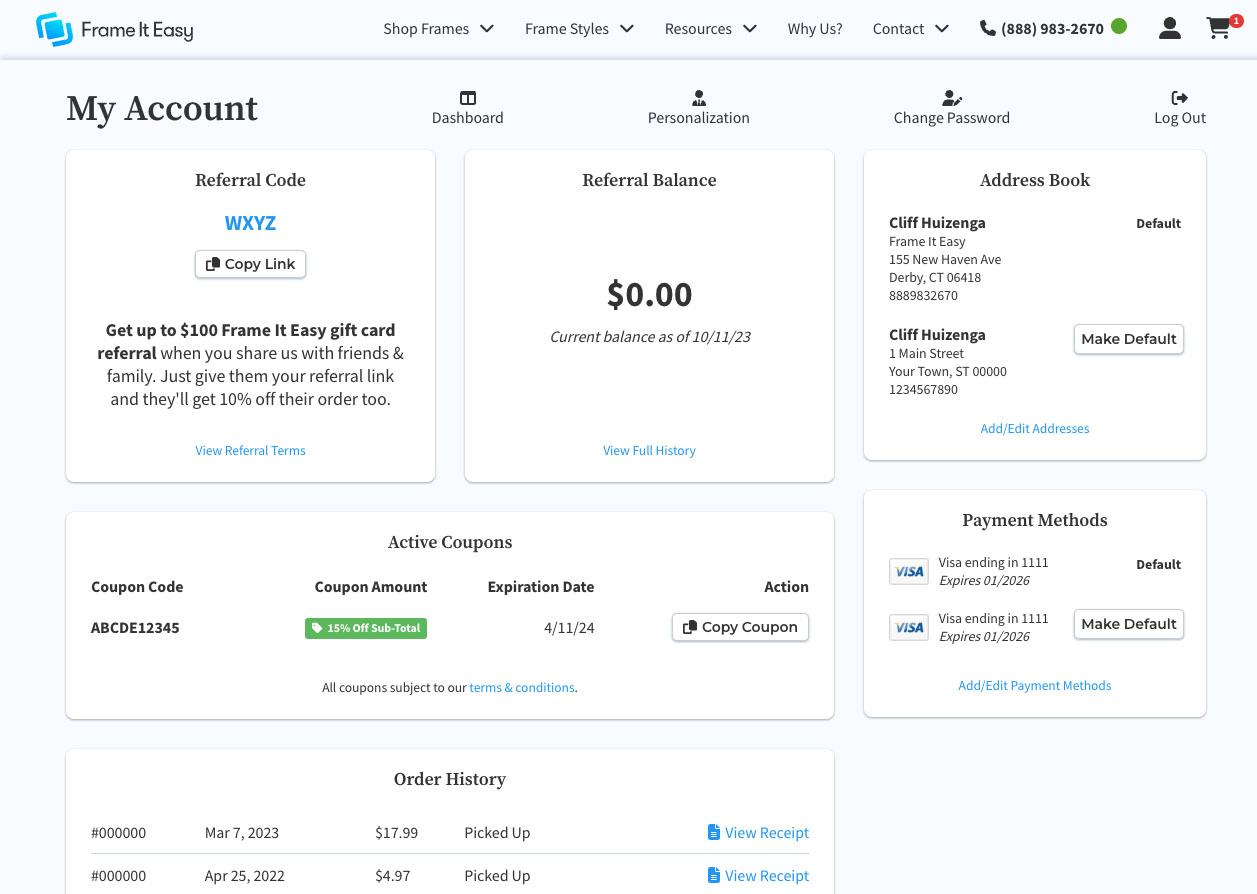 Save important dates to receive automated event reminders.
Receive an annual birthday discount.
– Receive a one-time 10% discount when you create an account.
– Receive a one-time 15% discount when you complete filling out all account information.
…Additional Benefits of Creating A Business Account: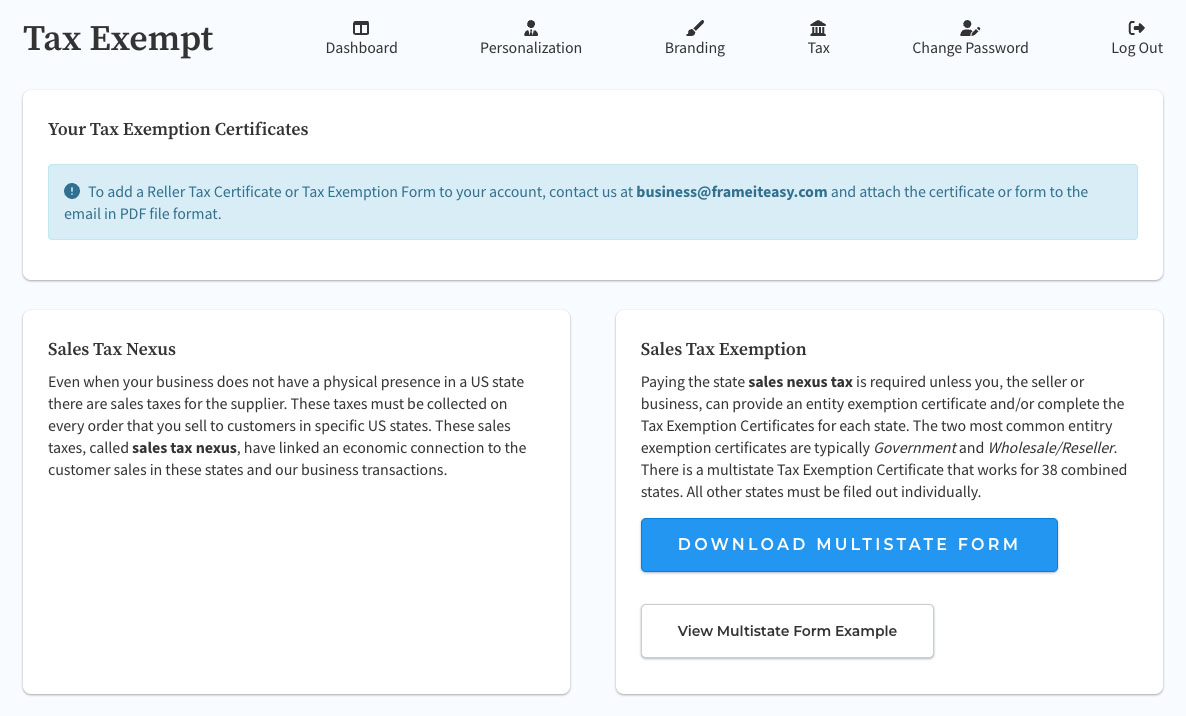 Easily access tax exemption information.
Access to white label branding features.
– Receive a one-time 10% discount when you create an account.
– Receive a one-time 15% discount when you complete filling out all account information.
…Additional Benefits of Creating A Reseller Account: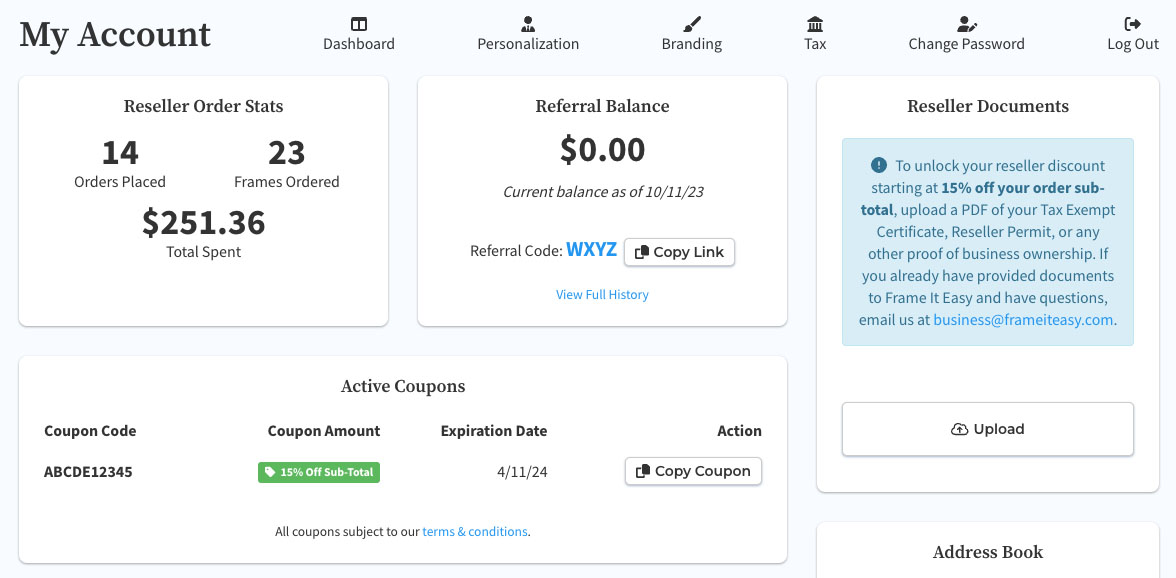 As a verified reseller, you'll get 15% off all orders.
Sell your frames with your brand using our white label branding features.
Easily access tax exemption information.
Stay on top of how well your business is doing with at-a-glance order stats.
– Receive a 15% discount on all orders when you create an account, submit your business documents, and receive verification from our team.
– Receive a $100 credit to go towards ordering samples when you complete filling out all account information.
FAQs
Q: If I already have an account, will you automatically choose my account type for me? Do I need to sign up for a new account?
A: For a majority of our users, no. We want to empower you to make the choice you feel fits your needs best so we don't want to make any assumptions. (That said, for a few existing partners that we know for certain what your needs are, we've contacted you individually to make sure everything you need is in place for the proper account type.)
If you already have an account you do not need to sign up for a new one; simply login to your existing account here and you will be prompted to choose a type.
Q: I already have an established account and I see a screen telling me to verify my account, but I don't see the verification email – what do I do?
A: First, try manually logging out of your account using the button in the top right. Then try logging in again to see if you get the account selection screen. If that doesn't work, feel free to reach out to our team so we can help troubleshoot!
Q: As an existing account user, will my current account information be retained when I choose an account type the first time?
A: Yes! Any info you might already have in your account (such as saved addresses or payment methods) will transer seamlessly when you choose your new account type. *The only exception here is if you choose an account type that no longer has relevant info, i.e. if you currently have a logo uploaded in your account but you choose a personal account, branding features are only needed in Business & Reseller account types.
Q: What if I want to purchase frames for my personal home as well as for my business?
A: If you have many instances where you order frames for both personal & business needs, we recommend you set up separate accounts for each (using different email addresses). So you might use your personal email for personal orders, and your work email for business orders. This will help ensure you can keep track of information and orders separately, as well as enjoy the benefits of each. Alternatively, you can choose a single account type that fits your needs the majority of the time, and use that as your one single account even if an order or two falls into a different category. It really comes down to how often you need to purchase, as well as what account features you need for those orders.
Q: Can I change my account type once I've selected one?
A: Yes, you have the option to change your account type at any time, but please note this is subject to alter your perks & experience as a result. (I.e. If you are a verified Reseller Account but decide to change to a Personal Account, you will no longer have access to the discount/benefits of having a verified Reseller Account.)
Q: How do I access the high resolution frame previews?
A: As long as you are logged into any account type, when you are in our frame designer, click the "Share or Save" button and you will see an option for "Download Preview Image."
Personal Accounts
Q: How do Event Reminders work?
A: In the "Personalization" section of your account you will see a section for "Add Event Reminders" – this is a place where you can select your own personal dates/milestones you prefer us to remind you about. Just enter the Event Name & Date, then we will send you an email to remind you about one month out, then again at two weeks out. Super handy and convenient for those moments you don't want to miss!
Please note that by default these events will recur each year, but you can go in and delete/edit a reminder at any time if it's no longer relevant.
Business Accounts
Q: Are there currently any ongoing discounts for businesses?
A: As of right now there is unfortunately not an ongoing discount for businesses, but we are working to improve incentives for larger, multiple frame orders. Any limited time promotions or discounts will be sent via email, so be sure you are subscribed to receive these (under "Email Preferences" in the "Personalization" tab of your account).
Q: I'm an interior designer — should I choose a Business Account or a Reseller Account?
A: Unless you are a designer that has a resale tax certificate and routinely offers frames for resale to your clients, we recommend choosing a Business Account. But, if you do have a resale tax certificate and offer frames for resale to your clients, you can certainly choose a Reseller Account and provide the proper documentation for us to verify.
Reseller Accounts
Q: When will my 15% discount be applied to my account?
A: After signing up for a Reseller Account, there will be a prompt to upload business verification documents. Once these are submitted, our team will need to review them to verify and approve. You'll get notification once your account is verified, at which time your 15% discount will then automatically apply to all new orders placed through your verified account.
Q: If I use your Shopify App, do I still need to sign up for an account on your website?
A: As a separate service, using our Shopify app does not require you to also create an account on our website — but if you do, you can seamlessly keep track of orders placed both through the app as well as directly on our site! Simply use the same email address for both your Shopify account and a Reseller Account on our website, and there will be a button in your Frame It Easy account to link your Shopify account.
So while an account through our website is not required to use our Shopify App, we highly recommend linking both to take advantage of additional benefits and features.
Q: Is 15% the highest discount you offer?
A: As your business grows, there may be opportunities to take advantage of higher discounts. While there are no set or rigid guidelines, our team is always on the lookout to recognize growing resellers and we will likely be in touch if we determine you are eligible for a higher discount amount. If you feel your business has reached a particular milestone using our service, feel free to reach out to business@frameiteasy.com and we'd be happy to evaluate and discuss your particular business!
Q: Does the 15% discount apply to each frame or each order?
A: The 15% will apply to each individual order subtotal. It excludes shipping/tax and cannot be combined with any other discounts or promotions. The discount will be automatically applied at checkout (as long as you are logged into your verified reseller account!).
Create (or Update) Your Account Today!
If you already have an account with us, the next time you log in you'll be able to choose your preferred account type. (Don't worry — any saved info that is still applicable to your new account type will seamlessly transfer over!)
If you're ready to create a new account, simply head on over to our Account Login page and fill out the information under "Create An Account."
If you have any questions, issues, or concerns, please feel free to reach out to our Support Team at any time!
This post first appeared as Introducing a New Frame It Easy Account Experience on Frame It Easy - Learning Center for Custom Picture Framing.