We can all agree that this year has been unlike any other for us. But it hasn't stopped the holiday season from quickly approaching (some things never change) and it's never too early to start writing out your gift list for loved ones. We understand that finding the perfect gift for everyone on your list can seem daunting, and the thought of crowded stores is less appealing than ever. That is exactly why we are here to help!
So grab a cup of hot cocoa, turn on some holiday tunes, and let's look at how Frame It Easy custom frames can be that perfect gift for everyone on your list. We believe that a custom frame is a timeless gift that will never go out of style. And because you control every aspect of the frame's design as well as what goes in it, it's a personal gift that says you went the extra mile in selecting it (even when you never left your couch!)
Over the years we have framed a lot of things, so certainly let your imagination run wild. But we're sharing with you six frameable ideas that will make the perfect gift this holiday season.
1. Holiday cards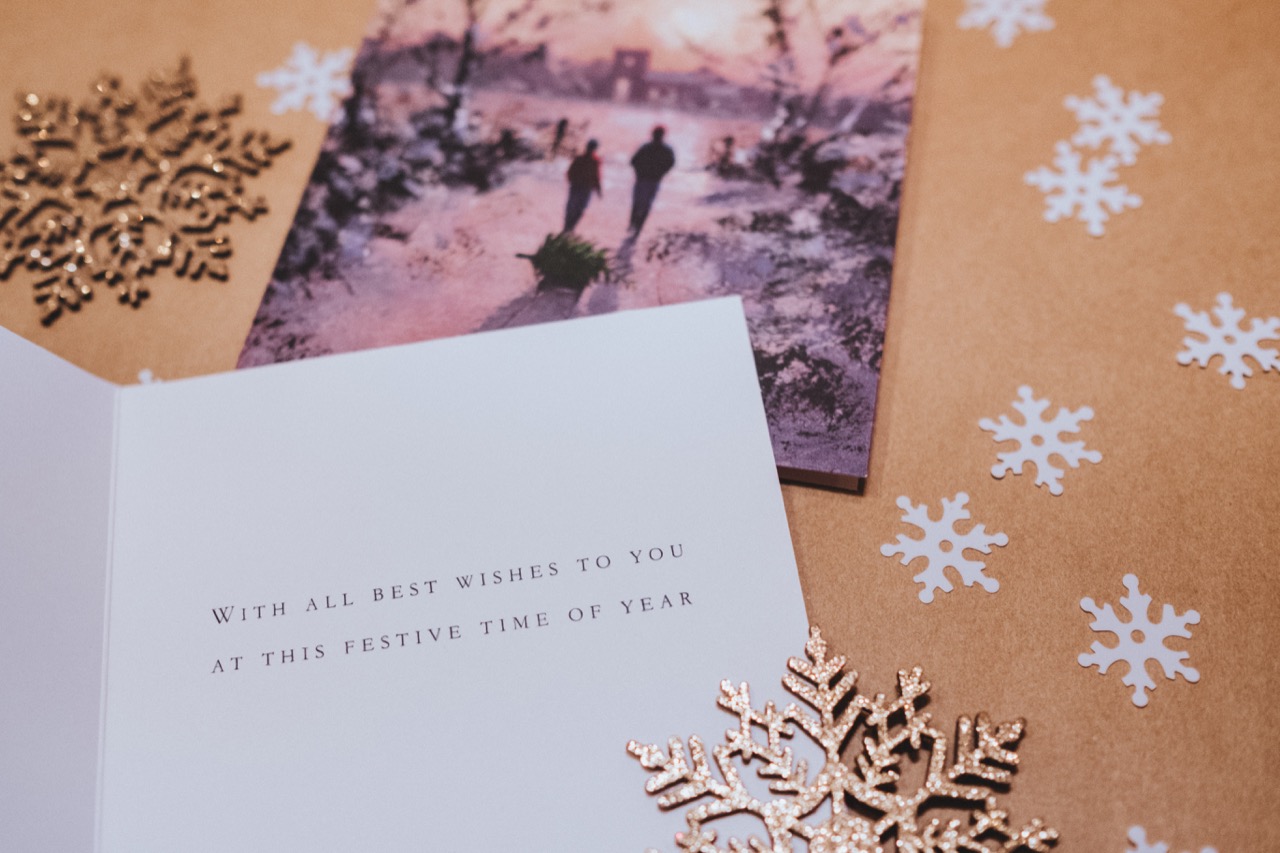 Don't you love getting the traditional family photo Christmas cards in the mailbox from family and friends every year? Whether it's a staged pose or a silly shot (our favorite) these can easily be framed and turned into a holiday gift. You can even turn it into a tradition for that special friend or family member who you've run out of gift ideas for! It becomes part of the holiday decorating, and is a great way to look back over the years. 
Here at Frame It Easy, we have 8 different frame styles in 27 different colors and 75 shades of matboard, so you can easily coordinate with existing decor, but check out our Hanover frame style in Red and Green for a truly holiday look.
2. School Photos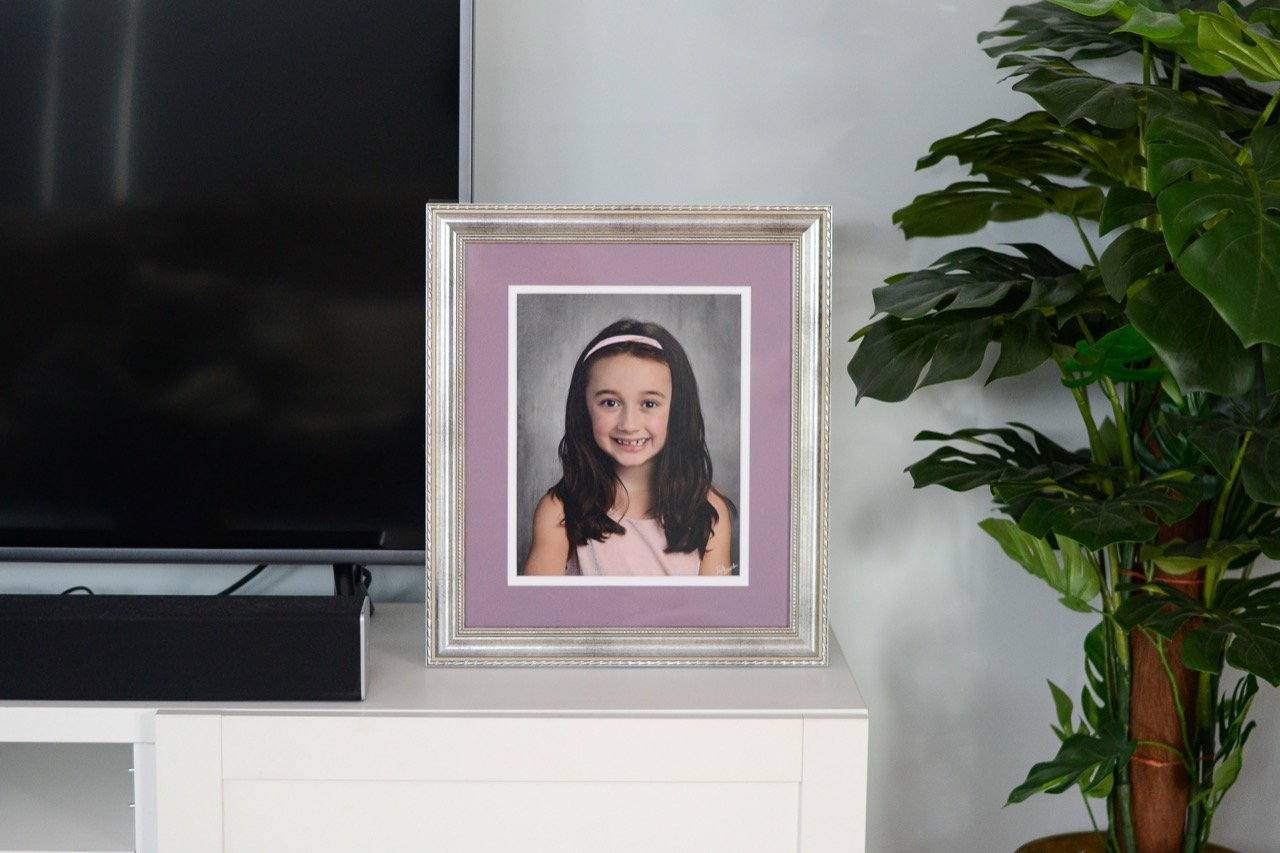 You have professional photos of your kids taken every year, and you know who loves them just as much as you? Their grandparents! (Maybe a special aunt or uncle too) So why not turn them into a holiday gift with a frame that fits into their decor.
These can also become a holiday tradition, and you can coordinate each year's photo with matting that complements your child's outfit, but school pictures can also make an awesome gallery wall or tabletop display.
Check out our post on framing school pictures for more ideas!
3. Photos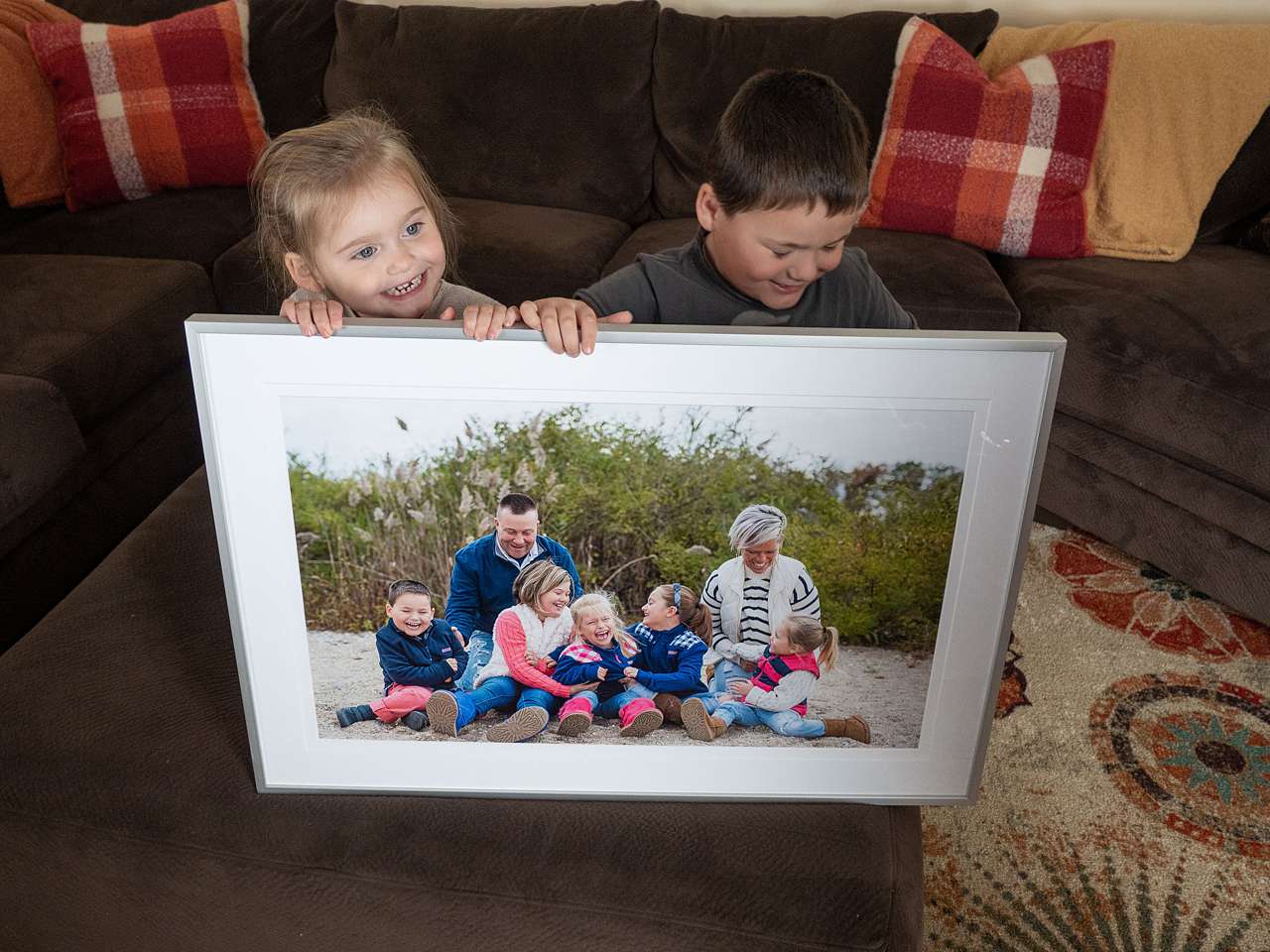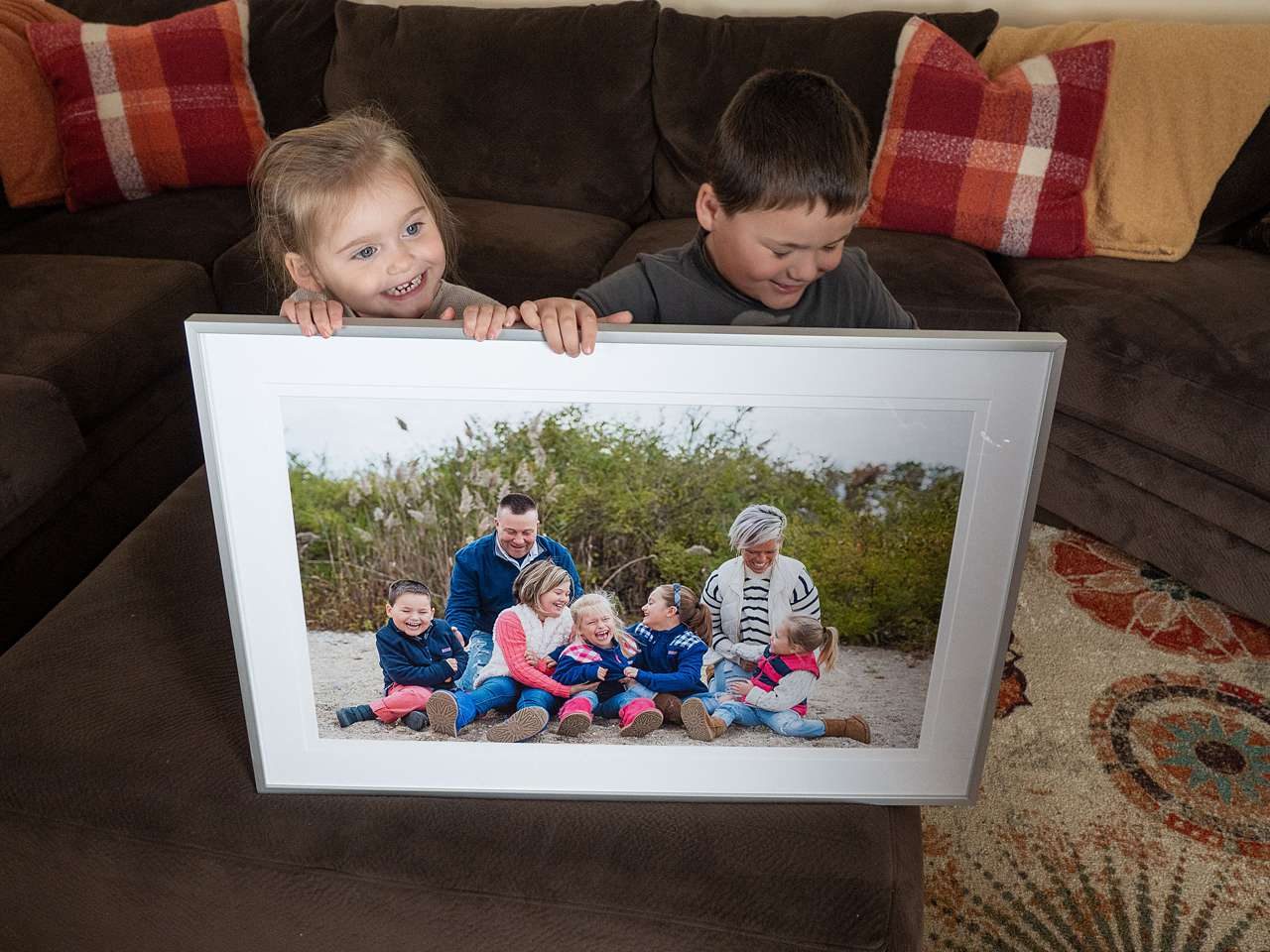 Who wouldn't appreciate receiving a framed photograph commemorating a special time as a gift? Weddings. Babies. Birthday parties. Anniversary celebrations. Graduations. Special occasions deserve to be photographed, framed, and displayed.
But don't stop there. Playing miniature golf with friends. The view from the mountaintop you hiked. Sitting around a campfire. Your family vacation. These are special moments too, and a framed photo of them lets you relive the moment. Whether a formal portrait or a quick cell-phone photo, once it's framed it becomes a lasting memory that can be enjoyed daily.
Whether it gets hung on the wall or sits on a desk at work or bedside table, it's a thoughtful gift that can really brighten someone's day every time they see it.
4. Kids Art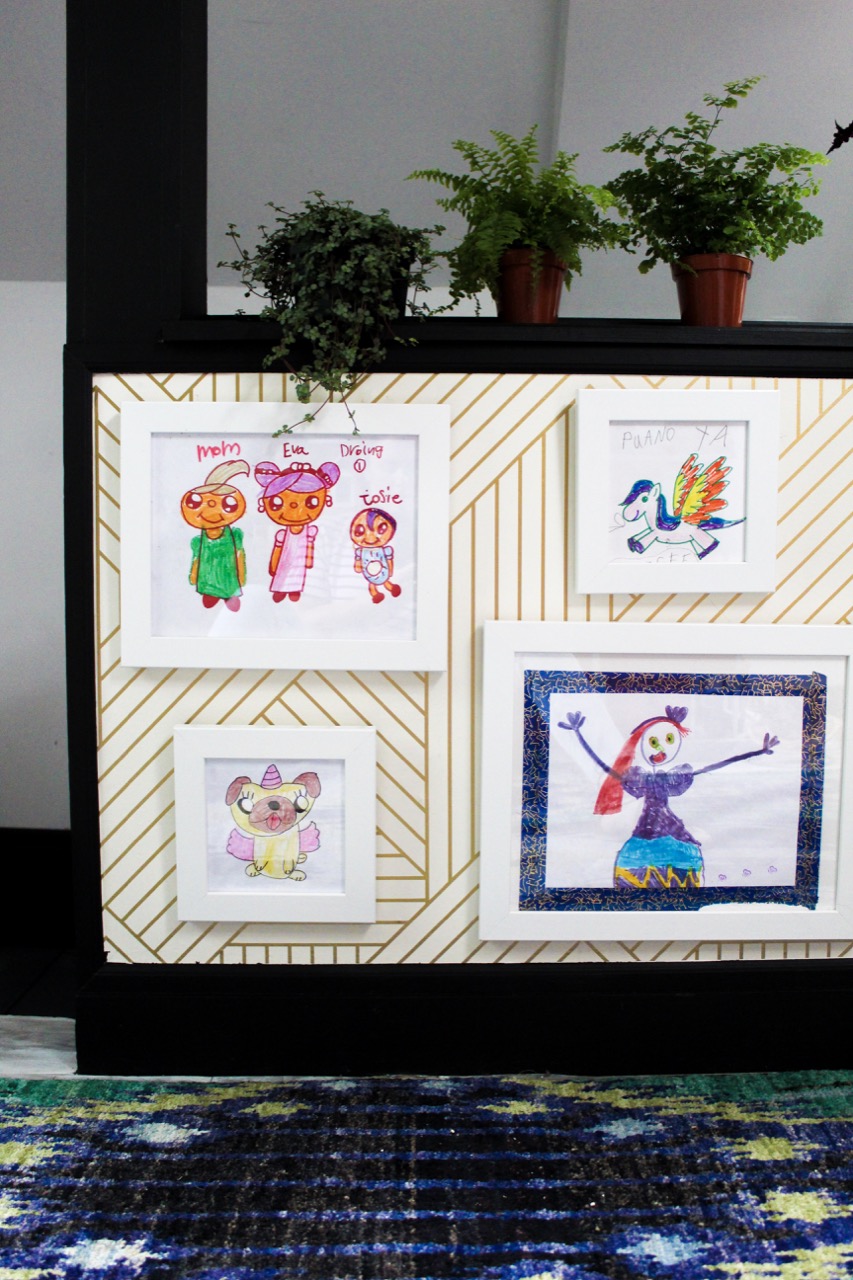 Kids create tons of artwork, and while no one would call it a masterpiece, it can be pretty special. There's a lot to be said for sentimental value, and in your eyes some of your child's artwork is priceless! But you're not the only one who's a fan. Those aunts, uncles and grandparents appreciate your little one's artistic talent too, making another great gift idea for the holidays!
And since kids' artwork is fun, make the framing fun too! Chances are there's lots of color in it, so keep it going with some bright matting. And for a really bright look, check out our Ashford frame style in Hot Pink. You can't get much more colorful than that!
5. Original Artwork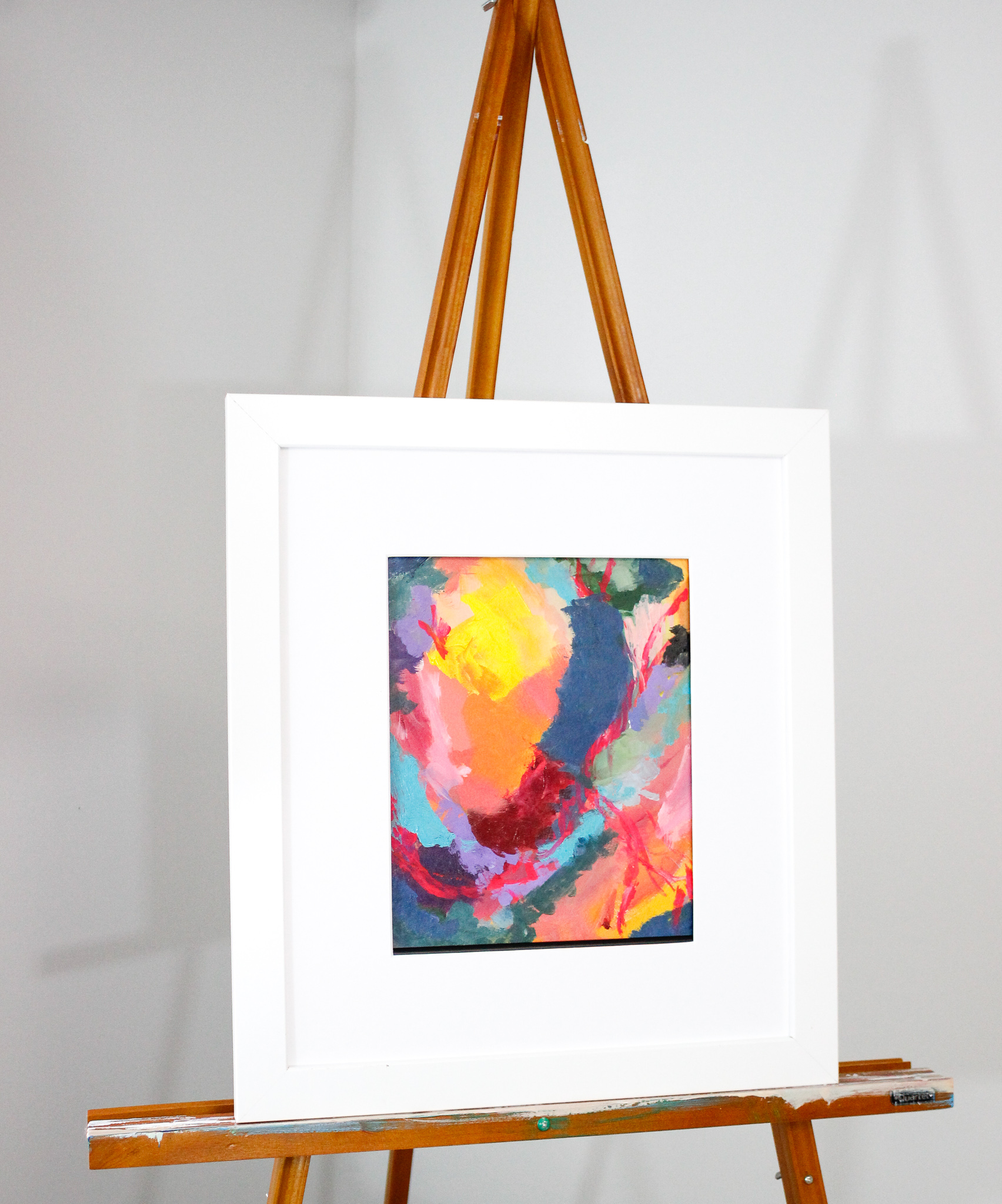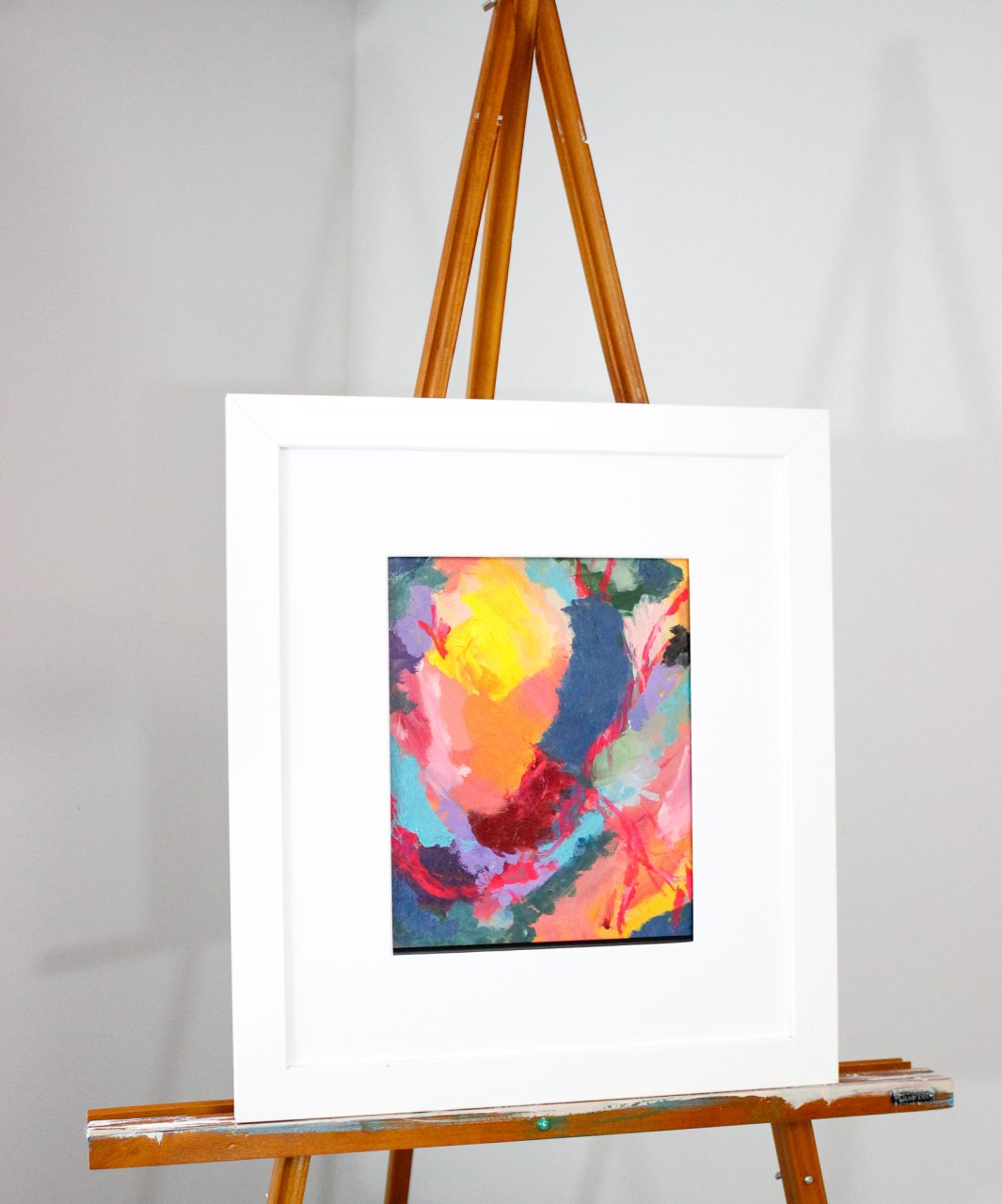 Kids aren't the only ones who create art. If you're an artist, framing your original work and giving it as a gift is a great way to share your art with loved ones.
Maybe they've admired something they've seen you working on. Or maybe you've sketched a photograph of them. It could even be a reproduction of a famous painting you know they admire.
Whatever it is, don't leave the framed artwork to the kids. If you're lucky enough to be talented in that department, share your talents with your friends and family. You will probably be surprised by how touched they will be. And hey, you never know, it may be valuable one day!
6. Memorabilia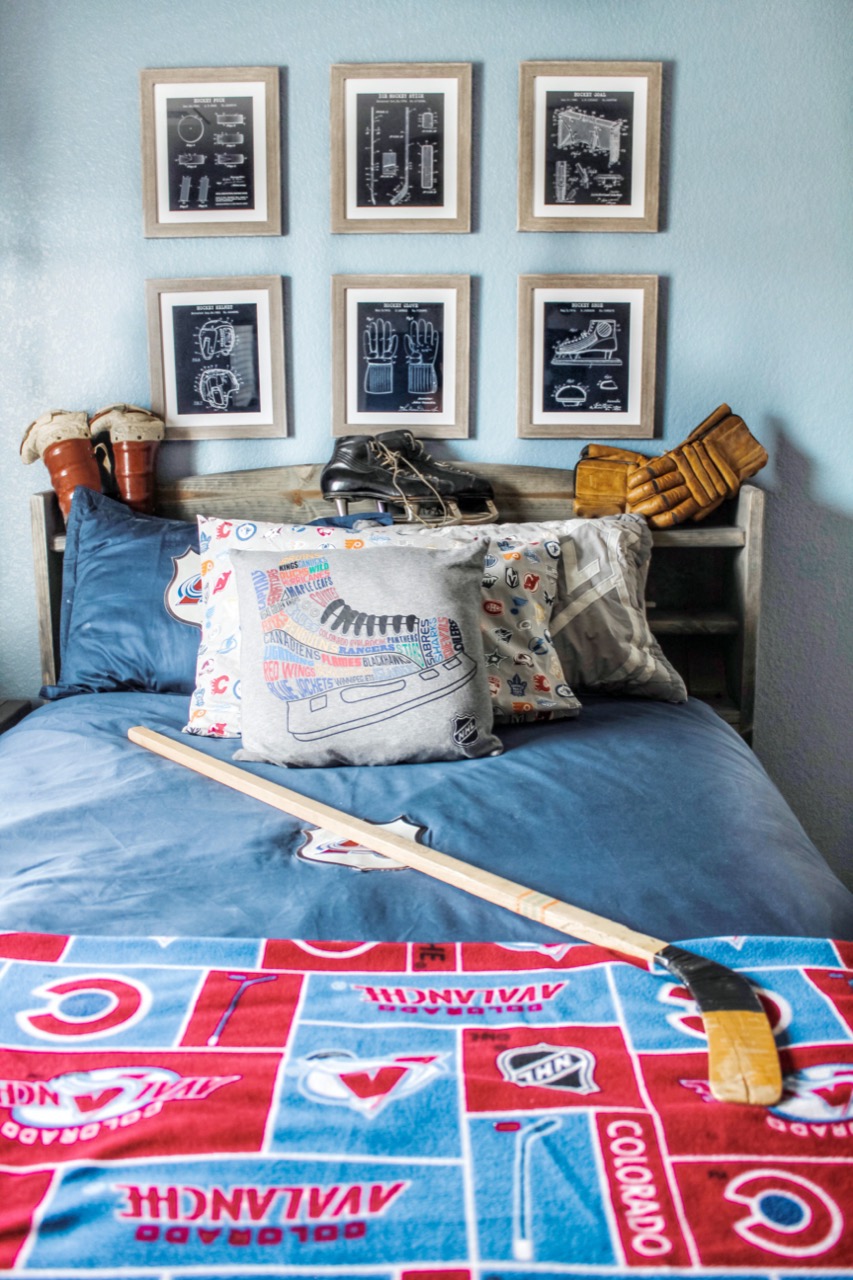 Memorabilia makes a great gift for any sports star/fan. One thing about sports lovers, they love to show their team pride! Some like to wear their team's jersey or cap, while others like to deck their rooms out with posters, pictures, and other great memorabilia. Framed ticket stubs, a framed jersey of their favorite player (or their old jersey), even framed drawings will be appreciated by sports fans. For more ideas on what to frame, check out our post on framing for sports fans. 
But once again, don't stop there. Tickets to a concert you attended with your best friend. A poster from your husband's favorite movie. A recipe card in your grandmother's handwriting. The more personal the memorabilia, the more treasured your gift will be. For more ideas, check out 8 unique things to frame.
Final Thoughts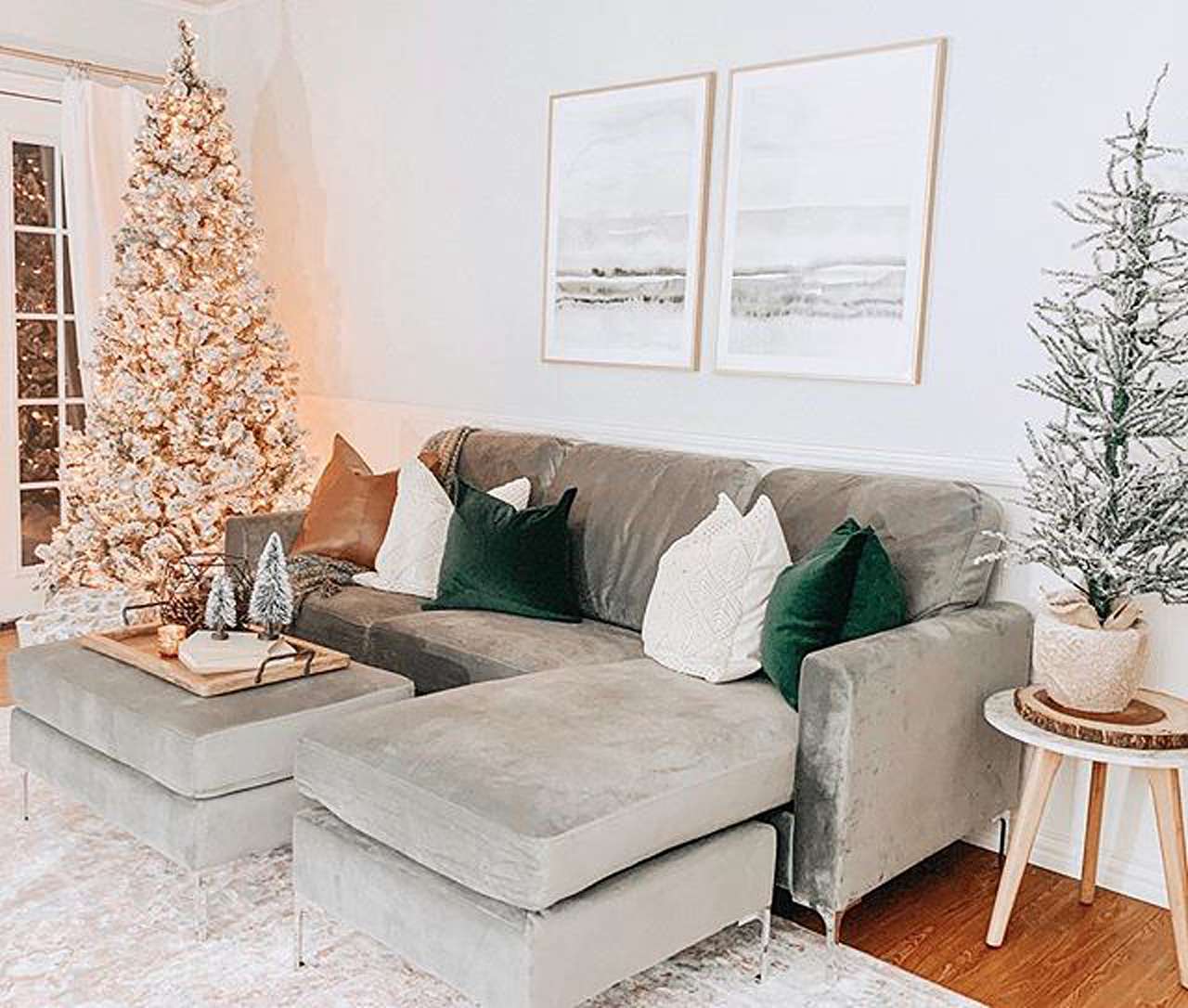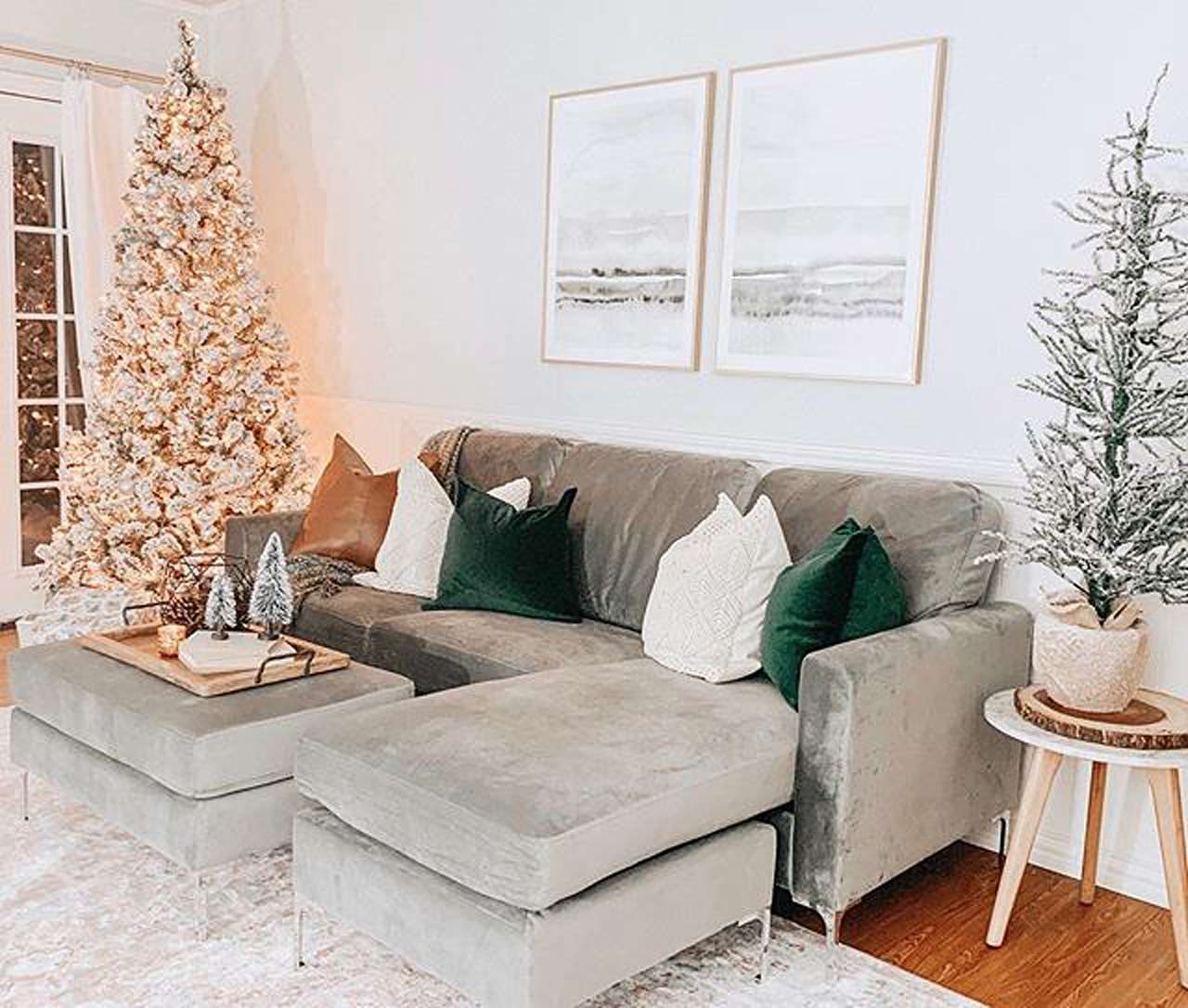 We hope we've inspired you to give a truly unique, special, and thoughtful gift in a custom frame this holiday season.  Head over to our Learning Center for some more gift inspiration for your family and friends. There are so many possibilities when it comes to filling a picture frame with a personalized memory. As we always say, there are no real rules, so whatever you think will look the best, we say go for it! We are sure it will put a smile on someone's face. 
So pour yourself another cup of cocoa, crank up the tunes, and head on over to our Frame Designer. As always, be sure to share your customized gifts with us on social media, we would love to see what you designed this holiday season!